The Lamborghini Aventador LP, 750-4 Super Veloce Unveiling Event at Lamborghini Las Vegas was a blast!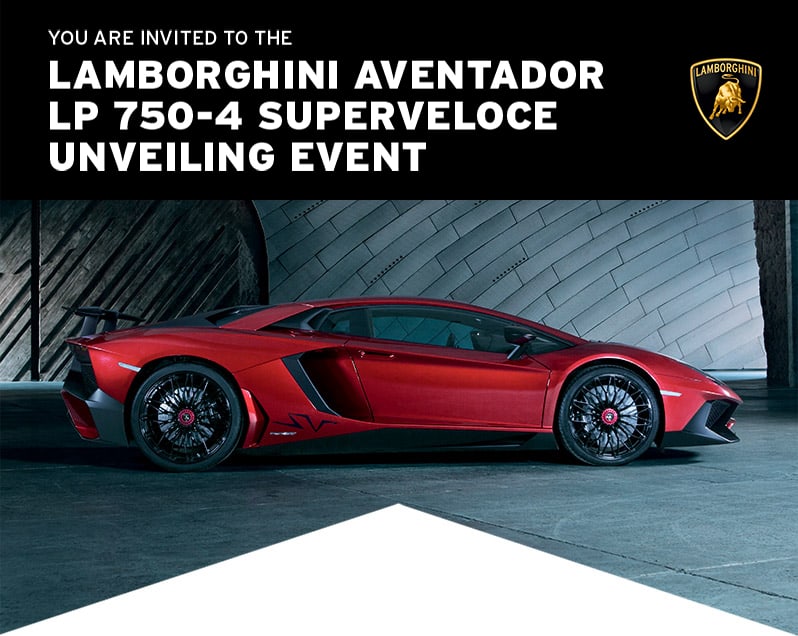 Most everyone knows I'm a car guy, and I especially love exotic Lamborghini supercars — they are special. And as far as Lamborghini goes, this beast – the LP750-4 SV – is especially special. The Lamborghini Aventador LP 750-4 SV (Superveloce) is the purest essence of a Lamborghini super sports car with its enhanced V12 naturally aspirated engine producing an impressive 750 horsepower at 8400 RPM. Every element in the SV was developed to "Design to Weight" criteria: the 50 kg reduction produces a new dimension in performance and driving dynamics — although I'll have to take their word on that for now – I've yet to drive one. I have, however, driven plenty of LP700 Aventadors, and I gotta tell you, they are beyond impressive. So, I can only imagine what shaving off some weight and adding 50 extra horsepower can do. It's got to be an experience. One day, perhaps. I'll get back to you on that one…
Automobil Lamborghini is again turning heads with the North American debut of the Lamborghini Aventador LP 750-4 Superveloce. This 750-horsepower supercar that can hit 62 MPH in a blistering 2.8 seconds includes chassis modifications that accommodate extra power and raised handling. Couple these features with the redesigned aerodynamic enhancements, and you have a Lamborghini that must be seen to be believed.
In celebration of that, this past week, Lamborghini Las Vegas hosted an evening of hospitality and a presentation of the new Lamborghini Aventador LP 750-4 Superveloce, and as I mentioned earlier, it was pretty awesome.
I got to the unveiling early to share my St. Jude sculpture with my Lamborghini friends.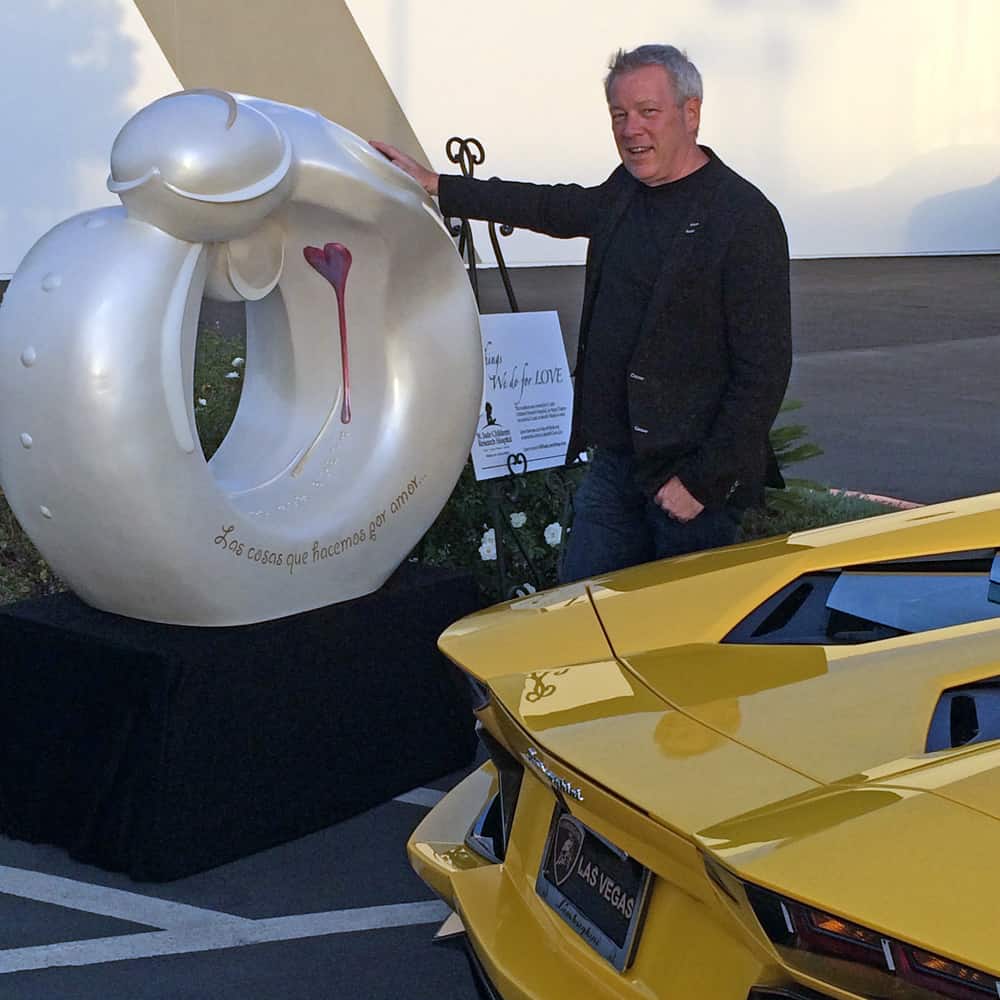 Sharing my St. Jude sculpture with friends at Lamborghini Las Vegas.
My St. Jude sculpture, titled "The things we do for love…" has been displayed at Lamborghini Las Vegas for the last month or so. And I appreciate Lamborghini Las Vegas sharing my sculpture with local enthusiasts. The project is very close to my heart because children matter when the rubber hits the road. Catch the story and great pics here > https://www.adcook.com/adcook-stjude-sculpture-lamborghin-las-vegas/
So, back to the story – the story of the night anyway… the story where the magic happens.
Ahhhhhh, the unveiling. Amazing cars and a great crowd made for an awesome evening.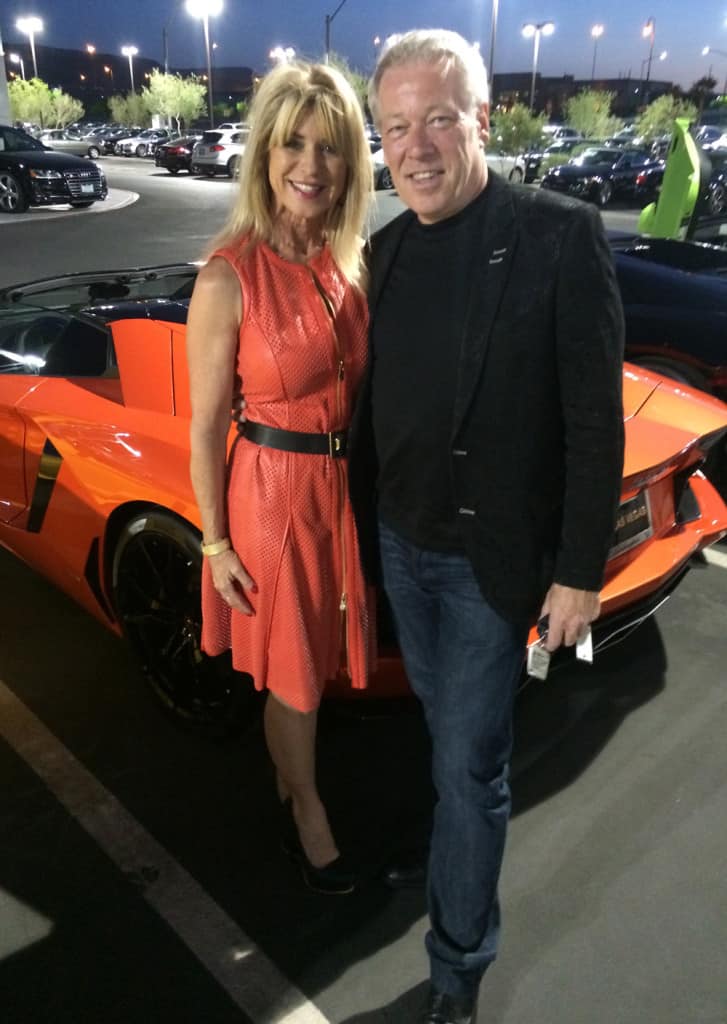 Artist Beti Kristof and A.D. Cook at the Lamborghini Aventador LP 750-4 SuperVeloce unveiling.
The beautiful Beti Kristof (also an artist) joined me to celebrate the SV. Beti has created a few of the St. Jude sculptures herself over the past few years and initially invited me to participate this year. Tonight, her orange dress was a complete hit, looking like it was made for the land of Lambos.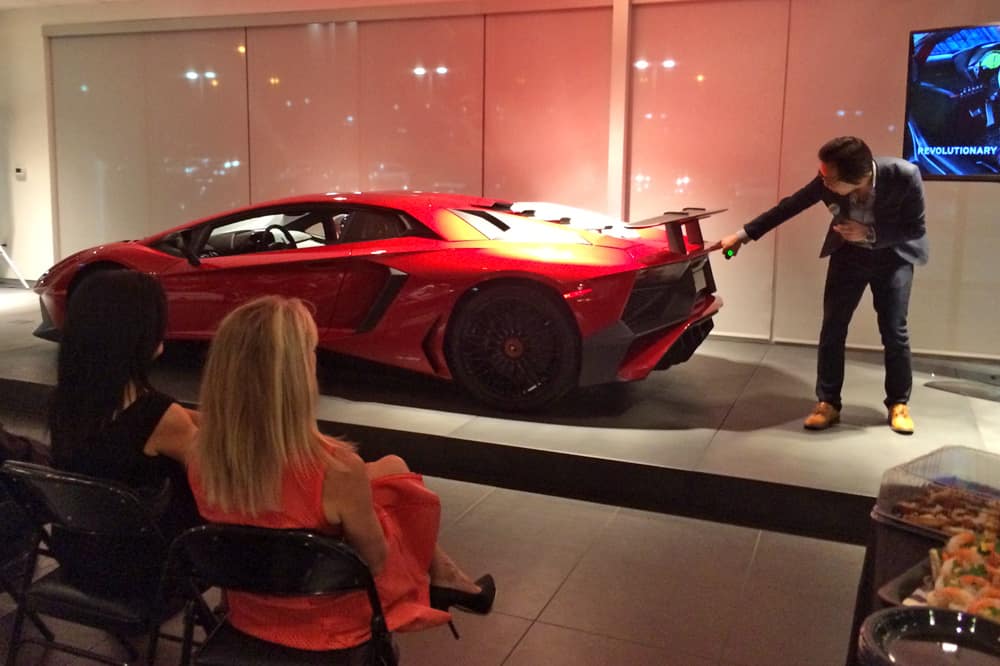 Jordan Shiraki shares some of what makes the Lamborghini Aventador SV special.
Inside, Tom Brazill and Jordan Shiraki share insight into what makes the Lamborghini LP750-4 Aventador SV special – or even more special – than the Lamborghini LP700 Aventador, which, I gotta tell ya, is pretty special.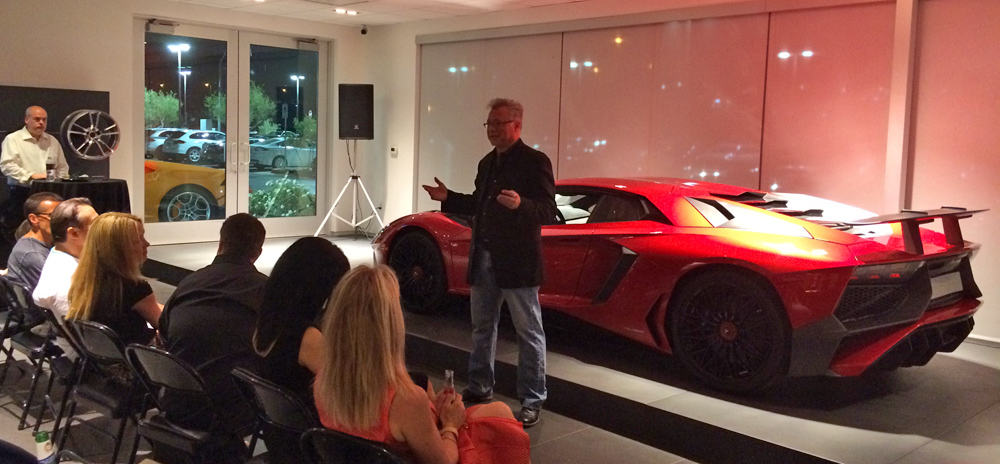 Tom Brazill shares the Lamborghini LP 750-4 Aventador Supervaloce and what makes it special.

Tom Brazill, general manager at Lamborghini Las Vegas, is undoubtedly the most knowledgeable Lamborghini guy I've ever met, so it's usually pretty interesting when he shares a thing or two about these cars.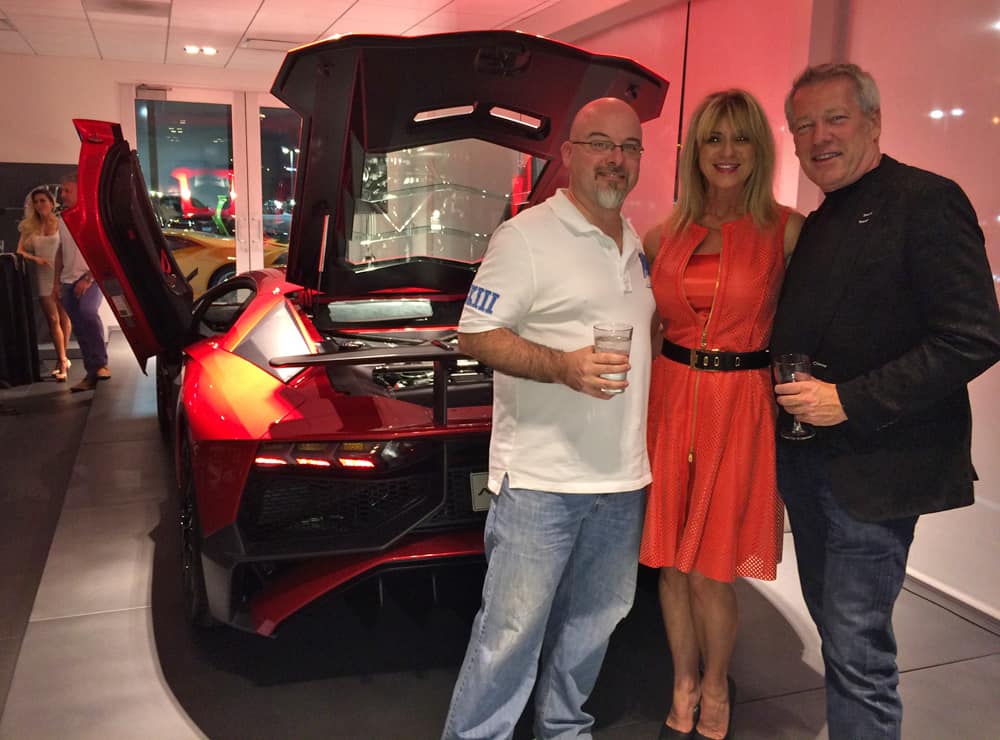 Dr. Timothy McDaniel (aka Dr. Lambo), artist Beti Kristof and A.D. Cook, artist.
Of course, as much as I love cars, I especially enjoy catching up with friends. A great crowd of people enjoyed the Aventador SV and caught up with one another over a glass of Italian wine, a cold Peroni, or some Italian orange soda.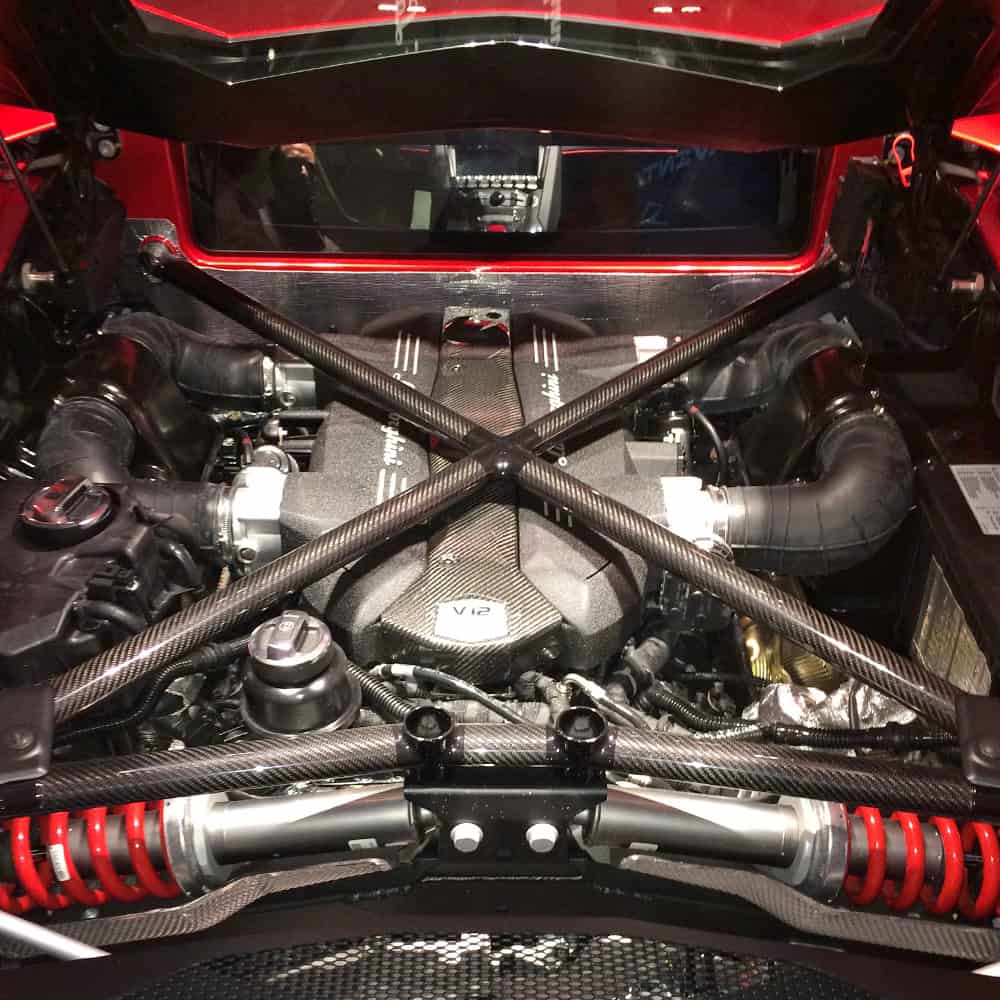 Under the hood… the enhanced naturally aspirated V12 engine boasting 750 hp. Bam!

Of course, tonight was all about the lady on display — the lady in red. Everything about the Aventador SV is cool. Details everywhere. More carbon-fiber. And red – lots of red. Every inch of the Supervaloce is an eyeful of beauty.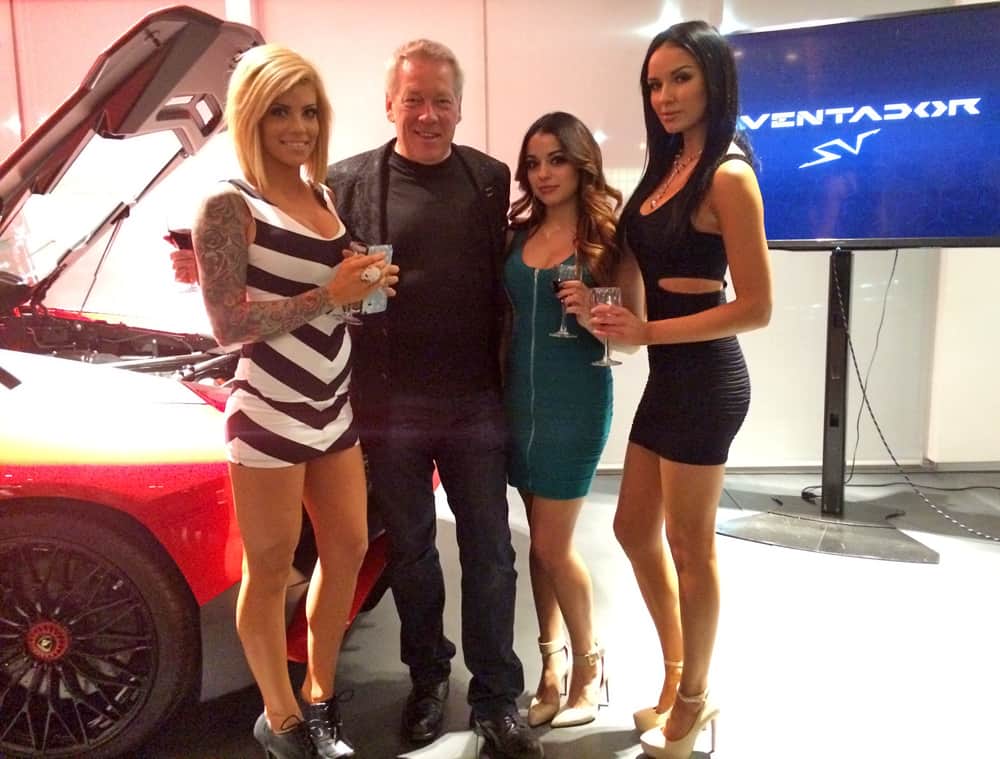 Keeping good company… Lamborghini Aventador SV and the pretty ladies at Lamborghini Las Vegas.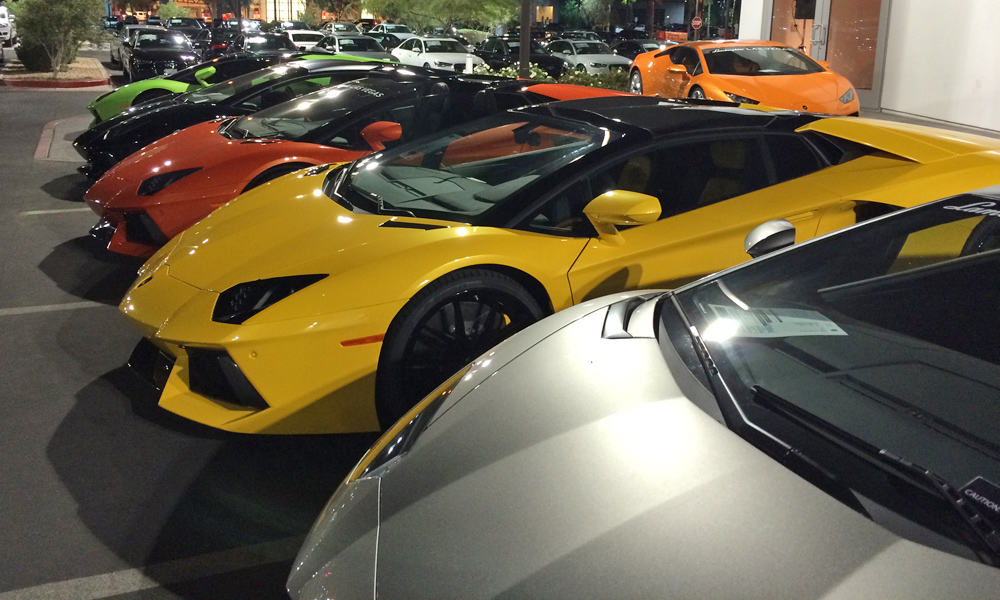 Speaking of pretty ladies… A bevy of beauties awaits you at Lamborghini Las Vegas.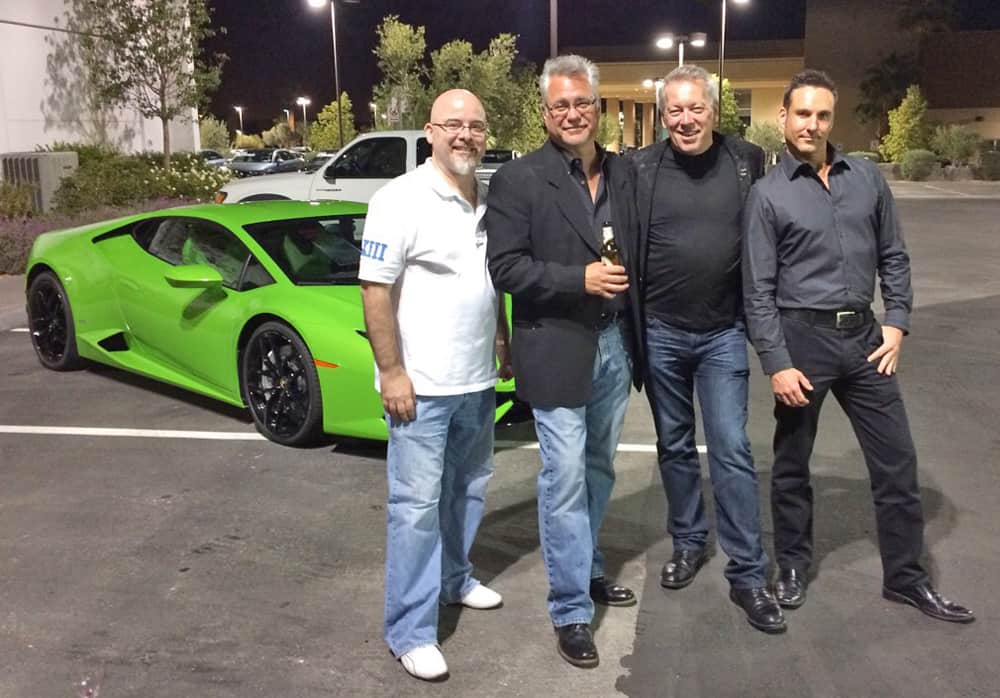 Tora. Tora. Out with the boys! At the end of a great night, it's always time to celebrate — above: Dr. Timothy McDaniel (aka Dr. Lambo), Tom Brazill of Lamborghini Las Vegas, artist A.D. Cook, and Michael Andreas.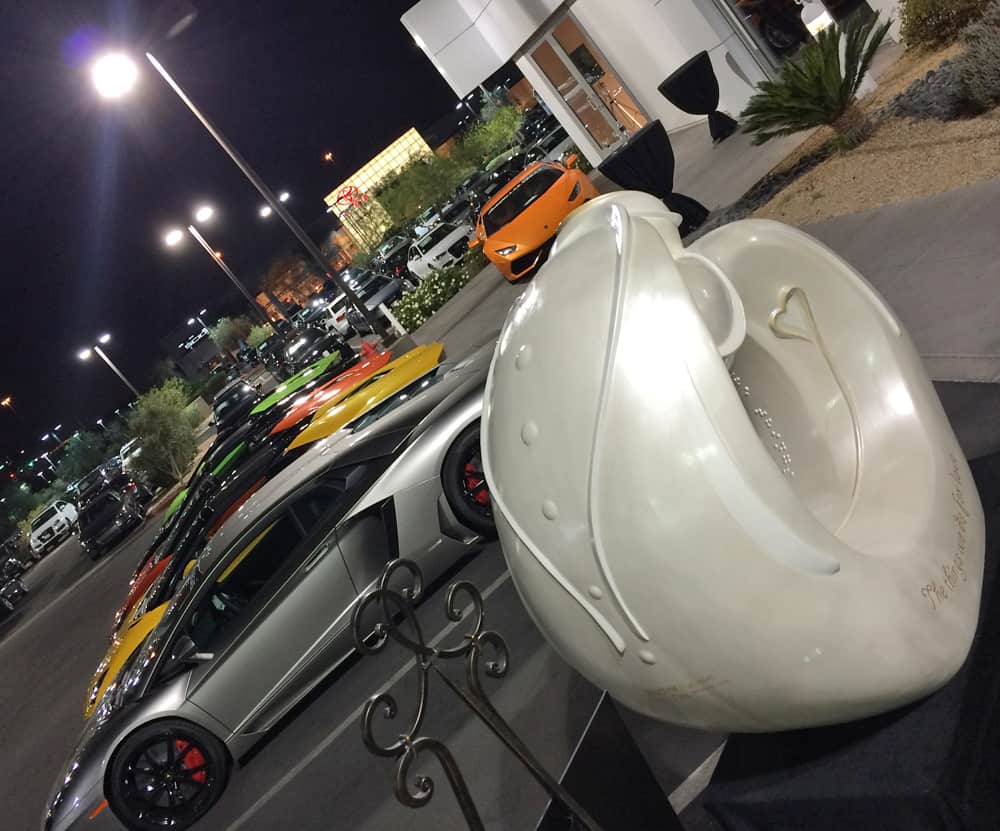 My St. Jude sculpture feels right at home amongst the Aventador bevy of beauties at Lamborghini Las Vegas.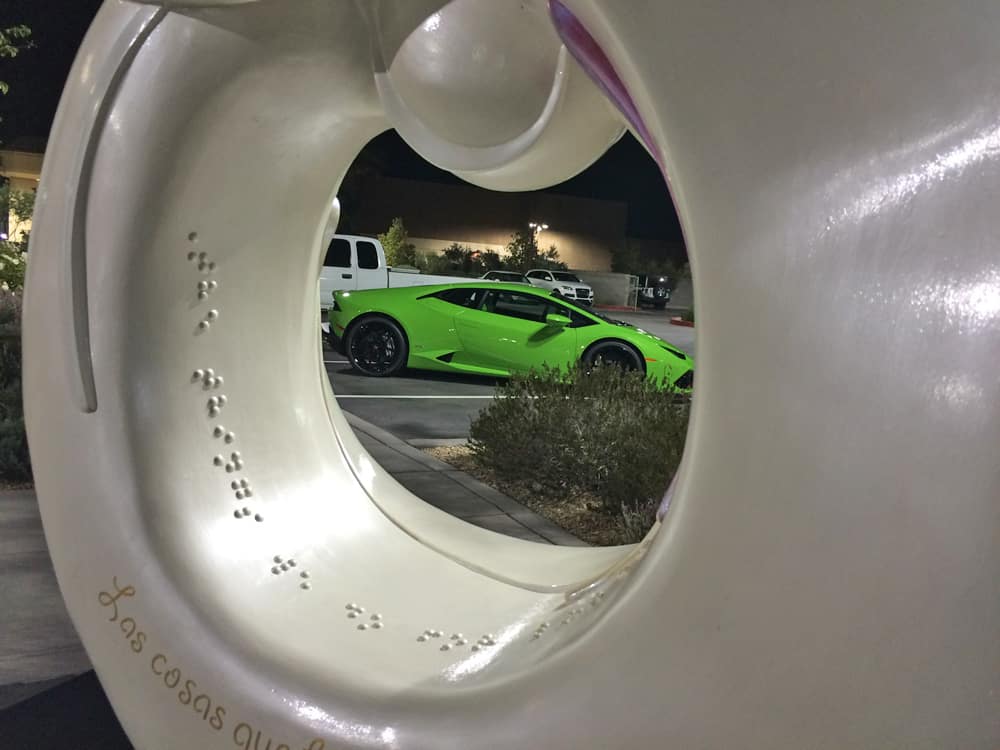 The Lamborghini Huracan is pretty amazing, too. I like this view a lot.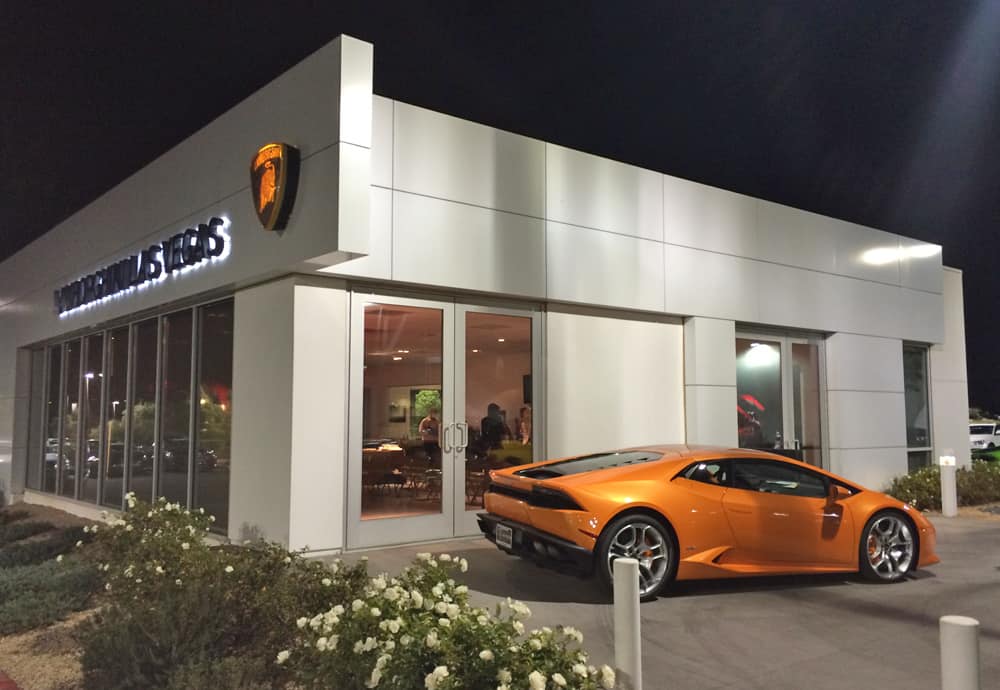 And the Lamborghini LP610-4 Huracan in Arancio Borealis (orange) sitting pretty at Lamborghini Las Vegas. Yeah, this works for me (just sayin').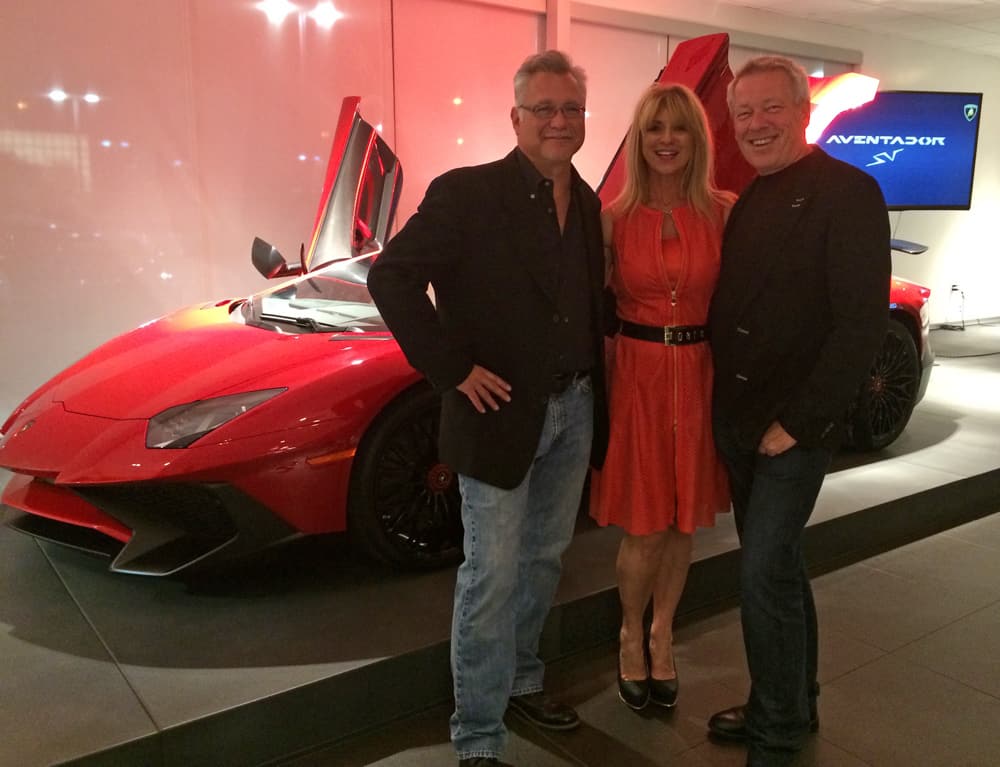 Tom Brazill, Beti Kristof, and A.D. Cook at Lamborghini Las Vegas.
Special thanks to Tom Brazill at Lamborghini Las Vegas for hosting this great unveiling and for including us. We always enjoy our time there. Lamborghini and the crew are like family. If you haven't visited the Lamborghini Las Vegas showroom, you owe yourself a treat. As an artist, I love these cars – they are beautifully expressed in rolling art. Yes, I said it… ART. They are art. Maybe that's why I'm such a fan. But when you get right down to it, cars are cool, but people are everything. When you are blessed to have cool people and great cars for a night of celebration, that's harmony. And that's rare – in an awesome Superveloce sort of way… so thanks again to Lamborghini and the cast and crew at Lamborghini Las Vegas for making this night memorable. Cheers!
Want more? Watch the video below…
The Lamborghini Aventador LP 750-4 Superveloce in action.
If you don't own one, this will be the view you see as this beast passes you.
Learn more about the Lamborghini Aventador LP 750-4 Superveloce at the official Lamborghini website at http://www.lamborghini.com/
• • • • •
Love Lamborghini? Visit Lamborghini

— and Lamborghini Las Vegas
7738 Eastgate Rd., Henderson, NV 89011
• • • • •
THE THINGS WE DO FOR LOVE     |     ART FOR SALE     |     LA ART SHOW