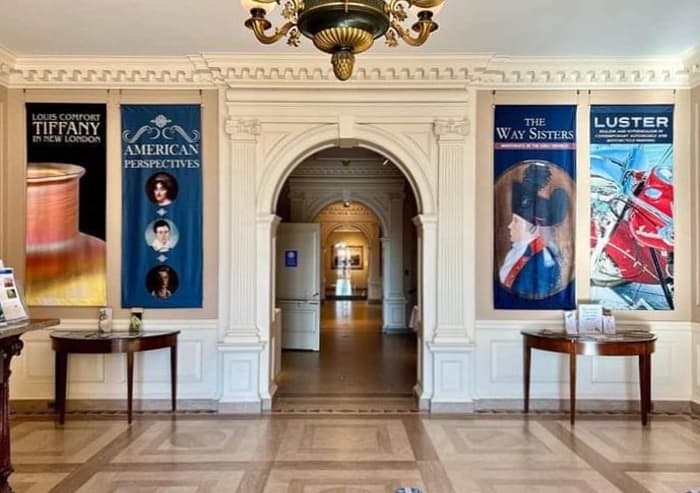 Special Thanks to The Lyman Allyn Art Museum for a Great Run!
LUSTER has arrived in Bozeman, Montana, and will open at The Museum of The Rockies on January 22 for display through May 1, 2022
A member's reception is planned for Friday, January 21, 2022, from 5:00 pm to 6:30 pm
P.S. The #1 Trip Advisor Top Attraction in Bozeman is The Museum of The Rockies:
The Auburn Cord Duesenberg Automobile Museum in Indiana has extended its dates to host LUSTER through January 15, 2023, after which Luster will travel to Texas and Michigan. The exhibit opens in Bozeman, Montana, later this month.
The complete up-coming itinerary is as follows:
Museum of the Rockies
Bozeman, MT
February 10 – May 21, 2023
The Citadelle Art Museum
Canadian, TX
June 1, 2022 – January 15, 2023
Auburn Cord Duesenberg Automobile Museum 
June 11 – September 3, 2023
The Dennos Museum Center
Northwestern Michigan College
Traverse Bay, MI
Additional Venues Under Consideration
The Luster Exhibit has been traveling the United States since 2018. It has been hosted at several illustrious museums, including The Museum of Arts and Sciences, Dane G. Hanson Memorial Museum, Maria V. Howard Arts Center, The Evelyn Burrow Museum, Saginaw Arts Museum, Sangre De Cristo Arts & Conference Center, Haggin Museum, The Morris Museum of Art, The Michele and Donald D'Amore Museum of Fine arts, The Ella Caruthers Dunnegan Gallery of Fine Art, The Art Museum of South Texas, and Lyman Allyn Art Museum.
Catch the complete details and tour schedule here > https://adcook.com/luster-realism-and-hyperrealism-in-contemporary-automobile-and-motorcycle-paintings/
This exhibit has been extended through 2023 but still has a few openings available. Contact David J. Wagner with any inquiries: https://www.davidjwagnerllc.com