Mona Lisa, Mona Lisa… MOTOR LISA
I'm pretty sure if Mona were around today, she'd be a biker. A lady for sure, but when the weekend arrives, that smile is all about the open road.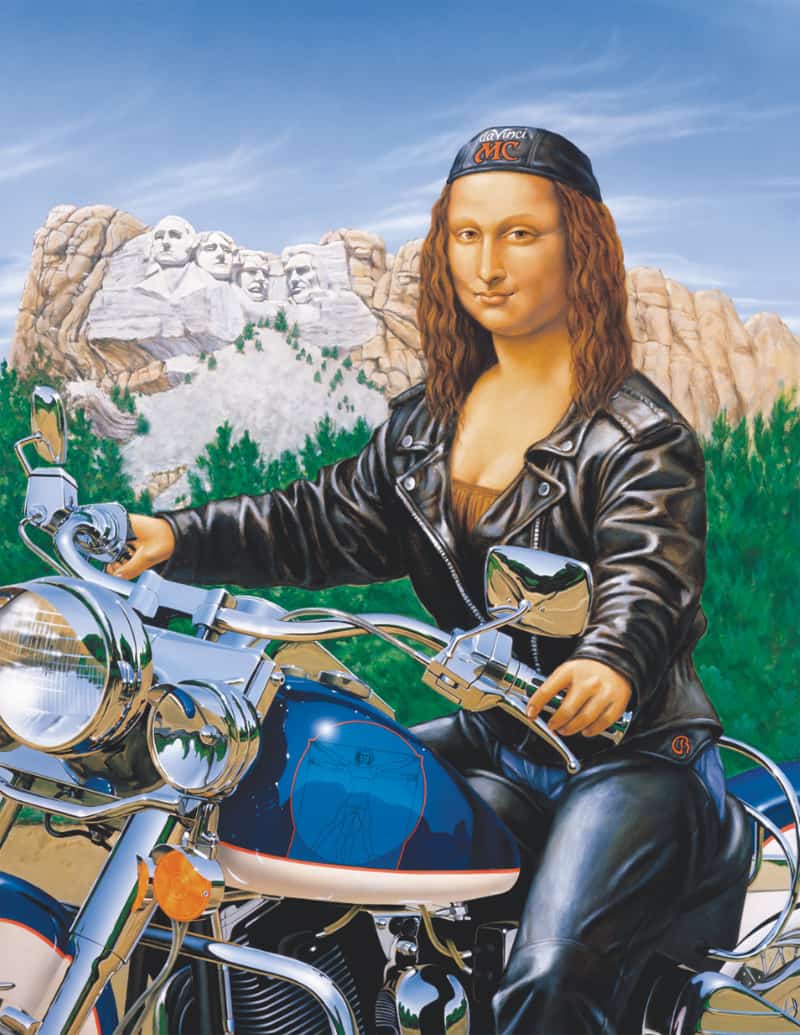 MOTOR MONA by Raphael Schnepf © 2002
Think about it for a minute. Forget about that famous smile and consider all the things that define a real woman – even a renaissance woman – maybe even more so. She exudes confidence (naturally, she rides American iron), honesty (you can see it in her eyes), a healthy handle on her emotions, she's strong and independent, mixed with just a splash of drama (but not too much). That's Mona. The perfect women, eh?
This artwork, MOTOR LISA, created by legendary artist Raphael Schnepf, beautifully portrays the strong and independent Mona posing with Mt. Rushmore as her background. Maybe she's just left the big motorcycle rally in Sturgis. You know the one, where today's renaissance man and woman celebrate life at its fullest.
Now, for the first time, you can own a beautiful giclée on canvas for your walls. Available 40″ x 31″ for only $695 – ORDER YOURS HERE.
• • • • •
The MOTOR LISA Story
The painting above came about as a collaboration between friends – the artist, Raphael Schnepf, and art director A.D. Cook.
A.D., an avid motorcycle enthusiast, and Da Vinci fan conceived the painting. The hugely talented Raphael created the painting. You'll find his signature circled "R" embroidered in red on the bottom of Mona's jacket.

Raphael Schnepf, artist
I thought he did a fantastic job with it. We started by borrow another friend's motorcycle and doing a photoshoot. Kathryn modeled as Mona. Raphael changed up the motorcycle paint job to include Leonado's Vitruvian Man, who some say may be a self-portrait of Leonardo himself. Of course, Raphael did a great job of placing her in the historic setting.
Learn more about Raphael Schnepf and his art here.
• • • • •
DAVINCIAN PRINCIPLES     |     LIFESTYLE ART     |     CREATIVE QUOTES