There is simply no doubt about it. I am a tried and true Lamborghini fan.
My love for Lambos is long-standing and well-documented.
I've always been a Lambo fan – ever since I was young. I, like many of you, was one of those kids who had the Lamborghini Countach poster on my wall, then later the Diablo poster, and so on, and so on, forever dreaming of owning a Lamborghini supercar. While I still can't say I own one, it's only fitting that I sneak in a post to celebrate their 50th anniversary in style and share my latest Lamborghini experiences with you here. After all, these past few days have been pretty cool as I've experienced driving four different Lambos and enjoying time at the 2014 Model Motor Trend International Auto Show in Las Vegas.
It all started on Thanksgiving Eve. My friend, Tom Brazill from Lamborghini Las Vegas, allowed me to drive a couple of cars to the Las Vegas Convention Center in preparation for this year's Motor Trend Auto Show. If you read my blog posts, you know I do this occasionally and rarely pass on the opportunity to drive a beautiful car, especially a Lambo. This year, I delivered two, and it was great to experience similar yet very different variations of Lamborghini back-to-back: the  Gallardo LP 570-4 Squadra Corse and the Gallardo LP 550-2.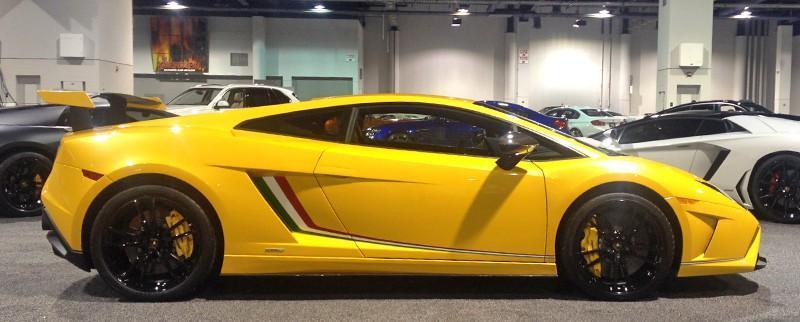 Lamborghini Gallardo LP 570-4 Squadra Corse in Giallo Midas (yellow) is based on the Gallardo Super Trofeo, the successful race car from the Lamborghini Blancpain Super Trofeo, and shares the same V10 engine.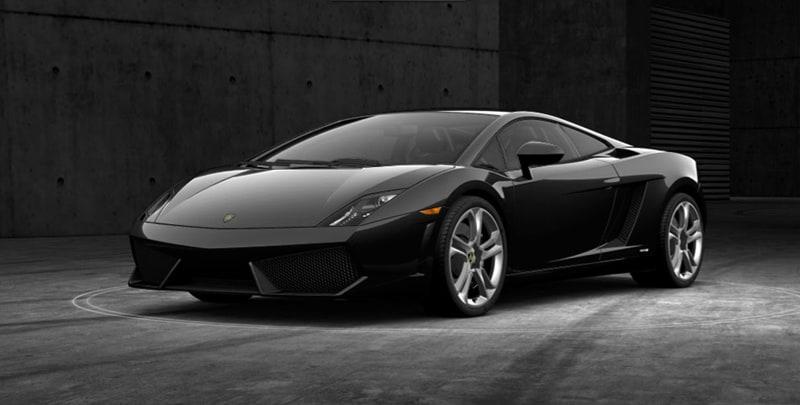 The Lamborghini Gallardo LP 550-2 in Nero Serapis (black) is defined by its use of classic sports car technology — rear-wheel drive and a potent engine.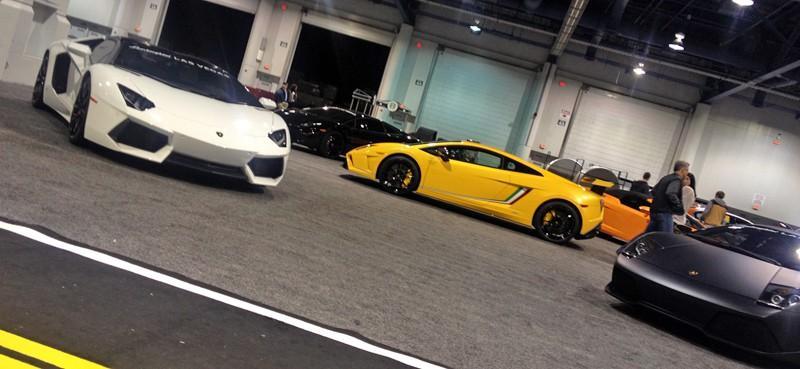 Beautiful ladies in waiting — Lambos galore.
With these two beasts delivered, along with three other Lamborghini beasts (one Aventador, one Murciélago, and a Gallardo Spyder), we arranged the cars. We set up the display in preparation for the forthcoming show, which would start on Friday morning, just after Thanksgiving.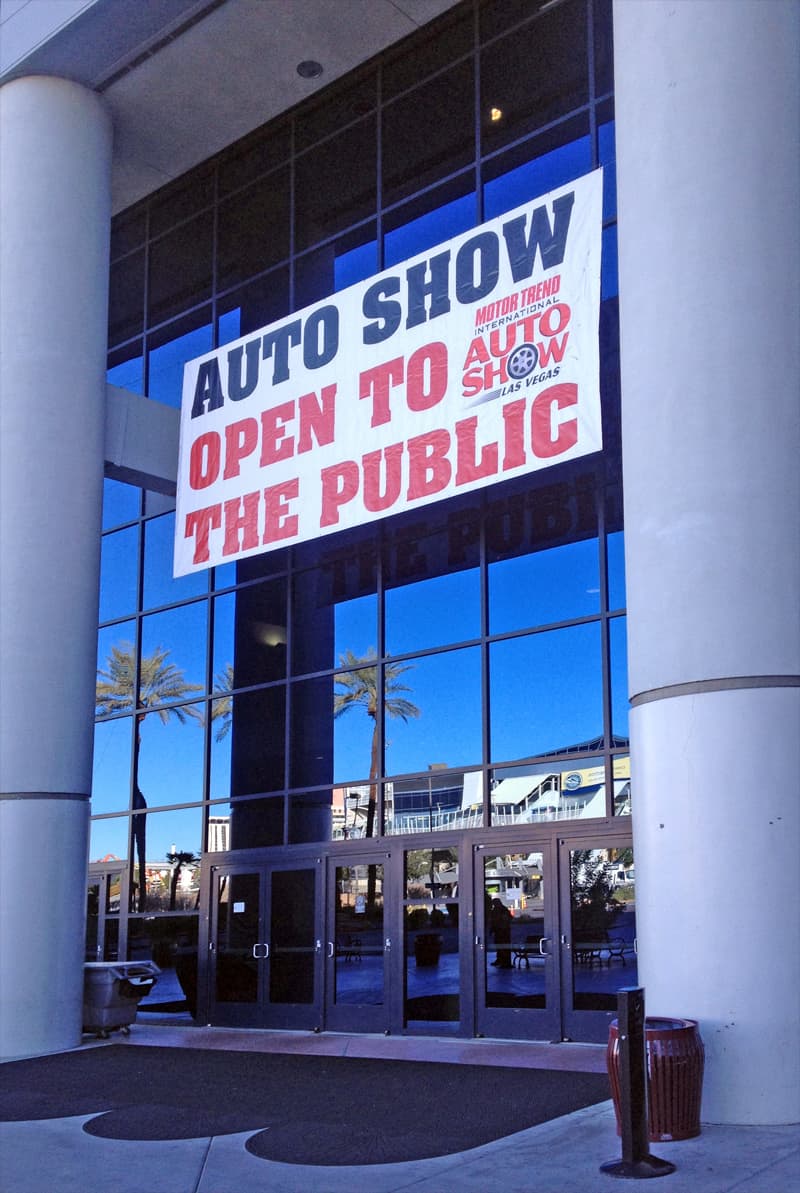 Let the show begin…
Black Friday morning. Kick-off time for the Motor Trend International Auto Show — three days of car appreciation.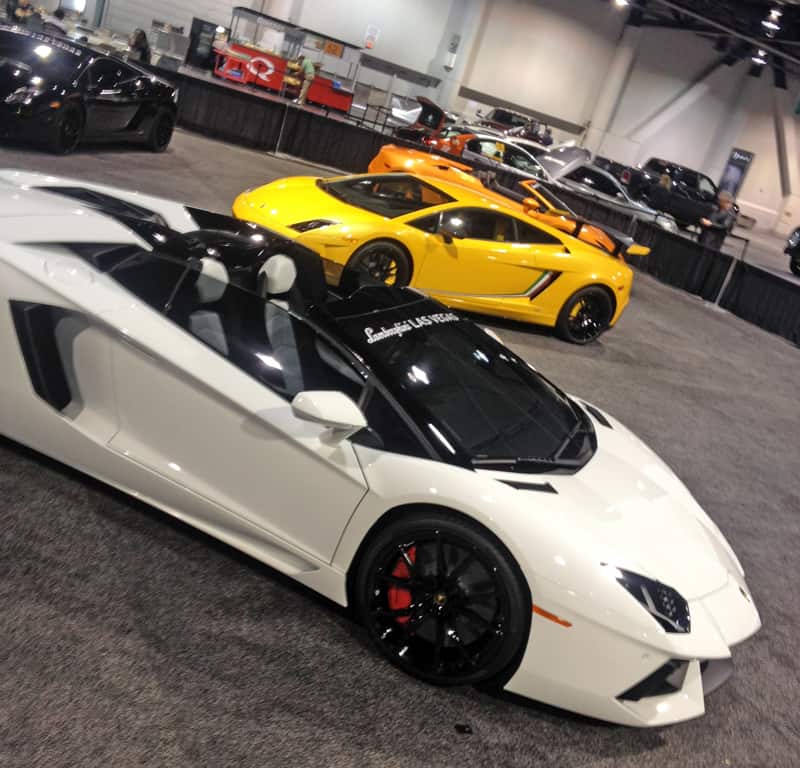 Four of the five Lambos are displayed this year, featuring three 2013 models…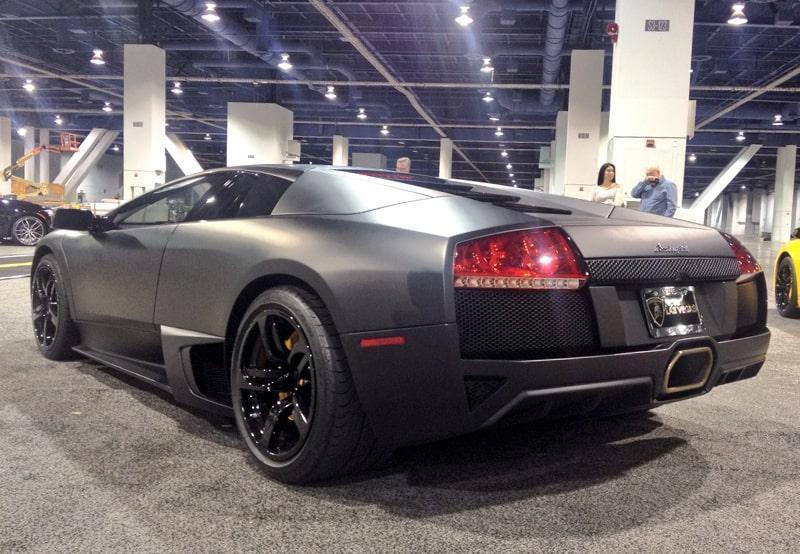 … and the notorious 2009 Lamborghini Murciélago LP 640-4 in Nero Nemesis (flat black).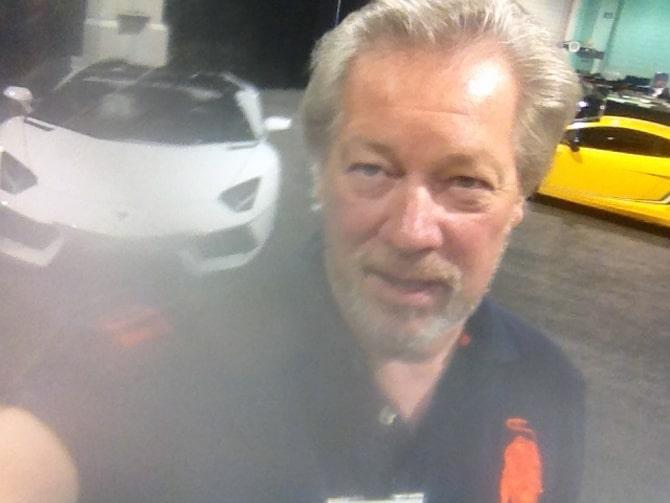 I am enjoying my time at the Motor Trend Auto Show.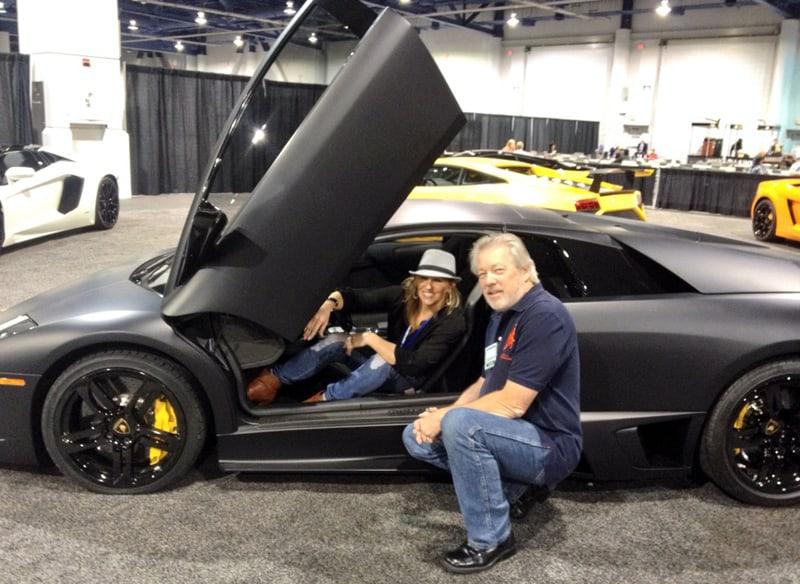 Vegas celebrity and on-air diva Nicole Cherry, aka "MJ," enjoys a moment in the Lamborghini Murciélago LP 640-4
After three days of chatting cars with enthusiasts and fans, by Sunday evening, it was time to wrap up this year's event. As they say, when the show is done, it's done. And when that call comes over the loudspeakers to "start your engines," it's always amazing how fast an exodus happens at car shows. Within minutes, we were on our way — this time, I had the Lamborghini Aventador LP 700-4 Roadster key in my hand and was ready to drive the big beast back to the dealer.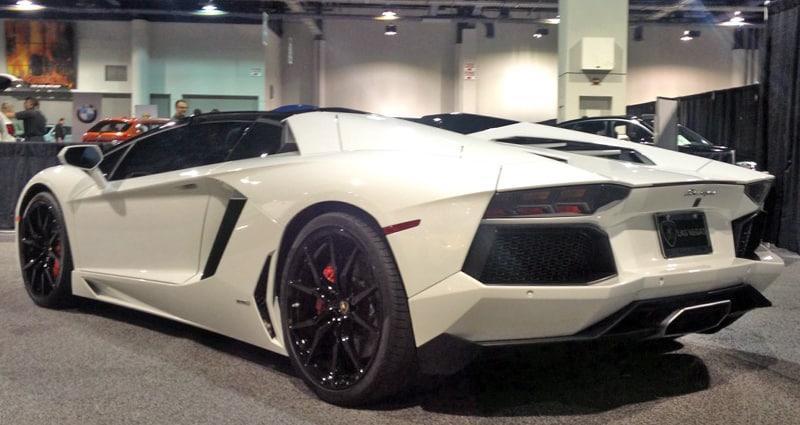 The Lamborghini Aventador LP 700-4 Roadster features a 700 HP V-12 with 0-60 performance in under 3 seconds and a top speed of 217 mph, combining perfectly balanced sportiness and elegance.

Since its inception, the Lamborghini Aventador LP 700-4 has been my favorite car. "Why?" you ask. For lots of reasons, really: styling, performance, it's a menacing and powerful sound, but I like it as a comfortable car, too. I'm 6'0″ tall with a 34″ inseam. This car fits me – nicely, I might add. With its beautifully designed interior and ergonomic layout, I could drive this bull all day while enjoying every mile and every growl of that powerful V-12. Perhaps one day, I'll get that chance. Until then, I savor every opportunity to rack up flight time with the beasty bulls.
Check out this awesome Aventador LP700-4 video.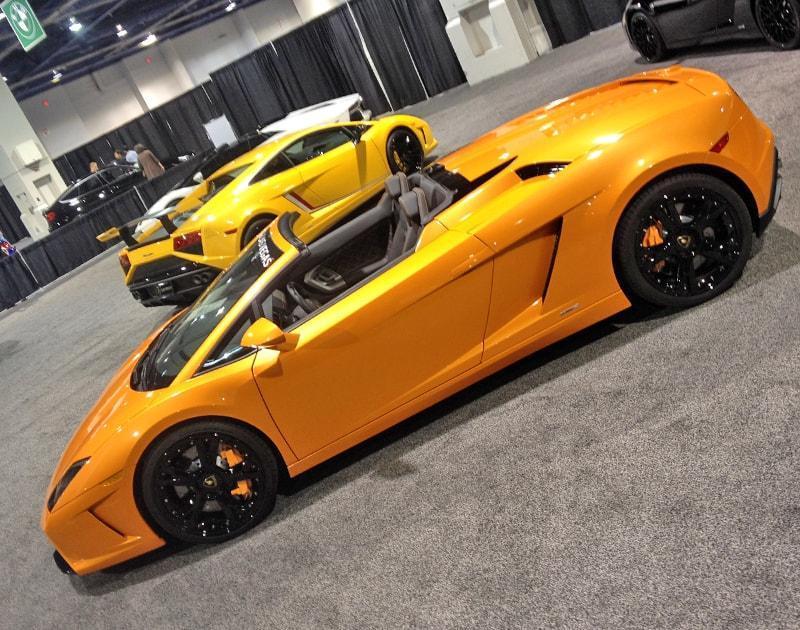 The Lamborghini Gallardo LP 560-4 Spyder in Arancio Borealis (metallic orange) is exciting.
And lastly, I enjoyed driving the Lamborghini Gallardo LP 560-4 Spyder. With its fully electronic-hydraulic soft top and ultra-comfortable interior, this car rocks! Top-down when you want it – top-up when you need it. It's the best of both worlds for Vegas, and that beautiful orange (Arancio Borealis) is stunning.
• • • • •
HAPPY 50th BIRTHDAY LAMBORGHINI
[ Running strong since 1963 ]
• • • • •
After half a century, Lamborghini is still making the kind of cars that dreams are made of. Learn more about Lamborghini's first 50 years on 60 minutes at http://www.cbsnews.com/news/lamborghini-turns-50.
• • • • •
Here are some great links to learn more about these amazing cars.
• List of Lamborghini Automobiles – A list of production automobiles manufactured by Lamborghini, listed chronologically.
• The $4.5. million 2015 Lamborghini Veneno Roadster
• • • • •
Special thanks to…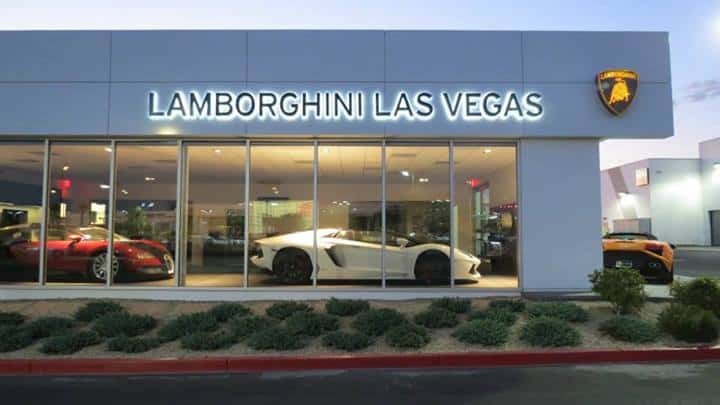 7738 Eastgate Rd., Henderson, NV 89011 • (866) 980-2832
Follow them on Twitter at @SinCityLambo
• • • • •
SEMA LAS VEGAS 2013     |     FAST FORWARD     |     4th ANNUAL ITALIAN SPORTS CAR DAY