It seems everywhere you look, at least in Las Vegas and on TV, there is something happening with body painting.
I like to call it the "Body Art Phenomena." And you know what, it's awesome! The human body is beautiful and makes a perfect canvas for many creative expressions.
You don't have to look far anymore. From the swimsuit issue of Sports Illustrated magazine and Vanity Fair – Demi's "birthday suit" to public events like Key West's Fantasy Fest and Black Rock City's Burning Man, body painting has become a popular art phenomenon. And it's here to stay. After all, it's been around in one variation or another for as long as man. It's been used to disguise soldiers as camouflage or for intimidation in battle and to adorn beautiful ladies for entertainment and performance. You see body-painted fans at sports events all the time, and face painting is still popular with kids at carnivals and parties, as is painting adults for festive events. Body painting is everywhere.
• • • • •
Body art is art made on, with, or consisting of the human body. The most common forms of body art are tattoos and body piercings. Other types include scarification, branding, subdermal implants, shaping (for example, tight-lacing of corsets), full-body tattoos, and body painting. — source: http://en.wikipedia.org/wiki/Body_art
• • • • •
I've been a fan of body art, particularly in regard to body painting, for a long time. I enjoyed painting models ever since I was young. My first serious project was in 1982, when I painted a beautiful model to look like a graceful wild cat for an Arizona gentleman's club, Cheetahs. I remember the model liking the finished project so much that she expressed that she wanted to go out and roll in the grass like a cat. Over the following years, I painted several models for various projects, often for events, step-by-step articles, and advertisements showcasing body art paints and tools.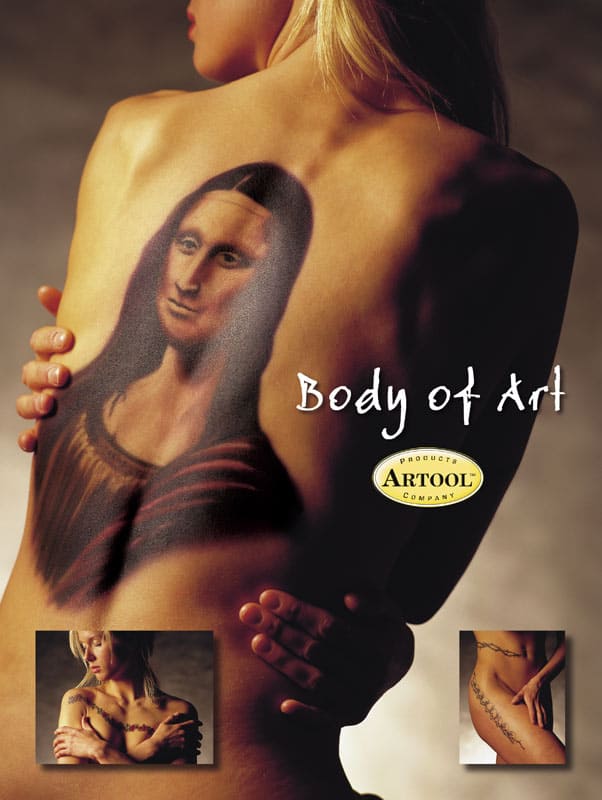 BODY OF ART
Artool Products magazine ad – © 1999 Artool Products Company, Inc.
Featuring body art by A.D. Cook
Photography by Todd Eckelman
The Body of Art project was a blast. I painted the infamous Mona Lisa on a model's back along with other adornments for the 1999 Artool Products ad showcasing their alcohol-based paints and temporary tattoos. This ran as a full-page ad in several issues of Airbrush Action magazine.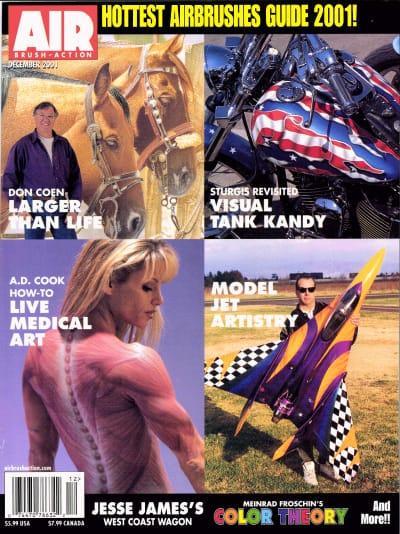 Creating A Living Medical Illustration | Body Art 101
Airbrush Action Magazine, December 2001
A couple of years later, I body painted my model Tonya as a living medical illustration, featured in Airbrush Action magazine in December 2001. Click here to read the entire step-by-step article.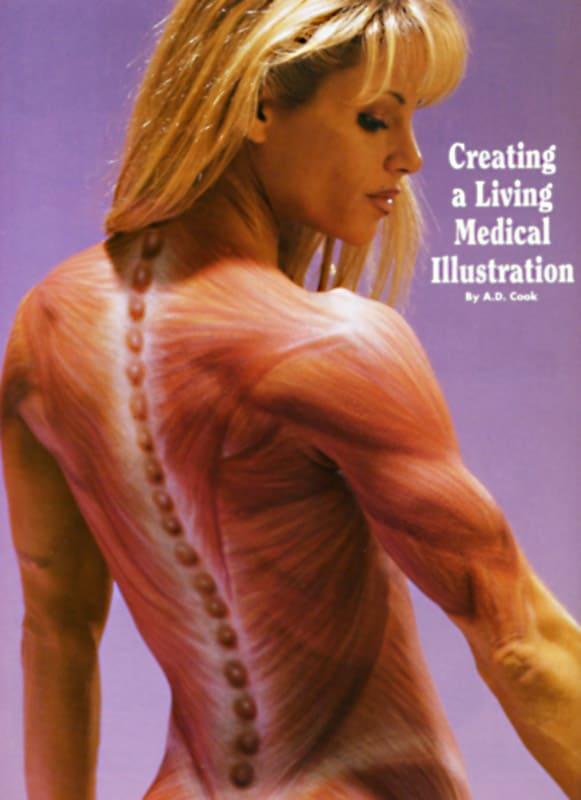 A closer look at Tonya's painted muscles.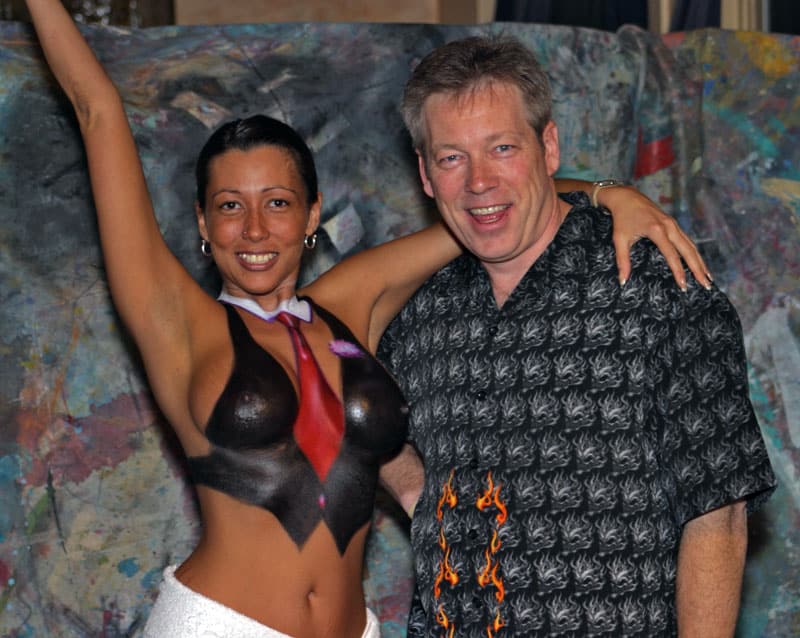 Body painting at Greek Cusina Restaurant, Portland, Oregon, 2005
The always-progressive Greek Cusina Restaurant held parties with body-painted crowds in Portland, Oregon. I enjoyed sharing my talents with them a couple of times, painting several models before live audiences.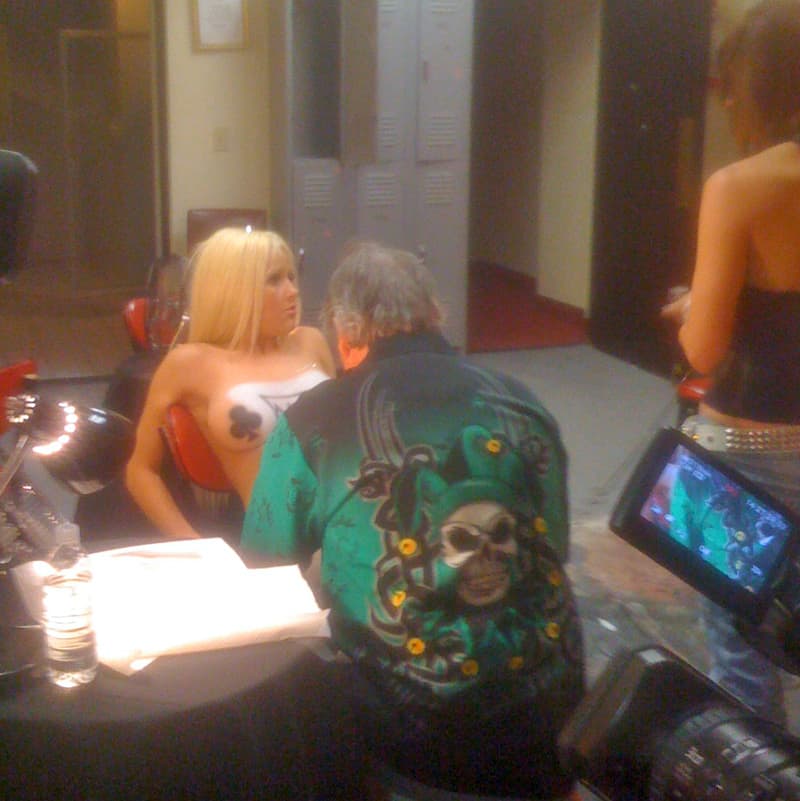 Body painting dancers for the King of Clubs reality show, Las Vegas, 2009
A few years later, I painted nine models in one day for the King of Clubs reality show for Playboy TV. This was a fun event, not only for the pressure of painting so many girls in such a short time frame but also for the energy of the evening as the ladies performed.
Over the years, I've enjoyed painting lots of bodies for fun and interesting events. If you have something in mind, keep in mind to help. If I can't do it, I'll refer you to someone who can (in Vegas anyway). Events, model sessions, photo sessions, marketing campaigns, and advertising projects — I'm always up for something fun. From conventions to nightclubs, Las Vegas provides the ultimate mystique to create a one-of-a-kind body-painted art experience.
• • • • •
Other great body painting links…
• Trend Hunters – 45 Beautiful Body Paint Features
• The World Body Painting Festival
• • • • •
EN FUEGO CIGAR BODY ART EVENT     |     FIGURATIVELY SPEAKING     |     BATTLE OF THE STRANDS 2013