Rider Profiles By Janga
Northwest Edition June 2005 and California Edition January 2006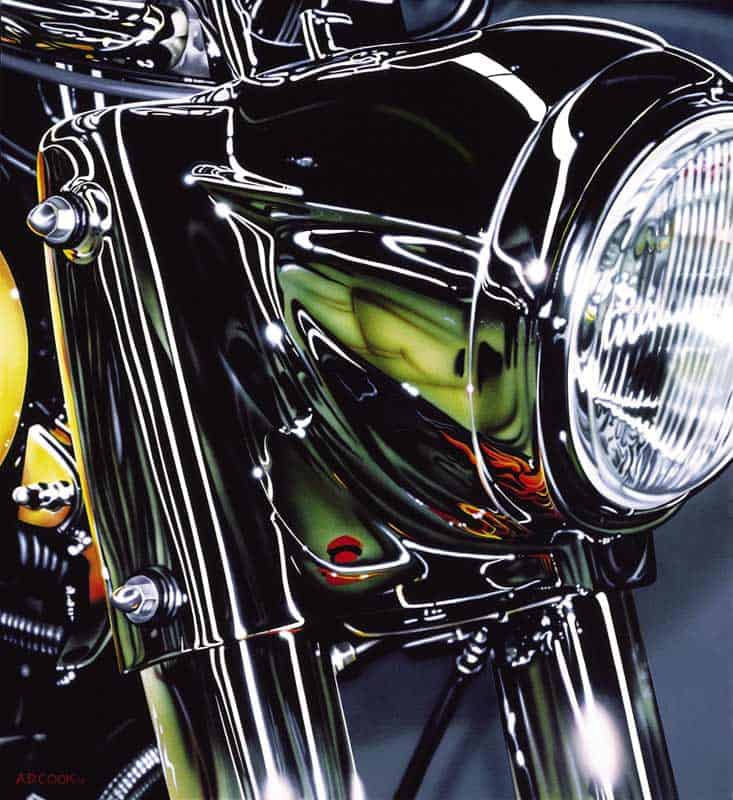 A.D. Cook
Is it a photograph? Look again. The big, juicy motorcycles with bottomless chrome, glowing color, and incredible detail are paintings by airbrush artist A.D. Cook. A rider since the age of 17, A.D. combined his love of bikes and passion for art to create a series of American motorcycle paintings. One of them titled "For Show", is featured on this month's QT cover.
A.D. has a studio and offices in Tigard, Oregon. His large airy workspace looks very neat as if he could walk up to the easel and start another huge painting at any moment. He attributes his good organizational habits to his childhood, where, due to his father's job, they moved frequently."If I didn't have my things packed and ready to go, they were left behind." The things A.D. always had with him were his drawing pads and pencils. His art kept him occupied while traveling from state to state in the family camper and helped him to fit in at the new school. He discovered airbrushing in eighth grade, had a WOW! experience, and has worked mostly in that medium ever since. In Jr. High, he also began painting murals as a student in the "Artist in the Schools" program.
While working in graphic design, A.D. became the resident artist for the Hollywood Video Stores in Portland. There he further developed speed and technique while decorating the stores with hundreds of murals from the movies. His dramatic Marilyn Monroe, Elvis, John Wayne, Steve Martin, and the T-Rex became famous airbrush award winners. He is still a frequent contributor to "Airbrush Action Magazine" and many other publications.
A.D. and his wife Kathy now operate the art design business in Portland and look forward to their next bike trip. Both are experienced riders and motorcycle enthusiasts. They rack up at least 8k to 9K miles a year riding to Tahoe, Hollister, Laughlin, along their favorite NW coastal roads, and to local events.
When asked if he ever paints on tanks and fenders, he explains that it is a totally different technique using different paints with stronger fumes. He prefers his smooth gesso prepared and sanded canvases. "I can push the paint around until I get the effect I want." Recently he has been interested in realistic figurative works. His larger-than-life female figure paintings impress the viewer with the same meticulous, exquisite detail from each strand of hair to the manicured fingernails on the expressive hand. An expert photographer, A.D. works from hundreds of photos he takes of each subject. He then spends 10 to 12 hours a day on the painting taking 200 hours or more to complete it. "It is challenging for me to express the spirit, strength, and beauty of the woman, looking past the nudity."
A.D. always has a lot going on at the studio, so enjoys the time he can spend doing his own thing, creating fine art. Several times a year he hosts student workshops where he teaches airbrush painting. Commissions, shows, and other projects keep him busy. He has the confident, relaxed intensity of a man who savors life, is always interested in what the day will bring, and is ready to have fun with it. There is a plaque on the wall of his studio with the words that have always encouraged him, advice from his late, beloved father. It reads "Can't Never Tried." Art prints and info available at adcook.com
• • • • •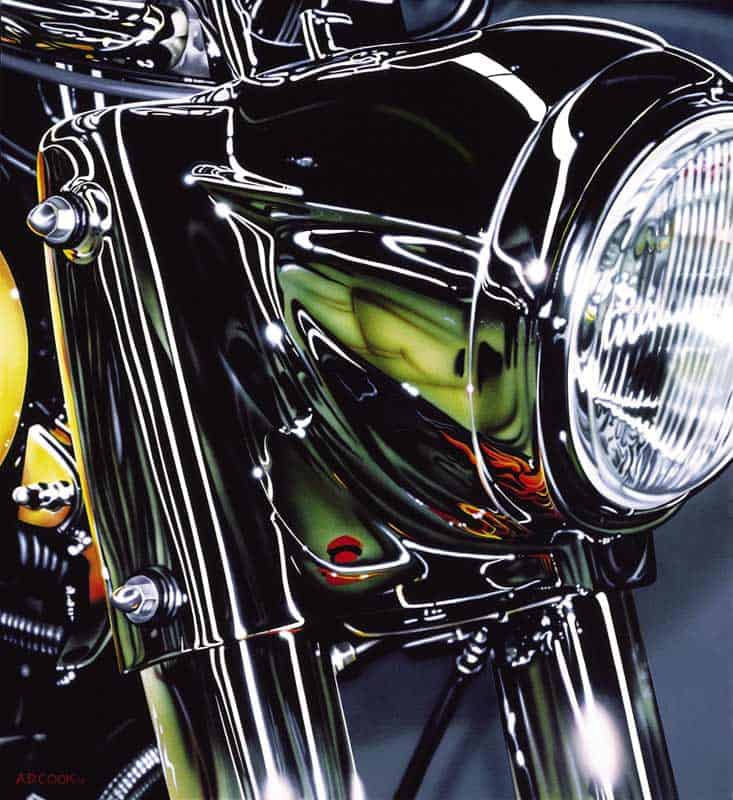 Featured Painting "For Show"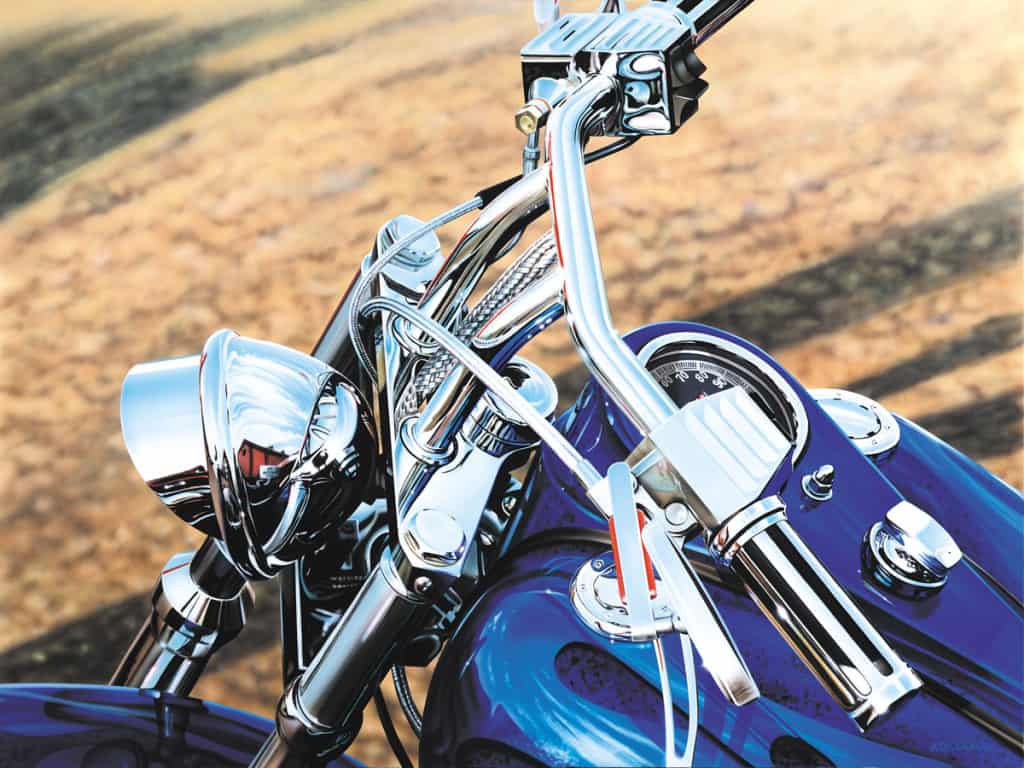 Also featured in the article is "Passing Time".