The diverse and dynamic Steve Connolly always impresses with his "Spirit of the King" performances and "Portrait of a King" artworks.
I've known Steve for a couple of years now. We met in 2012 at the Exhibit City News Trade Show Party, where he appeared and performed as Elvis. It turned out that we had a lot in common, so we became instant friends. We get together every so often and discuss art, music, and life in general while celebrating our mutual passion for coffee. Steve is a good guy – a talented artist and performer – and a good friend. I greatly respect his skills and dedication as a painter and entertainer. So, when I saw him last, I mentioned doing a FEATURED ARTIST post to share his creative talents with you here, and the natural conclusion was, "It's now or never."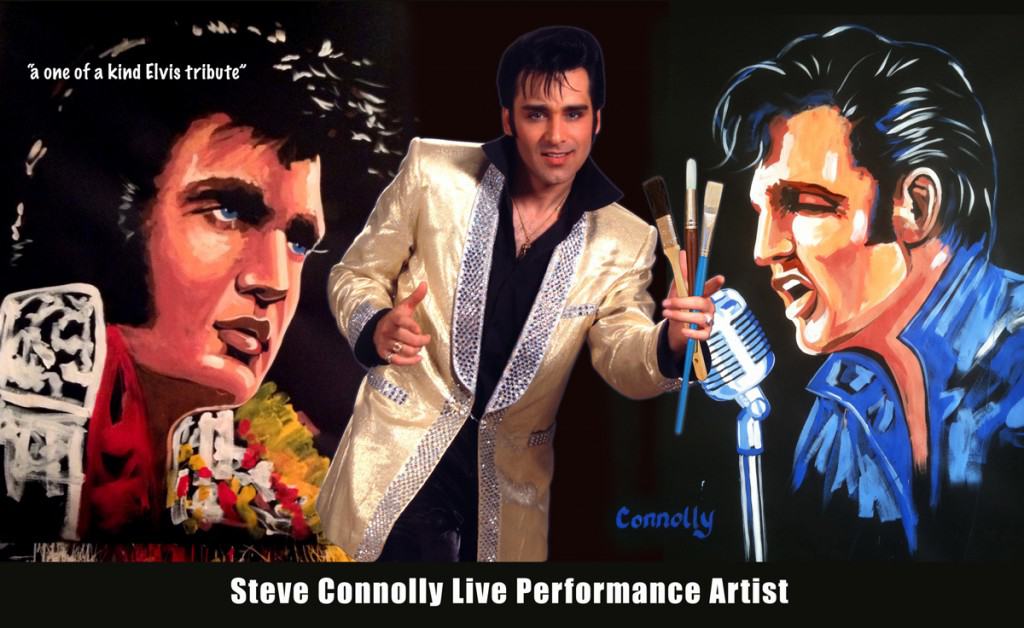 Steve Connolly – live performance artist.
Veteran Las Vegas performer Steve Connolly has made his mark as the legendary Elvis Presley in his stage production show Spirit of the King, Dubbed "The Hardest Working King in Show Biz," Steve Connolly has performed as Elvis Presley more than 4,500 times in his public career also adding well over a thousand private dates to his prolific career. He remains the only entertainer depicting Elvis to be chosen two years in a row by the Las Vegas Review Journal's staff as "Best Elvis in Las Vegas" in 2006 and 2007. High-profile fans of Connolly's version of Elvis entertainment include Steven Tyler of Aerosmith, singer/songwriter Kenny Loggins, comedian Dennis Miller, former President Bill Clinton, and business mogul Donald Trump. Bobby Morris, Elvis' conductor at the Hilton International in Las Vegas, calls him "The #1 Elvis on the planet."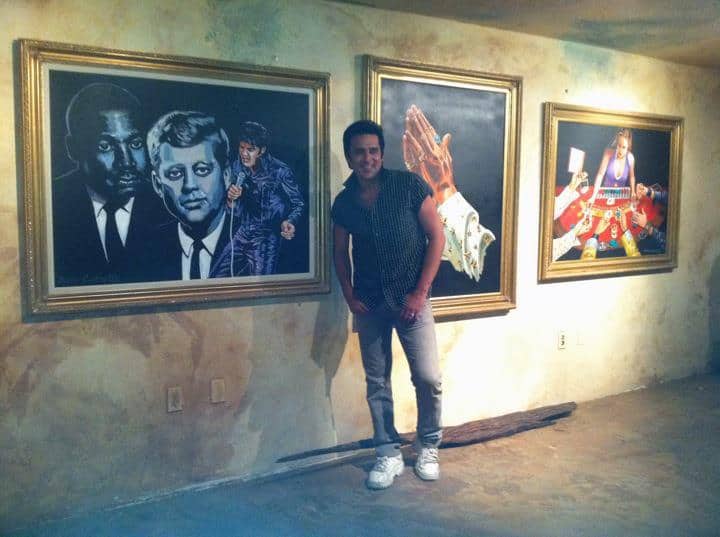 Steve Connolly with his epic paintings.
Bright light city gonna set my soul. Gonna set my soul on fire…
— Elvis Presley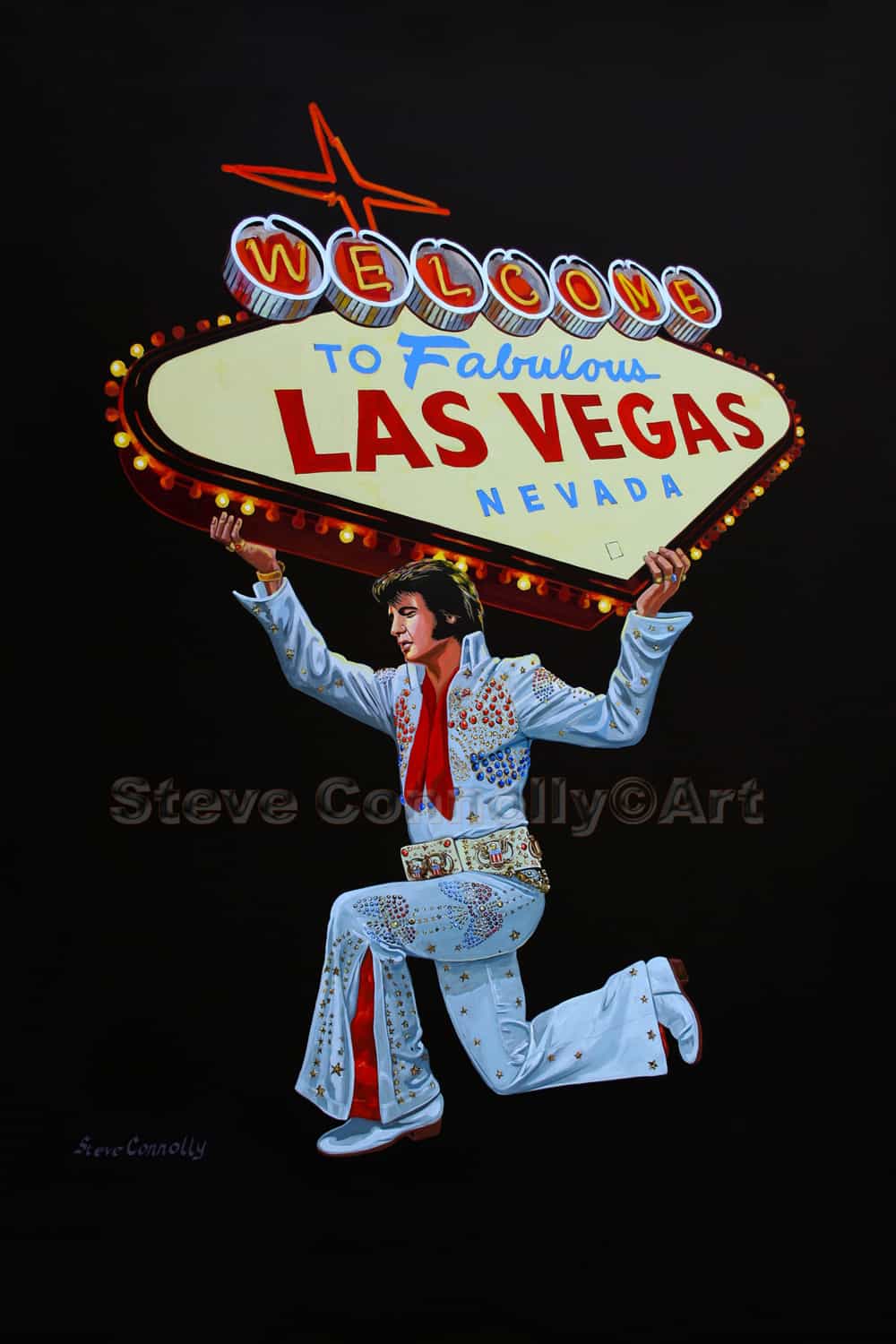 Welcome to Fabulous Viva Las Vegas.

Connolly has mastered all of the physical nuances, moves, and conversational tones of the man from Memphis, and he's studied the entire body of Elvis's music, the novelty of some of his arrangements, and even his sense of humor and abilities as a band leader in live performances. His many talents include painting; over the past three years, Connolly devoted a small portion of his 75-minute show to a speed-painted 'portrait of the King.' It is truly an amazing act all by itself.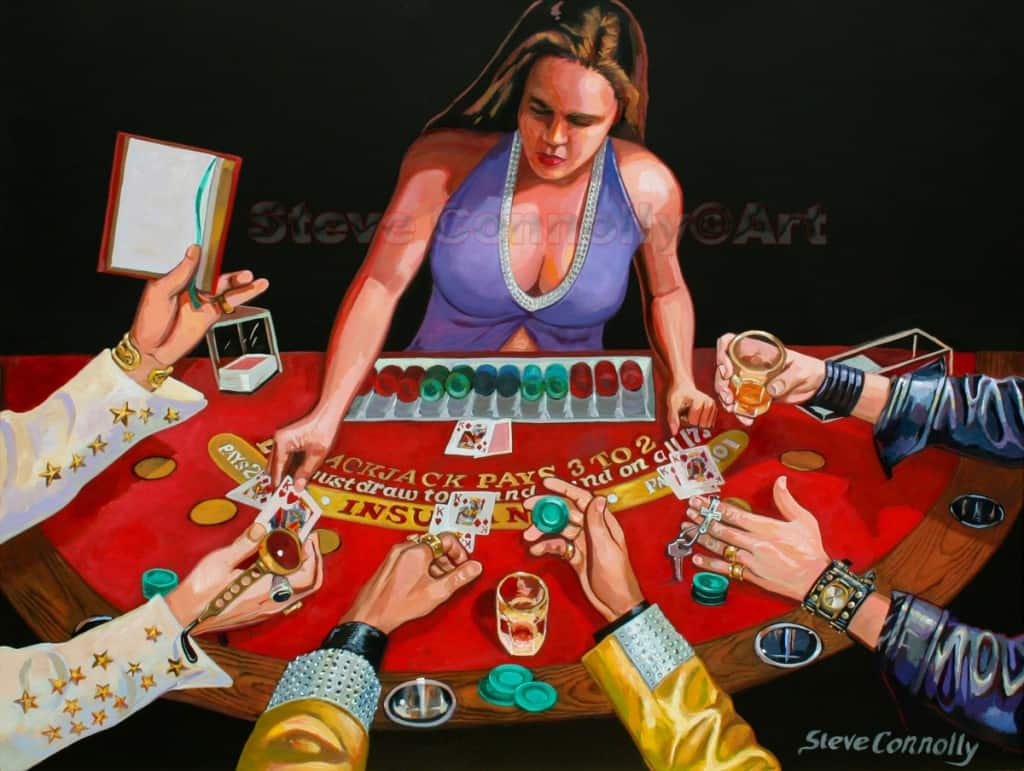 The Kings at Play.
And while Steve's performances are impressive, his art is equally so. His large-scale paintings on canvas feature Elvis in fun and whimsical scenarios. Steve is also the model for his artworks, making them even more dynamic and interesting.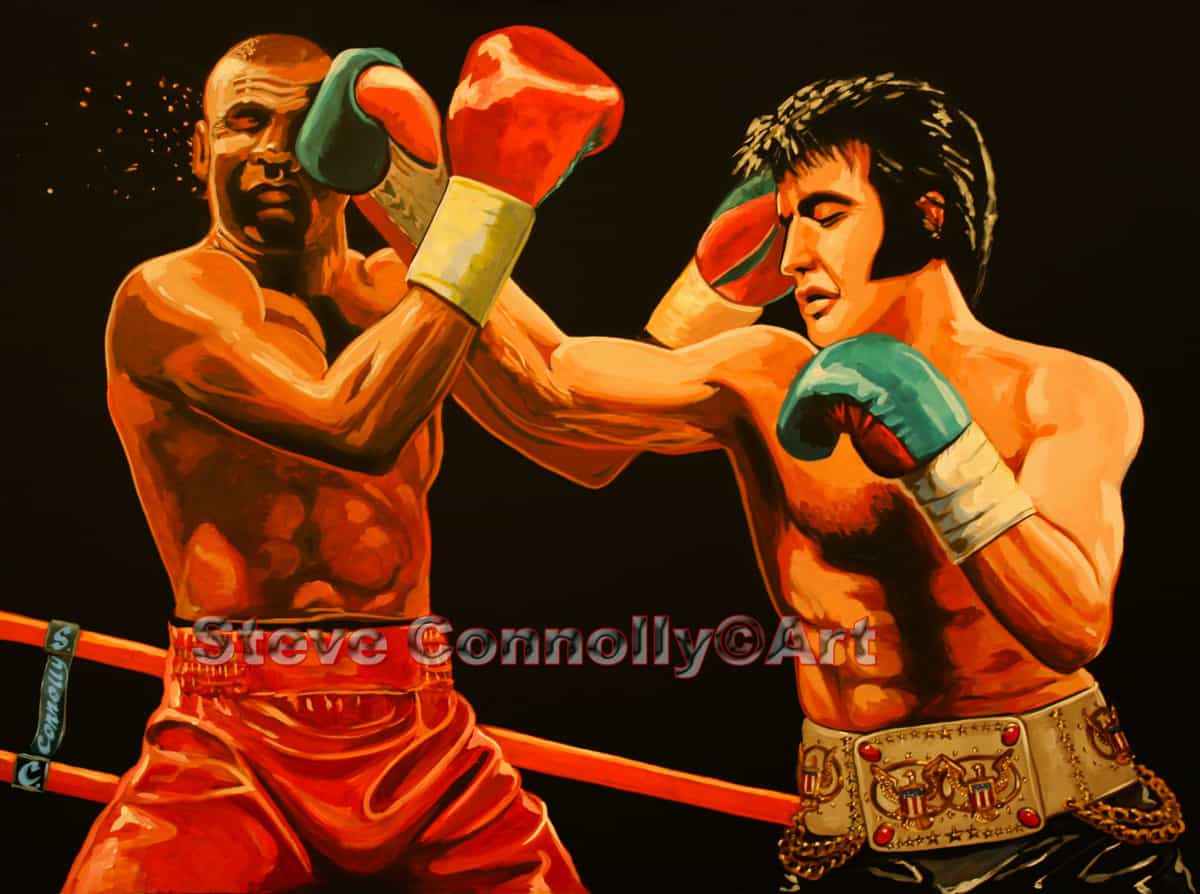 Elvis in the Ring.
Steve first started publicly painting in 2010 at an event in Las Vegas called "First Friday," a block party attended by almost 10,000 people each month. Several of his paintings were on display at the Southern Nevada Center for the Arts. He set up a sound system in the gallery parking lot and began painting and singing as Elvis. What started as an attempt to drum up business for the art gallery was the catalyst that sparked a whole new direction in the way Steve's Elvis tribute show would now be presented & the rest is history in the making!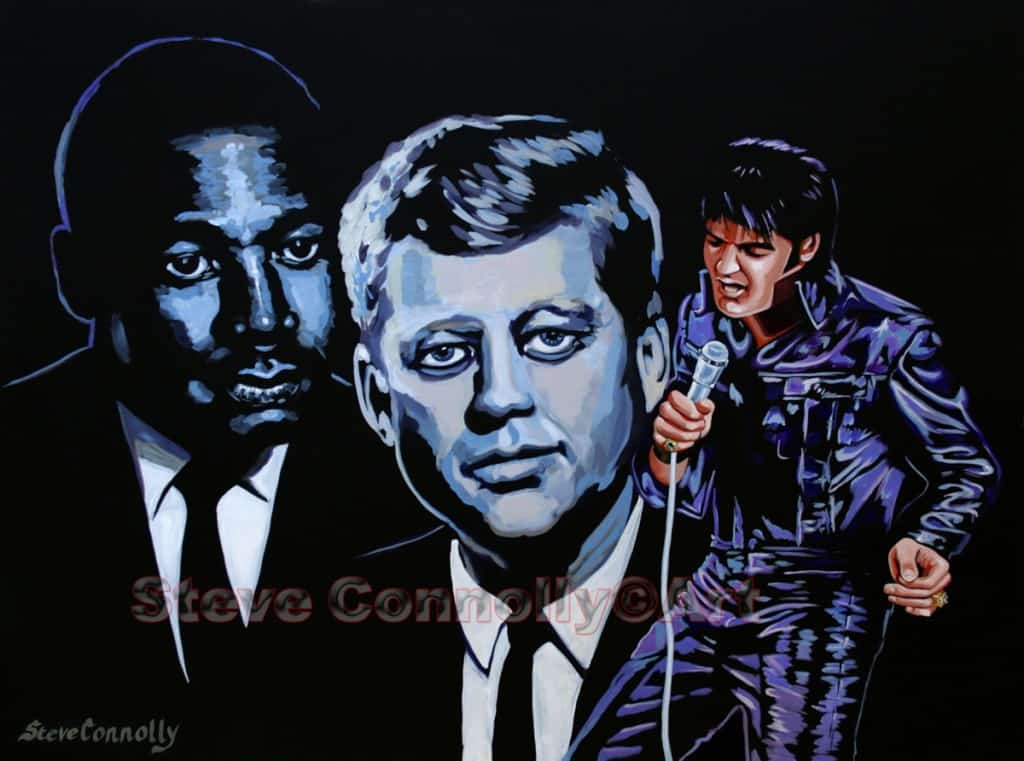 Martin Luther King, John F. Kennedy, and the King.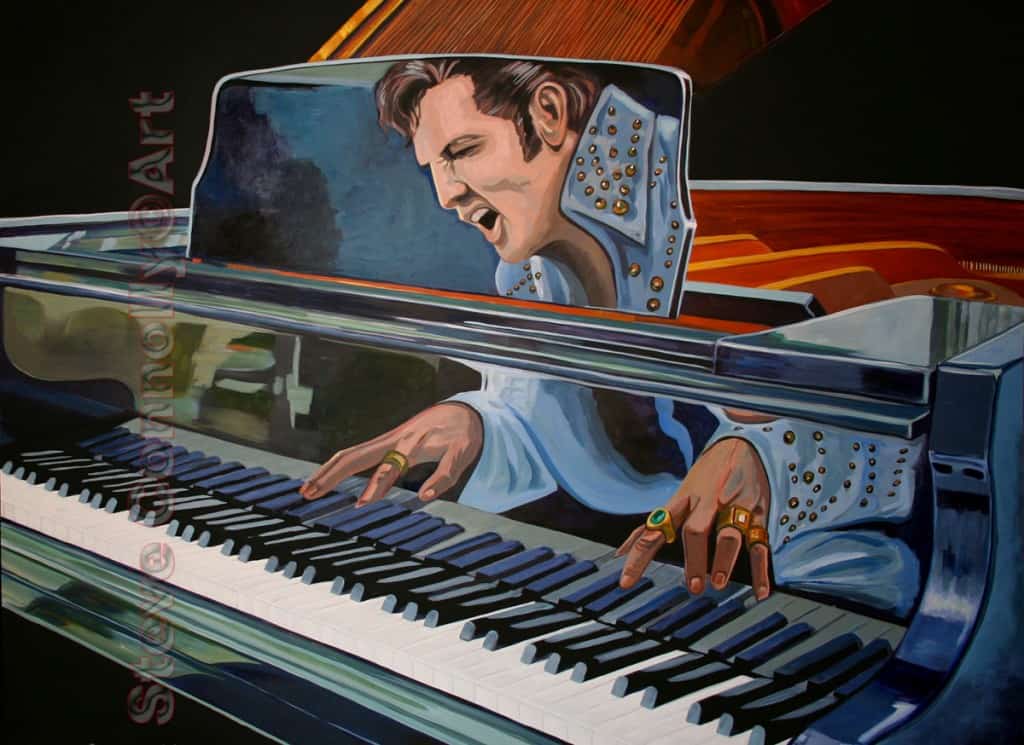 A beautiful rendition of Elvis on piano.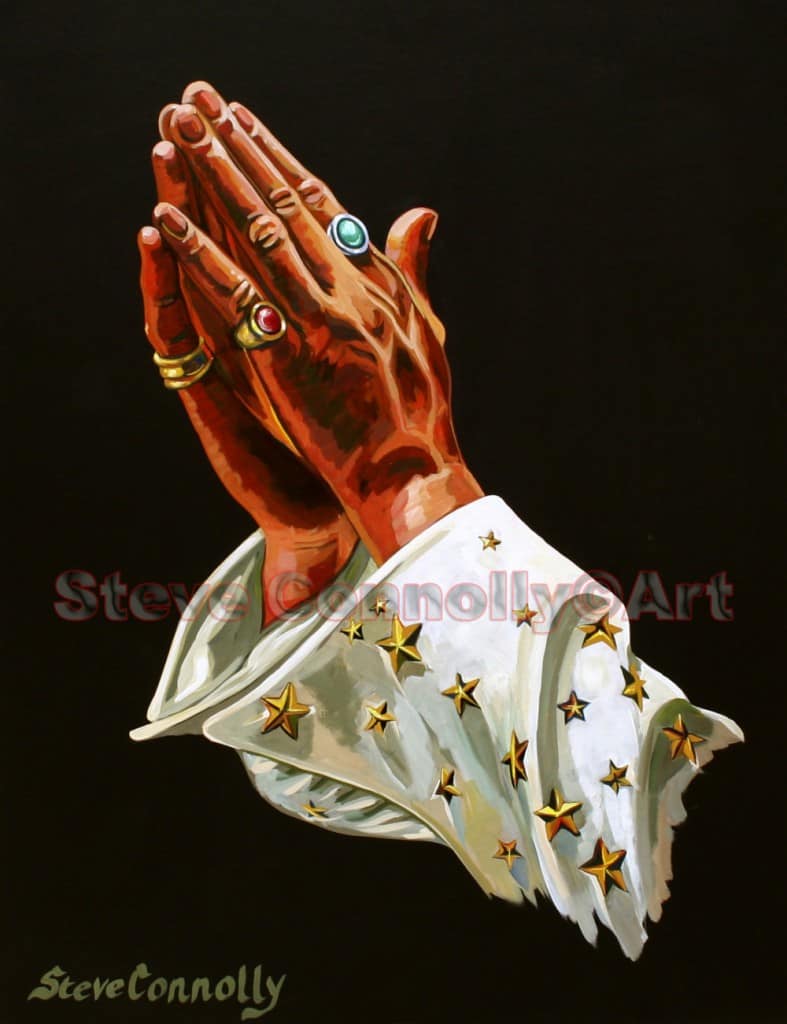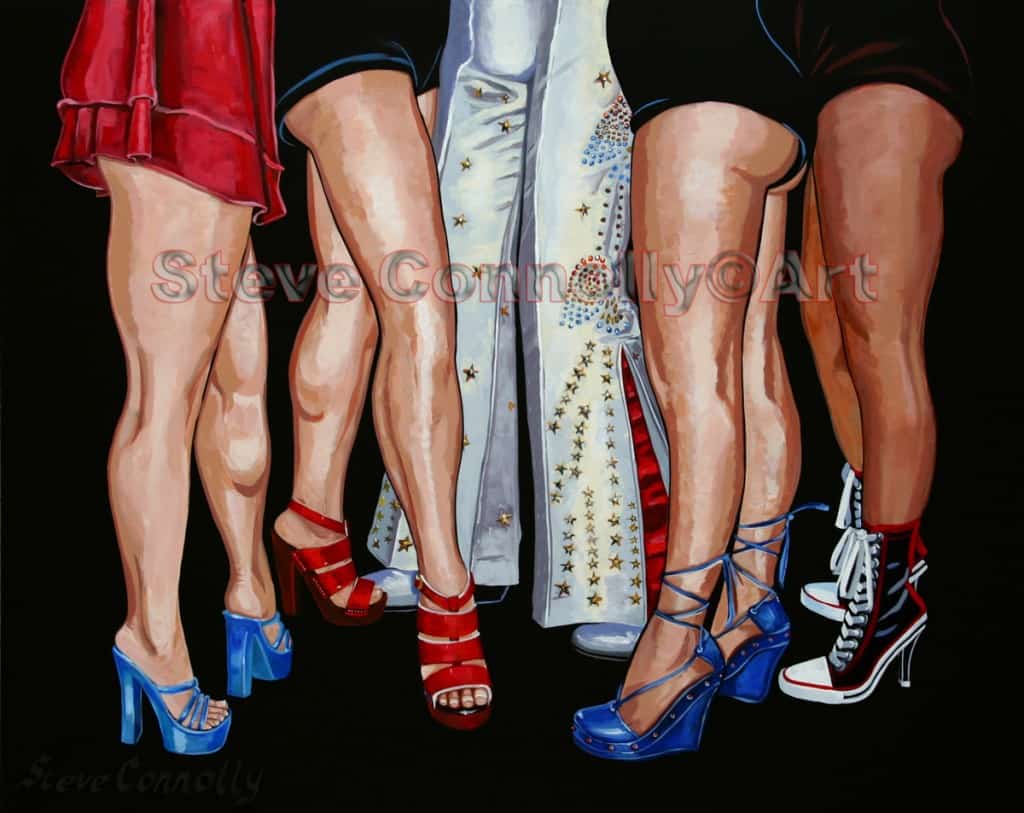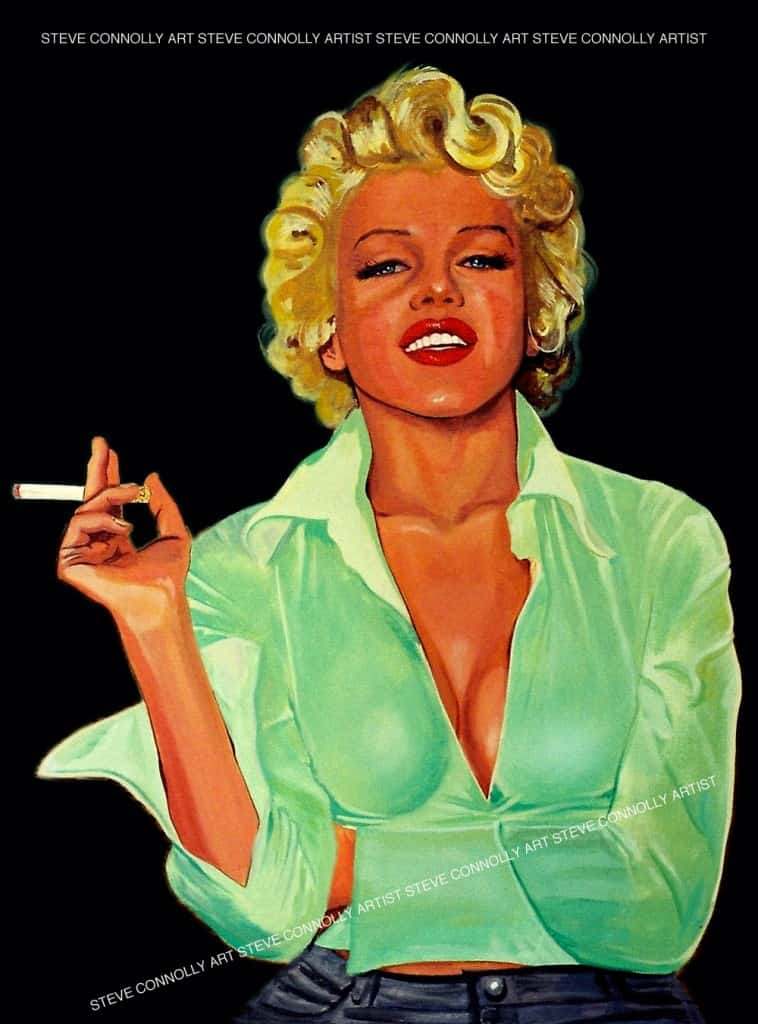 The always beautiful Marilyn.
Videos of Steve's performances show his dedication and commitment to his craft…
One artist – two tributes.
 Steve performs "it's Now or Never".
It's clear to me that you are the #1 Elvis.
— President Bill Clinton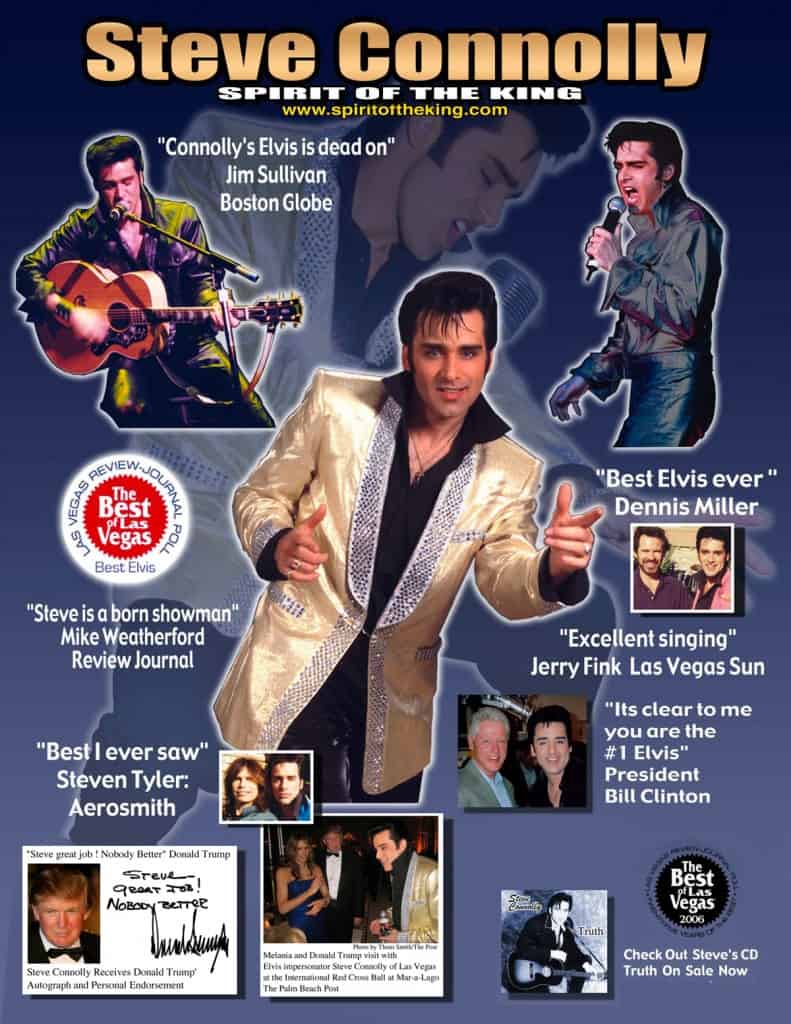 Steve Connolly — Spirit of the King.
Best I ever saw.
— Steven Tyler, Aerosmith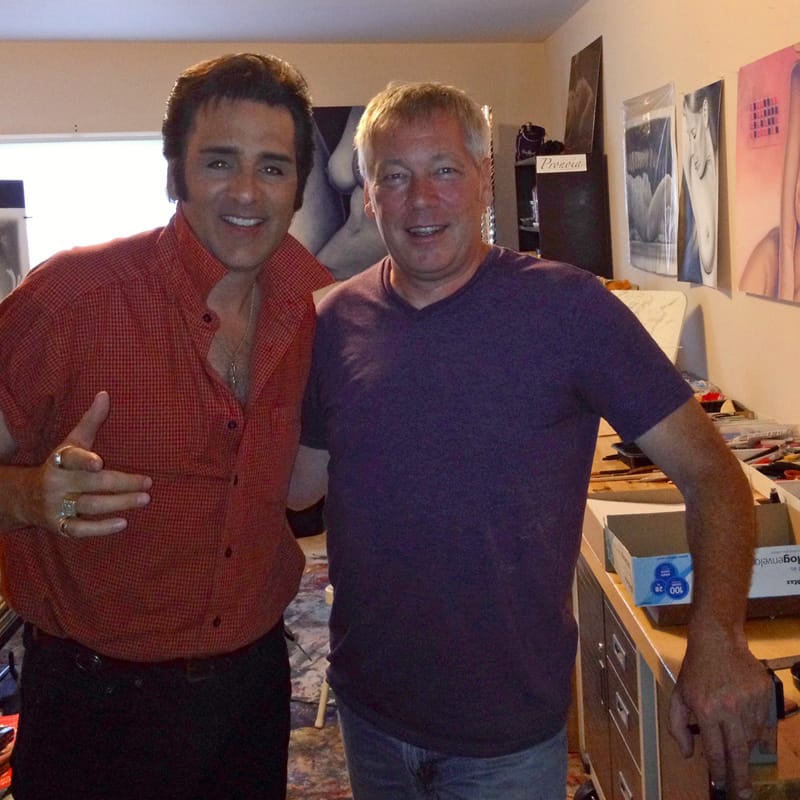 Artists Steve Connolly and A.D. Cook in A.D.'s Studio – June 2014.
All artworks in this post are copyright © Steve Connolly. Visit him online at SpiritOfTheKing.com – Follow him on Facebook.
 Viva Las Vegas!
• • • • •
CELEBRATING TIMELESS BEAUTY     |     RAIDING THE ROCK VAULT     |     WHERE MAGIC HAPPENS