Motorcycle Artist A.D. Cook joined Director Peter Starr Thursday night at Red Rock Harley-Davidson in Las Vegas to benefit in aid of prostate cancer education.
Last Thursday, September 8th, we participated in a special screening of Peter Starr's 1980 classic "TAKE IT TO THE LIMIT, the Motorcycle Odyssey", digitally remastered.
As for me, I always enjoy an evening that includes American motorcycles, art, and a movie.

A.D. Cook motorcycle art at Red Rock Harley-Davidson, Las Vegas, NV.
Five of my favorite motorcycle paintings were displayed: one original and four A.D. Cook canvas art prints from our new full-size collection. My art feels right at home among all that glistening chrome on the showroom floor.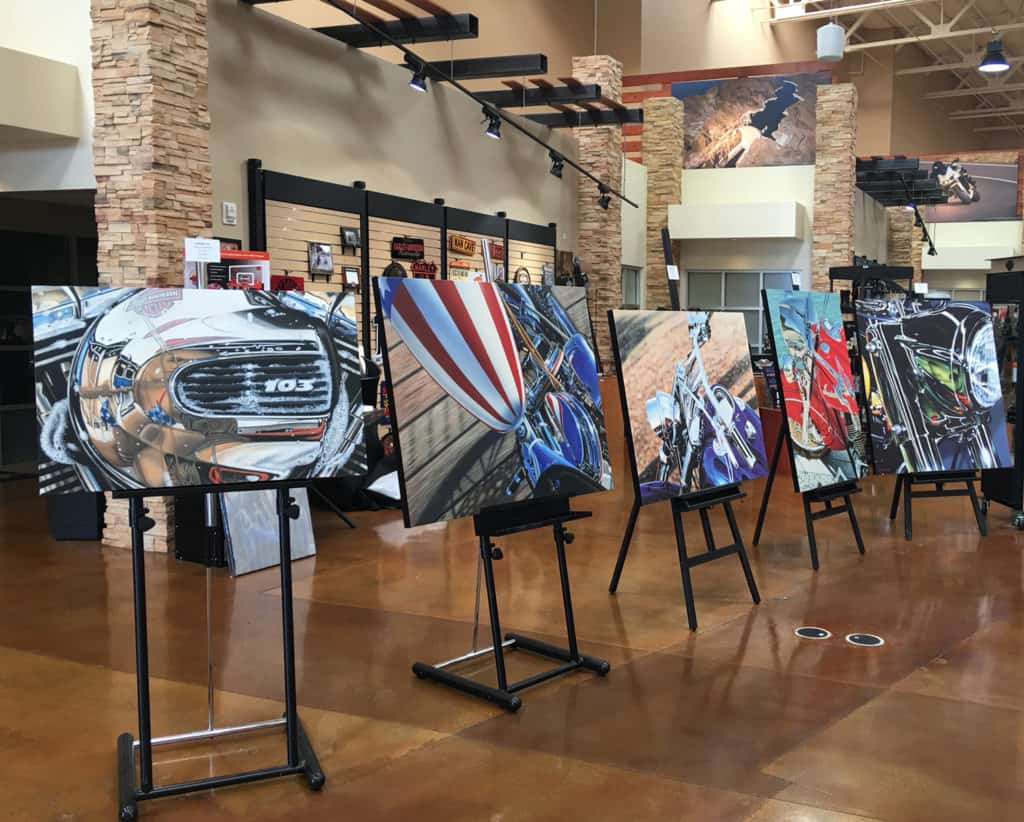 Paintings (left to tight); DREAM 103, AMERICA, PASSING TIME, INDIAN SUMMER, and FOR SHOW.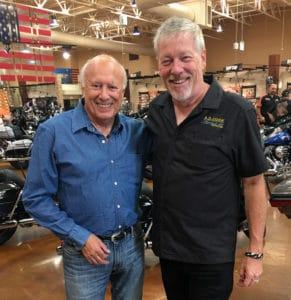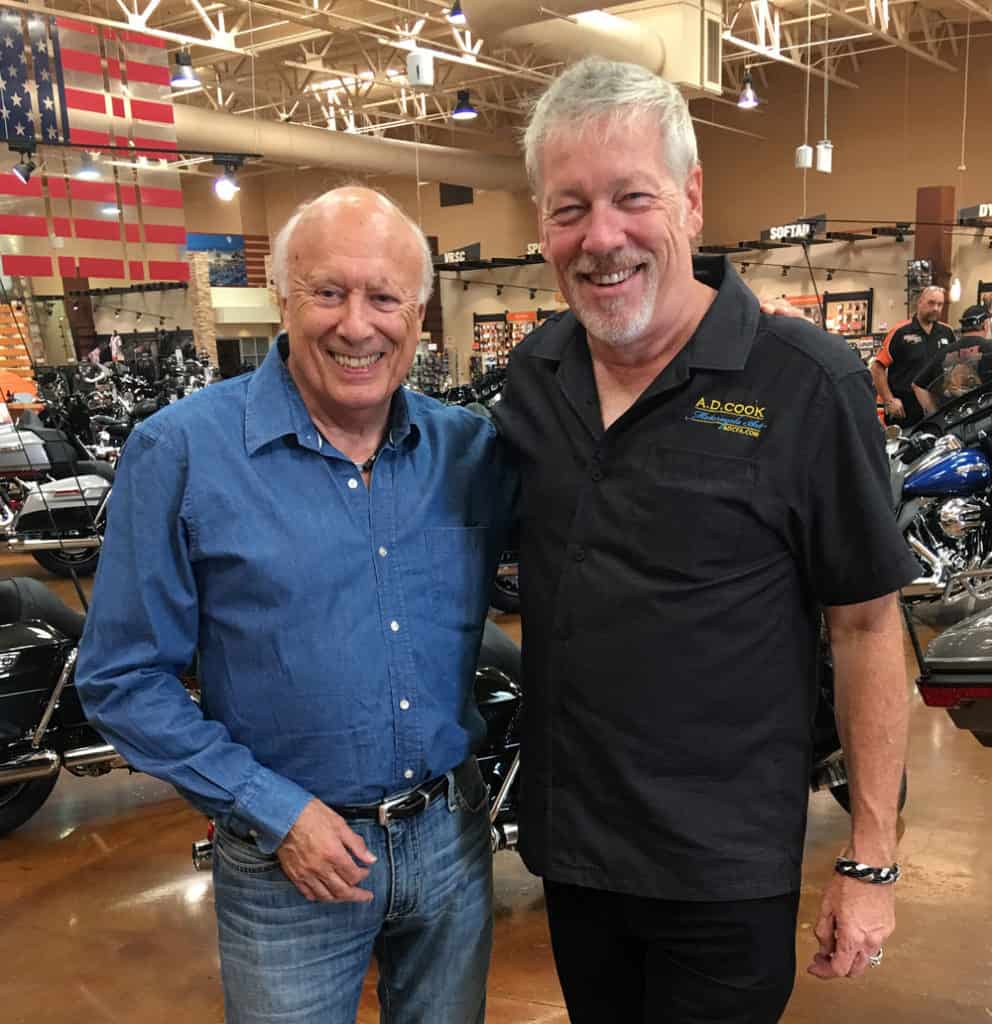 It was truly an honor to meet the legendary director, Mr. Starr. He presented his movie to Harley-Davidson loyalists, following up with a talk about prostate cancer issues and concerns.
As the history of television, radio, Rock and Roll, racing, automobiles, and motorcycles marched through the sixties and seventies to the present day, Peter Starr has been in lockstep with and responsible for some of the most important developments in them all.

From racing motorcycles and working for the legendary Triumph marquee as a host and producer, and innovator of radio programs (featuring the likes of Paul McCartney, Pete Townsend, Eric Clapton, and Jimmy Page, to name a few founders of modern Rock and Roll); to his recent award-winning films, television commercials, and groundbreaking specialized camera equipment. Peter Starr has been involved and continues to be at the forefront of the most exciting era in film, television, and motorsports.

His most famous feature film, "Take it to the Limit," has received Gold and Silver Awards at the Chicago and Houston International Film Festivals. In addition, his films have won an additional 12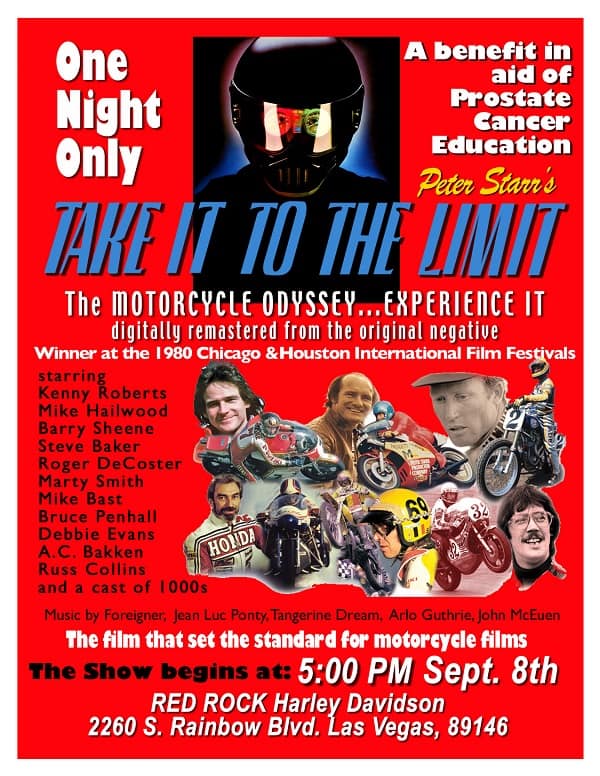 Visit him online at StarrFilm.com for more.
Learn more about surviving prostate cancer without surgery, drugs, or radiation at SurvivingProstateCancer.org
Mr. Starr's TAKE IT TO THE LIMIT (movie) and TAKING IT TO THE LIMIT (book) feature bikes that are showcased in Red Rock Harley-Davidson's "Motorcycle Museum." It's definitely worth checking out when you are in the area.
Peter Starr's personal journey in making some of the most acclaimed, award-winning motorcycle films starring some of the world's greatest riders including Kenny Roberts, Mike Hailwood, Wayne Rainey, Eddie Lawson, Freddie Spencer, Roger DeCoster, Russ Collins, Barry Sheene, Steve Baker, David Bailey, Bob Hannah, Marty Smith, Jay Springsteen, Ricky Graham, Bubba Shobert, Scotty Parker, Gary Scott and a cast of thousands.
Enjoy the trailer above and catch the movie sometime.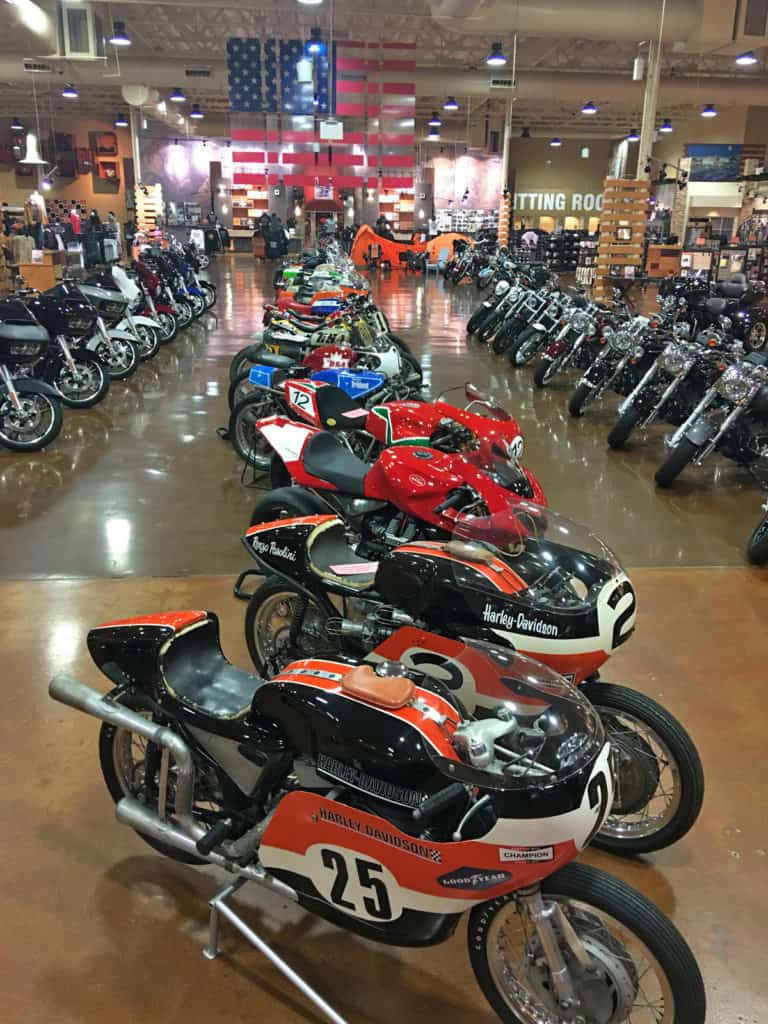 Ready for race day.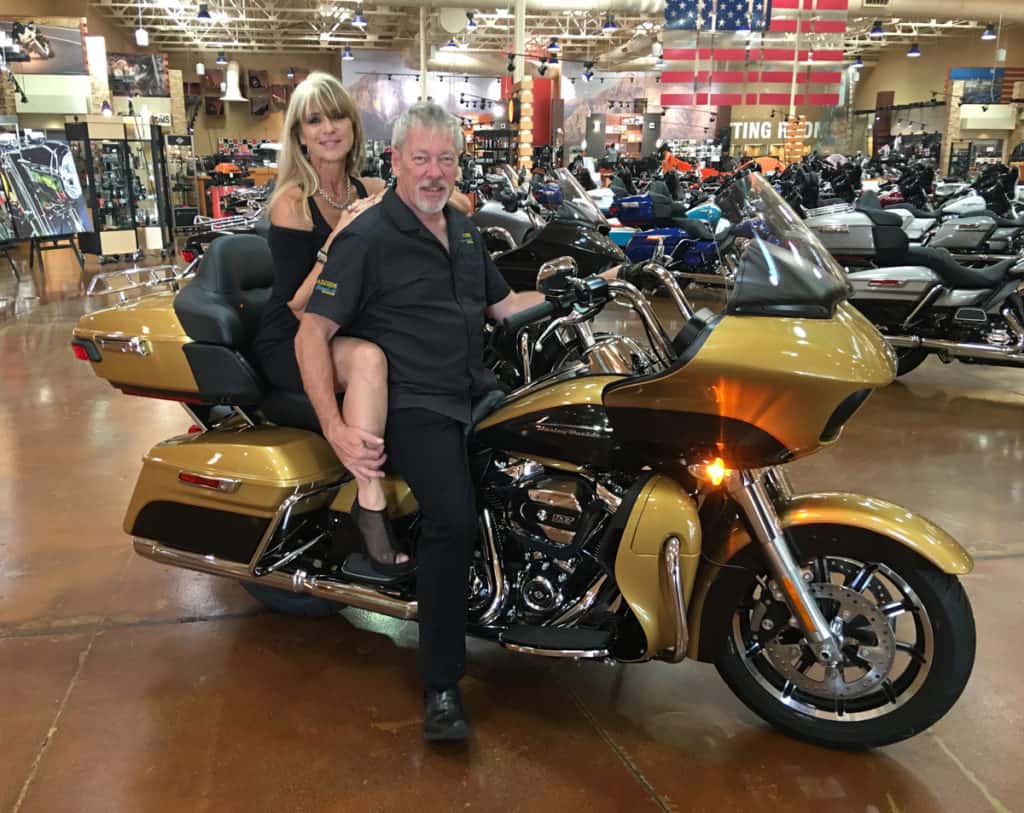 Artists Beti Kristof and A.D. Cook on the 2017 Harley-Davidson Road Glide featuring the new "Milwaukee 8".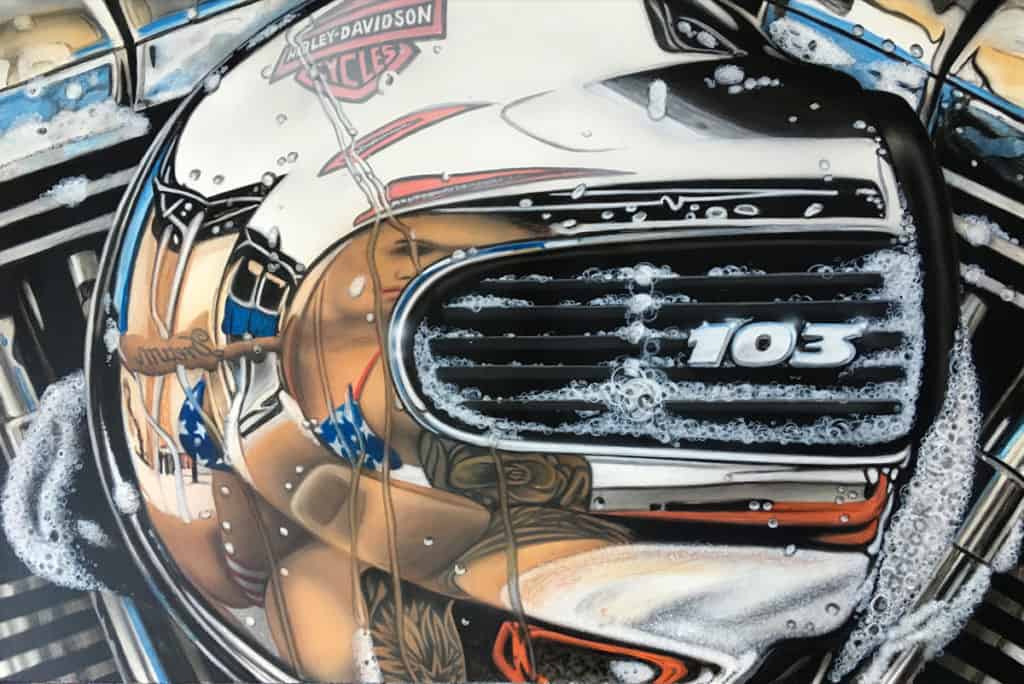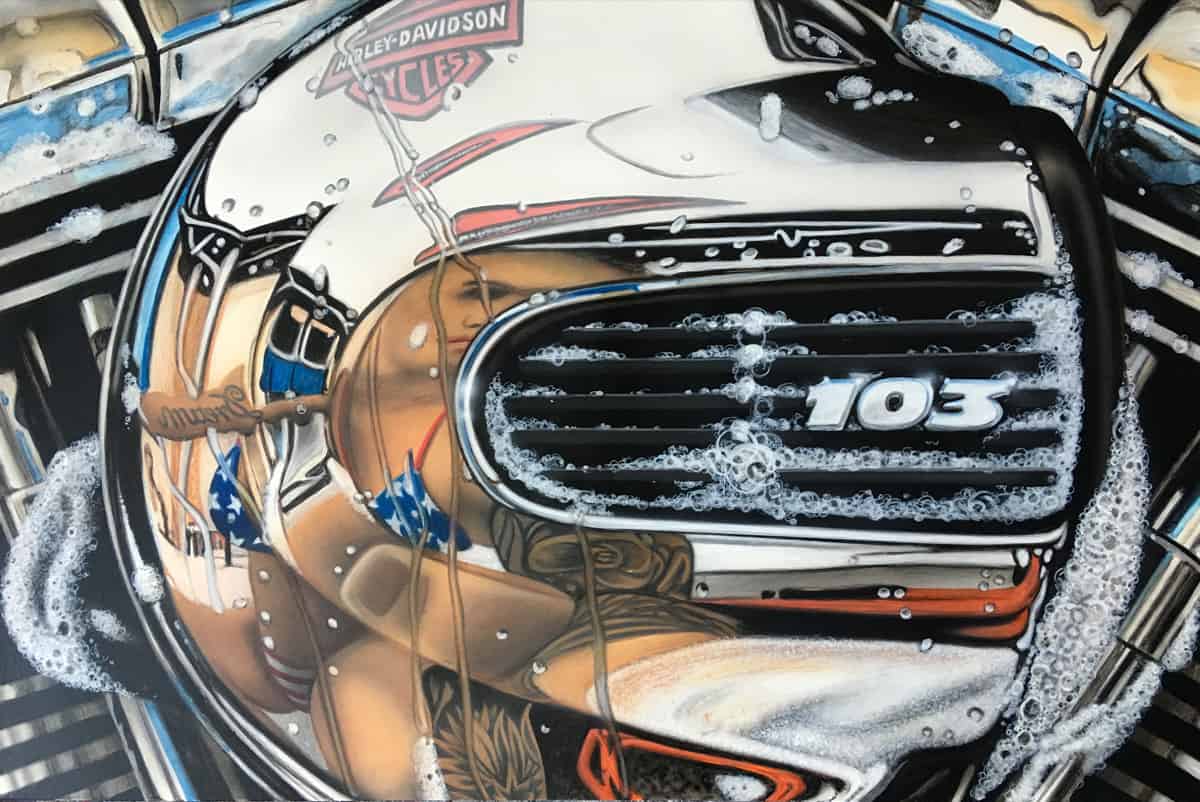 DREAM 103 by A.D. Cook
I shared my latest painting, DREAM 103, along with a collection of my motorcycle art. DREAM 103 actually originated at Red Rock Harley-Davidson, where I photographed my model, Ashley, during one of their July bike washes. I then went on to create my painting, which was recently featured at the SKIN & BONES MOTORCYCLE AND ART EXHIBIT at the Legendary Sturgis Buffalo Chip.

RED ROCK HARLEY-DAVIDSON
• • • • •