Las Vegas Artist Beti Kristof goes pink. Her newest painting, PINK CADILLAC was created to draw attention to the Susan G. Komen Foundation, Nevada Chapter, and all their efforts to in their ongoing fight against breast cancer.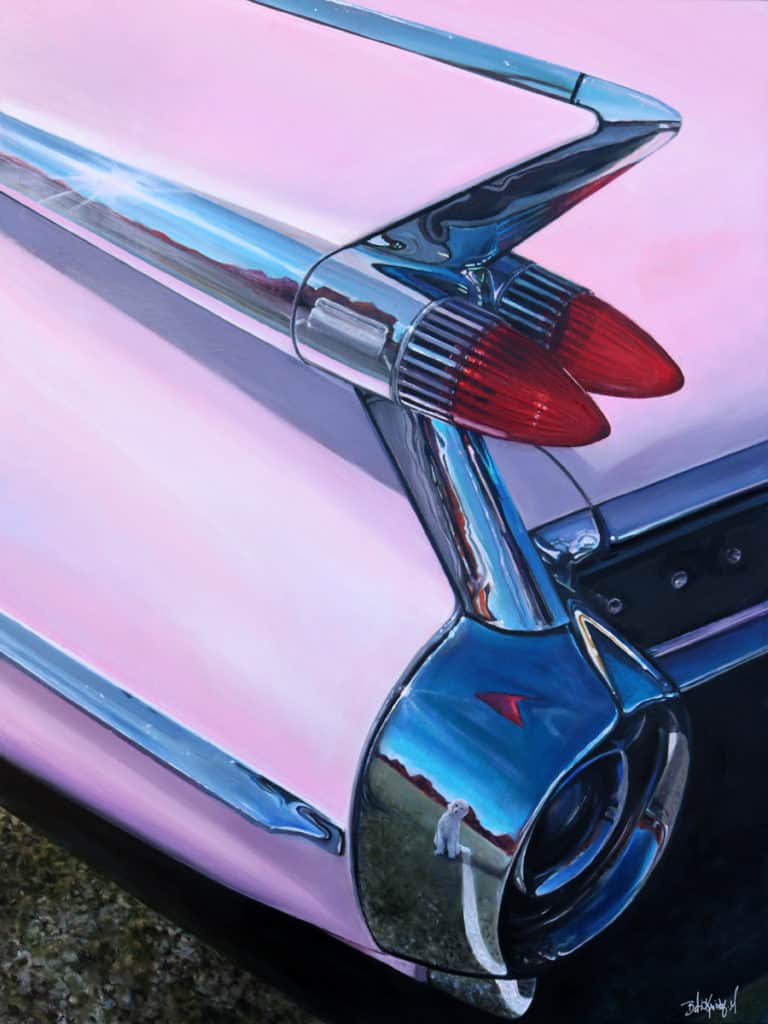 PINK CADILLAC by Beti Kristof © 2016, 48″ x 36″, oil on canvas

Beti's new artwork is truly a labor of love. She really does love these classic machines yesteryear. Properly cared for, these creations of beauty only get better with time. Ms. Kristof's painting, PINK CADILLAC features 1959 pink Cadillac, naturally. But there is more to the story than that, so I asked artist Beti Kristof offer a few thoughts of her own…
• • • • •
"Iconic in history and fabulously sensual, the pink Cadillac is a timeless beauty.
I love the 50's and 60's era for cars, when they were made of steel and chrome — when women wore gloves and needed a glove compartment. The lines were sleek and sexy, the body was strong and elegant in design and need I mention the twin tail lights that inspired the bullet bra, or the other way around… Even the trunk space had the woman in mind ! Just think on how many shoes you can take on a road trip!
This is my third year creating a themed painting for the VIPink, Susan G Komen breast cancer awareness event here in Vegas, hosted by Village Hospitality.  The idea for this years painting came together naturally.  What better  pink themed painting to come from a Las Vegas artist? Elvis, pink Cadillac, Vegas…my desires all coming together along with a new venue to show new series of automotive art with the new classic car showroom gallery!
Interesting how the subconscious mind works. Over a year ago, I had  written a screenplay with A.D. with characters and incidents that have actually taken place in our lives.  Just today as I write this, a realization came over me that the two main characters in the screenplay were rescued from a certain overindulgent circumstance after a glamorous evening event – and of all things, in a pink Cadillac by an Elvis tribute artist. Yes, it is true! You'll have to read the screenplay to get the rest of the story. Or wait for the movie…..LOL. A white fluffy dog plays a very important part in catching the bad guys and bringing two main characters together.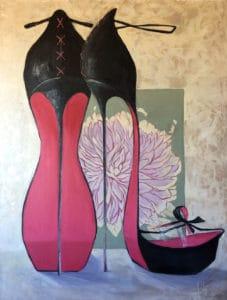 Good fantasies make for incarnated realities.  On canvas and the silver canvas screen, hmmm both closely related in my opinion.
The 1959 Cadillac is a favorite of my favorites! I can hardly wait to start the next painting!
Blissfully dressed in her warm pink coat, she is resilient in her strength in eternal elegance, timeless ~ from an era that even the name Betty was popular! ~ Even though I do believe they spelled "Beti" wrong :-)
Special thanks to A.D. Cook for his inspiring photo reference for the creation of Pink Cadillac.
photo ~ above right: Stiletto shoes from VIPink 2015
• • • • •
See more Beti Kristof art at BetiKristof.com
• • • • •
Join us to be among the first to see PINK CADILLAC and make a bid on Beti's art and more to help in the fight against breast cancer.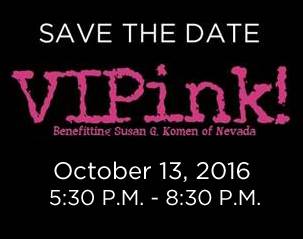 Save the Date…
OCTOBER 13, 2016
5;30 P.M. to 8:30 P.M.
All proceeds for the October 13th silent auction of one signed and numbered  [#01/59 ] "Pink Cadillac" limited edition canvas art print, 32″ x 24″ ($595 value) goes to benefit SUSAN G. KOMEN NEVADA
— JOIN US —
VILLAGE HOSPITALITY
1306 S. Third St., Las Vegas, NV 89104

or call 702.822.2324
About Susan G. Komen — In 1980, Nancy G. Brinker promised her dying sister, Susan, that she would do everything in her power to end breast cancer forever. In 1982, that promise became the Susan G. Komen® organization and the beginning of a global movement. What was started with $200 and a shoebox full of potential donor names has now grown into the world's largest nonprofit source of funding for the fight against breast cancer. To date, they've invested more than $2.6 billion in groundbreaking research, community health outreach, advocacy and programs in more than 60 countries. Their efforts helped reduce death rates from breast cancer by 37 percent between 1990-2013; and have helped improve the five-year relative survival rate for early stage cancers in the U.S. from about 74 to 99 percent. And they won't stop until their promise is fulfilled.*
( *souce: http://ww5.komen.org/AboutUs/AboutUs.html )