Recently, I had the privilege of meeting a very special lady and sharing in her celebration.
She had just completed her final chemo treatment at the Cancer Treatment Centers of America in Goodyear, Arizona, and was ready to return to the real world, healthy and smiling. Her zest for life was amazing, and her positive attitude and big smile were contagious…
This "special lady" is an old friend of Beti's, whom she has known for years. Her name is Melanie Lesh, and it's with her blessing that I share the following story.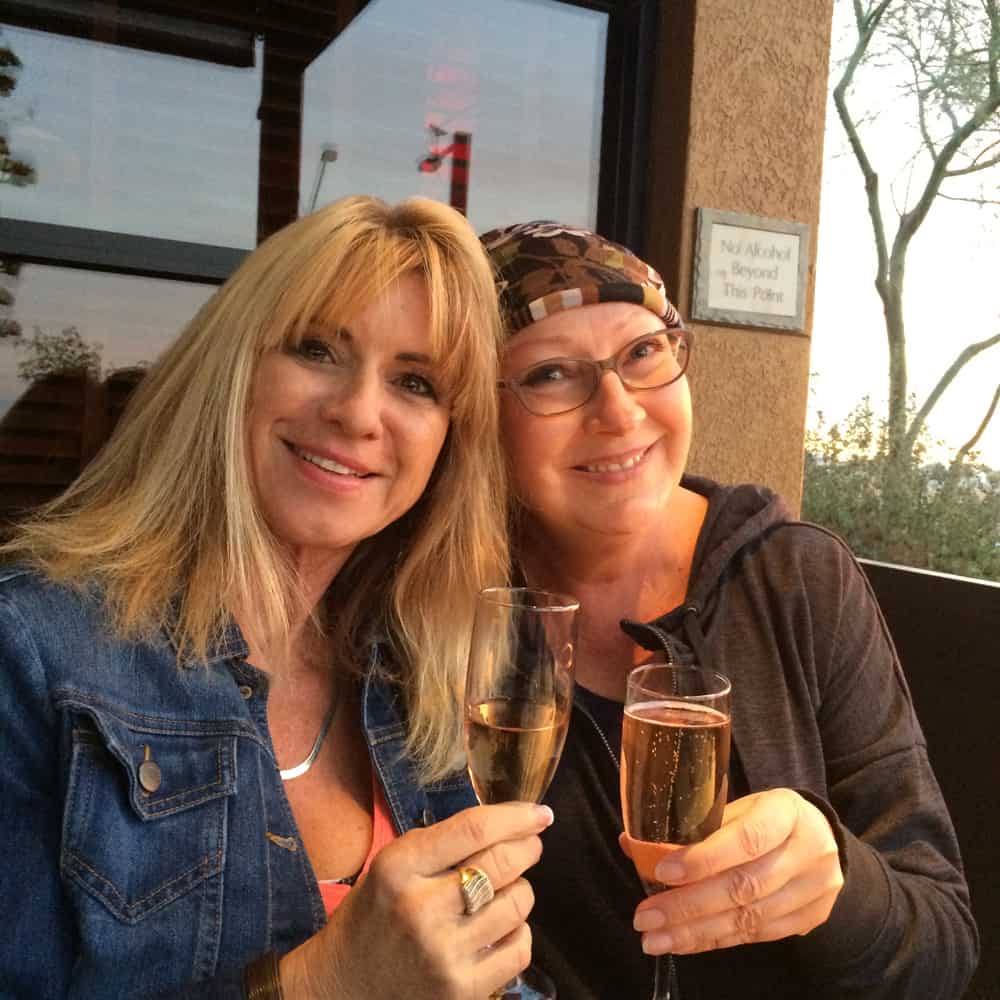 Beti Kristof with Melanie Lesh — Cheers!
Last weekend, Beti and I embarked on a road trip from Las Vegas to Goodyear to see her friend (Mel), who lives in Alaska. We didn't know what to expect, and it didn't matter. All that mattered was that Beti wanted [needed] to connect with someone special to her. And sometimes, that's all that is required when someone cares about another. That's what love is all about.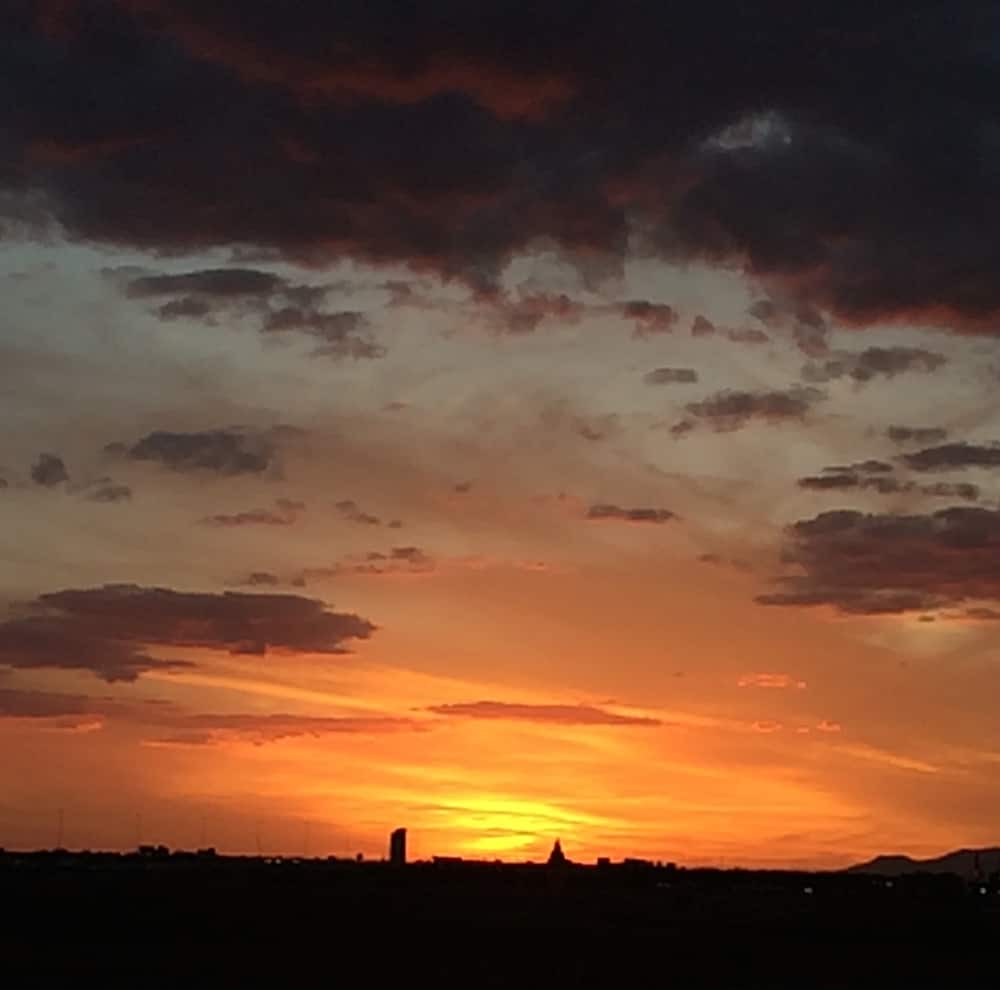 A beautiful sunset in Goodyear, AZ — 02/27/15.
Once we got to Goodyear, I had the pleasure of meeting Melanie. Her huge smile and zest for life were immediately apparent. She greeted me with a big, friendly hug as though we were old friends too. I felt her warm energy and knew in a heartbeat that we were going to be friends. Sometimes, you know these things.
Beti had shared with me that Melanie was in Goodyear for Chemo treatments. I didn't know at that point how far along she was in her treatments or what to expect. I've met a few chemo patients over the years, and I know that sometimes energy levels can be less than exciting for those going through the process. But Melanie was different. She was smiling and ready to celebrate, as we would soon find out, her final chemo treatment — so celebrate we did. It was time for Champagne! I know it was great for Beti to catch up with her old friend and her husband, Jim. Everyone was having a great time, enjoying libations, and watching the beautiful sunset, which led us to round two of the evening's festivities: body painting. We had thrown the idea out earlier… "Why not ditch the cap, and we'll paint your head?" we asked over a second glass of champagne. Melanie didn't even hesitate and responded with a fun "Let's do it."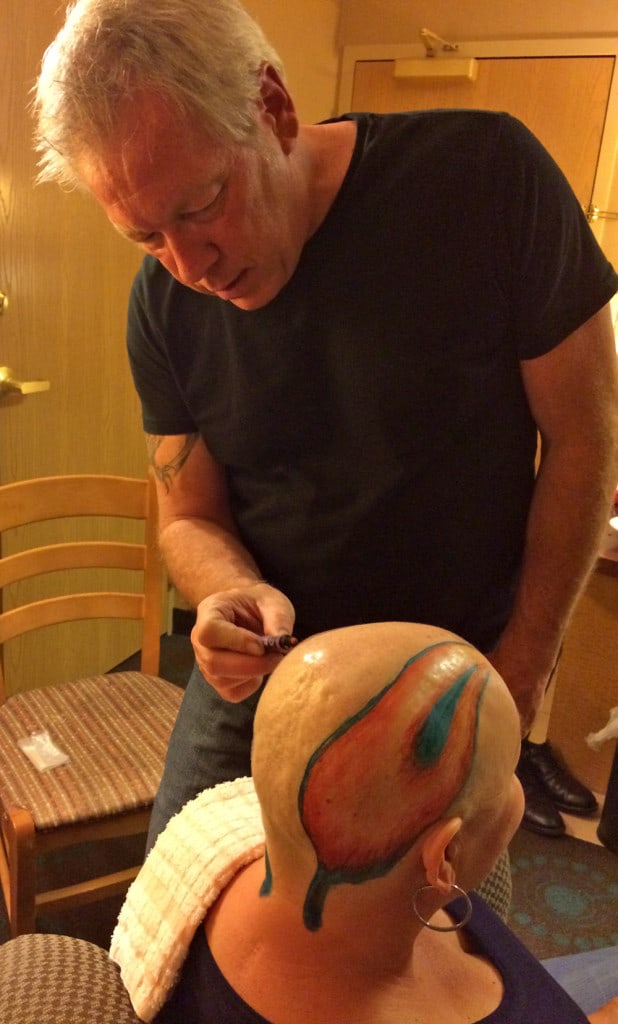 Painting in the hotel room.
Now, we didn't really plan this out in advance, or we would have taken our body art paints with us, but that's not really what this was all about. It was about celebrating the healing process. Besides, you can get almost everything you need at the local Micheal's Art and Craft stores. So, after a quick pit stop for supplies, we headed back to the hotel room and started painting.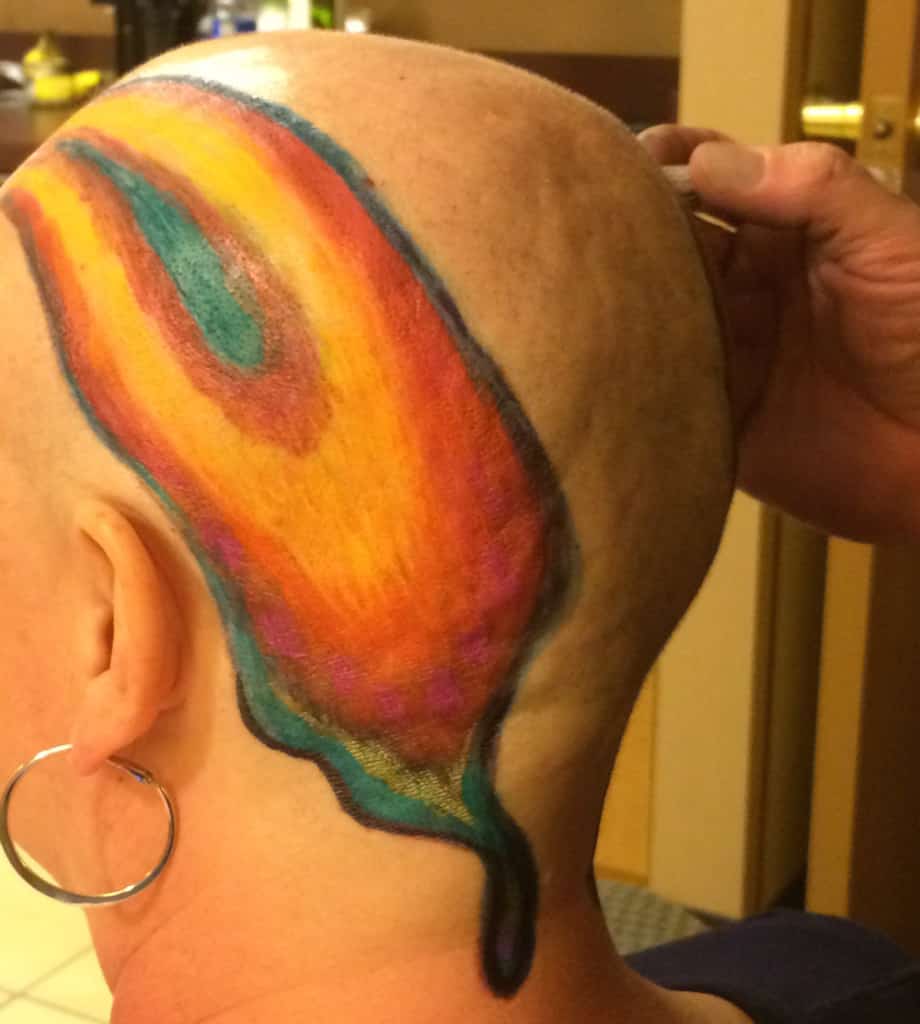 Just having fun in the name of fun.
We didn't have anything particular in mind regarding the painting. As I mentioned earlier, this was very spontaneous. Beti and I chatted about color – lots of colors – but mostly, it was going to be fun. And it was. Beti and I both tag-teamed Melanie, each painting colorful expressions of butterfly wings and whimsical patterns.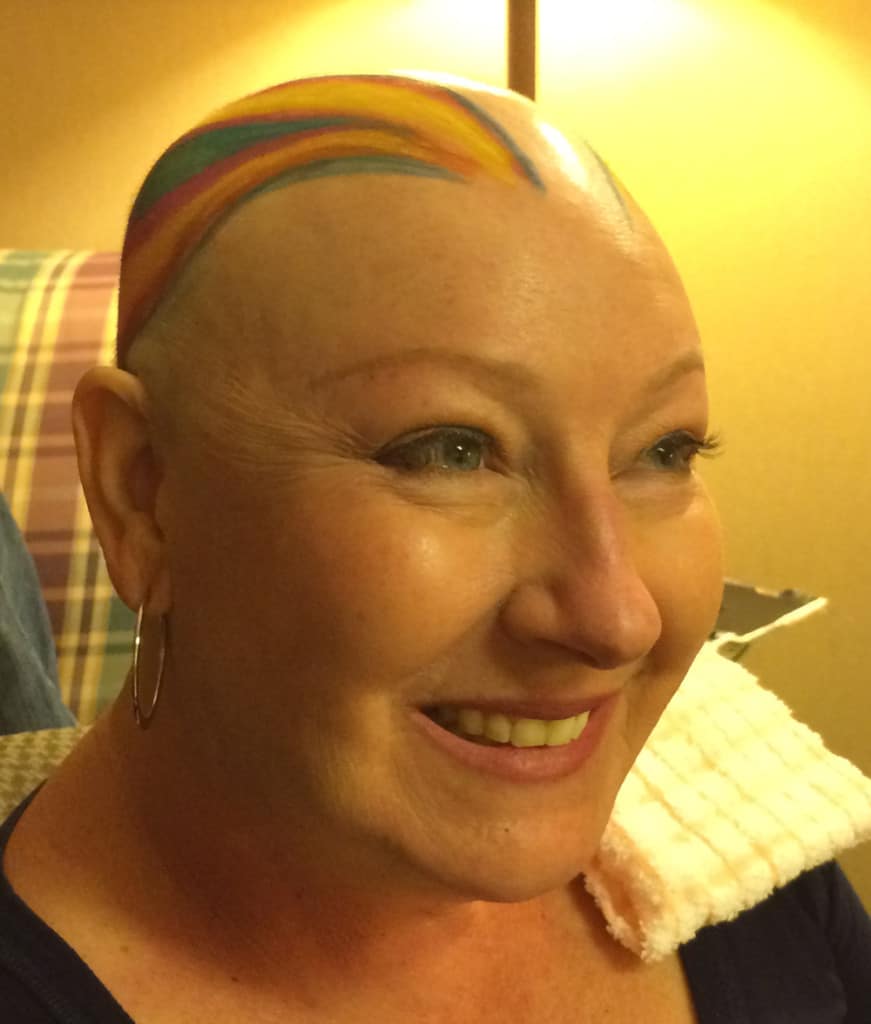 Melanie enjoyed the painting process. She's smiling, but she has no idea what we were doing :-)
Most importantly, everyone had a great time. Body art is very therapeutic – for both the subject and for the painters. I think Beti and I enjoyed painting Melanie's head as much as she enjoyed being painted.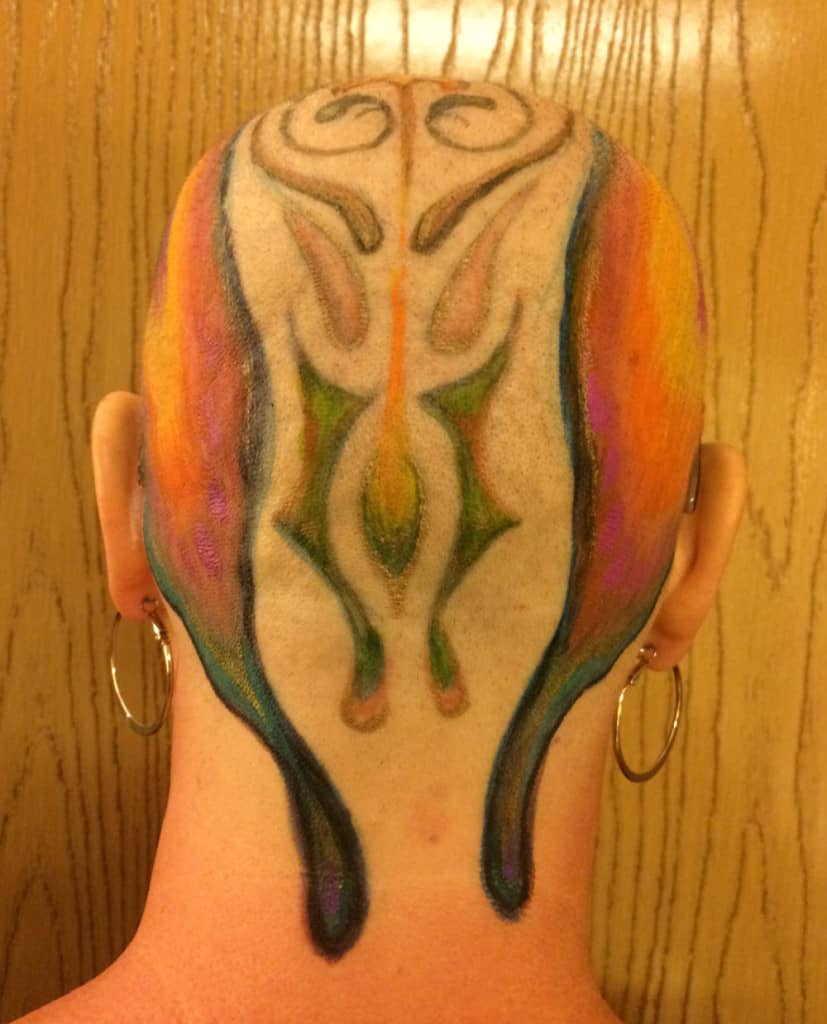 Melanie's painted head art.
But the real gratification was in visiting the cancer center the following morning for breakfast and sharing her head art with others there. Melanie's painted head immediately brought smiles to those at the cancer center who had gone through chemo like Melanie. And it left me smiling, too. I wish we had the time to paint all their heads. Who knows, maybe one day we'll make a day of it or a regular event – an ongoing gig.
You see, I believe, or rather, I know, art has healing power. It heals the painted and the painter, and I am grateful for that. Thank you, Melanie, for offering up your head. We had a blast. You are a beautiful inspiration. Cheers to your recovery!
• • • • •
The piece de resistance capping my chemo treatments ~ an artful and amazing evening with my pal Beti Kristof and A.D. Cook, Las Vegas artists extraordinaire! They took my chrome dome to a new dimension!
— Melanie Lesh
• • • • •
LEARN MORE ABOUT THE HEALING POWER OF ART
The Healing Power of Art: Can Hospital Collections Help? Most of us agree that hospitals are inherently stressful, and it's pretty bleak to stare at a blank wall or wait for a doctor in a cramped, dark room. Sick or not, we'd prefer a sunny view or a Monet watercolor. Yet, it's important to justify spending on aesthetics and design in an era of escalating healthcare costs.
Can an attractive drawing or photograph reduce pain or anxiety? Do patients with art in their environment heal faster?
( source: http://www.nbcnews.com/health/health-news/healing-power-art-can-hospital-collections-help-n208966 )
• • •
More Hospitals Use the Healing Powers of Public Art. Hospitals Are Giving Artwork a Higher Priority: Researchers are learning more about the precise ways paintings and other works of art help patients and families in the healing process. With studies showing a direct link between the content of images and the brain's reaction to pain, stress, and anxiety, hospitals are considering and choosing artworks based on the evidence and giving it a higher priority than mere decoration for sterile rooms and corridors.
( source: http://www.wsj.com/articles/more-hospitals-use-the-healing-powers-of-public-art-1408404629 )
• • • • •
THE THINGS WE DO FOR LOVE     |     BODY ART PHENOMENA     |     MONDAYS DARK