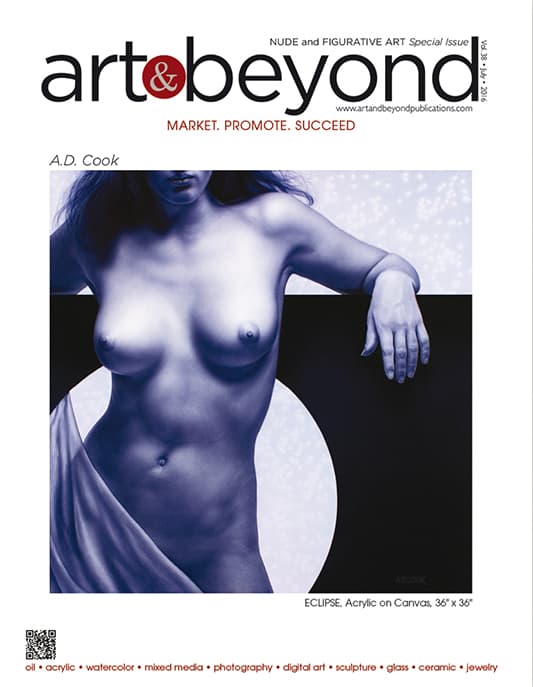 ART & BEYOND ~ A.D. COOK INTERVIEW 07/21/16
1. What, if any, formal training do you have?
I have more traditional training, where I studied with professional master artists to help me develop my skills. I had always sought out the best artists and craftsmen to inspire and mentor me. I studied through many art getaways and retreats from the artists I admired and respected most. Soon, I held my own workshops, sharing my knowledge with others. I come from the university of hard work and tenacity. In reality, I'm still learning, every day.
2. Was there a point in your life where you decided that you wanted to be an artist (If so, please describe), or was the realization more gradual?
It was more of a knowing than any decision, really. I've always known I was destined to be an artist. As a kid, I drew a lot. I won all those fun art contests and painted the backdrops for the school plays — all that stuff. I was an entrepreneur at a young age. I remember selling my coloring books in grade school and designing postcards in junior high. I drew a lot of portraits of my buddy's girlfriends throughout my high school years.
When I was young, I'd look at art, billboards, magazines, and window advertisements, knowing someday that I'd paint those large scale paintings for the billboards or that my art would be featured in magazines. I would say that I've really known it all along that I was destined to be an artist.
3. In creating your figurative art, what is your process? Is it always the same or does it differ from piece to piece?
My processes differ from series-to-series, or piece-to-piece for commissioned works, especially for my figurative works. I draw, paint, sculpt, work on metal and canvas, and I'm also the photographer of all the imagery that I paint from. Everything is original from conception-to-completion. My work is a creative collaboration borne from the interaction between myself, my collectors, and models. Ultimately, each piece is uniquely different.
4. Who or what is your greatest influence?
Light and form inspire me. As an artist, the beauty of the female form has a lot of influence on my paintings. Mixed with the right light, there is nothing more beautiful.
I draw a lot of inspiration from long smooth lines, curves, and reflections. I imagine that is why I enjoy painting women and motorcycles so much – for that perfect long smooth line. I believe elegant motorcycle and car design is inspired by the curves of a woman's figure as well, which creates an exciting synergy that comes through in my art.
Lifestyle and culture choices influence me as well, especially as I move forward with my new motorcycle lifestyle series, which includes figures reflected within my epic chrome pieces.
From the business side, collectors ultimately have the most influence since they decide what they'll buy.
5. Do you have any upcoming exhibitions?
I just wrapped up a three-month showing of 17 life-size art nude paintings in Las Vegas, followed by the Karma International Las Vegas Pre-Launch Social with a selection of my motorcycle paintings. In August, I'll be showing some of my tattoo-inspired figurative artworks at the Sturgis Motorcycle Rally in South Dakota, where I'll also unveil my new painting, AMERICA, to an audience of 10, 000 people.
Something is always happening here. The best way to keep up on my shows is though my site at ADCook.com and through my social media.
6. What do you imagine a viewer experiences when they view your work?
I always say that art nudes are the most honest form of art in that they almost always evoke a response from the viewer one way or another. My art is realistic and life-size or larger, so they're pretty hard to ignore. I learn a lot about people, rather quickly really, as they approach and interact with my paintings – everything from occasional shock to tears of joy. One of the things I love most about these paintings is that they bring out honest emotions and immediate reaction. Ultimately, my paintings are about truth so a lot of times people see. Often, it's a reflection of their inner selves.
Women viewers often express thoughts of strength, love, and power. For some, it's very strong.
Naturally, men view my art differently than women. Some shy away and others want to get close.
My art nudes are created to celebrate, edify, and inspire. Art has such healing power. My desire is that viewers, both men, and women, find my art inspiring.
In the end, all we have are cherished experiences and memories. Art captures that.
Women who have commissioned me for paintings have expressed what an empowering and profoundly liberating experience the whole process of modeling for art is, from inception to finished artwork. Art captures a part of them and holds it for eternity. They are the woman, who can say proudly… "That is me. I am beautiful".
• • • • •