I've been a fan of artist Chuck Close for a long, long time.
His larger-than-life artworks have inspired me for years. But even more so, his larger-than-life "can-do" attitude is even more impressive.
When I was young, I would look through books on Chuck Close and study his art. Perhaps he's one of the reasons I painted large murals for so long. I was impressed with the fact that one guy could create such epic works all by himself. His patience was amazing. And if you know anything about Chuck Close, the man, you'll appreciate his accomplishments even more.
For those of you not familiar with the art of Close, most of his early works are very large portraits based on photographs – epic in scale. But you may not realize that he is a quadriplegic – essentially paralyzed since 1988, working from the confines of an electric wheelchair. He paints with a paintbrush strapped to his hand, and the canvas is positioned to accommodate his limited mobility. That's dedication.
Throughout his career, Close has endeavored to expand his contribution to portraiture through the mastery of such varied drawing and painting techniques as ink, graphite, pastel, watercolor, conté crayon, finger painting, and stamp-pad ink on paper; printmaking techniques, such as Mezzotint, etching, woodcuts, linocuts, and silkscreens; as well as handmade paper collage, Polaroid photographs, Daguerreotypes, and Jacquard tapestries. His early airbrush techniques inspired the development of the inkjet printer. (source: http://en.wikipedia.org/wiki/Chuck_Close)
Yes, you read it correctly. The artist worked in a ton of different mediums, including airbrush. That's where I started as an artist as well. Technically, I started drawing first, but airbrush was my tool of choice for years. So, in many ways, you could say Mr. Close and I are kindred spirits, although I've never had the privilege of meeting him. One day, perhaps.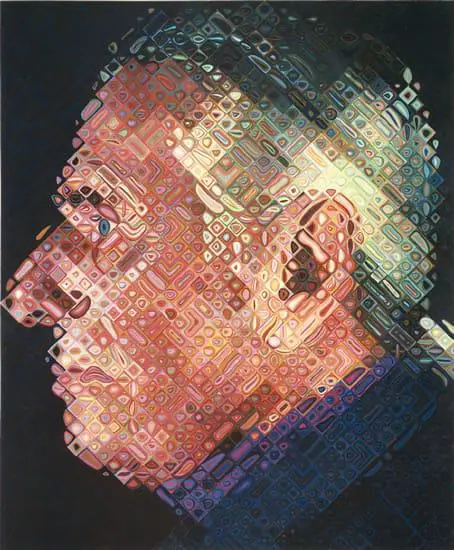 Paul IV by Chuck Close
I did have the pleasure of seeing his work up close in 2011 at the Bellagio Gallery of Fine Art at the Bellagio in Las Vegas, NV. The piece on display was impressive, measuring eight or nine ft sq. It afforded me the opportunity to study his work in real-time rather than from a book. Viewed from a distance, his portrait painting, Paul IV, has an abstract feel but still was very much recognizable.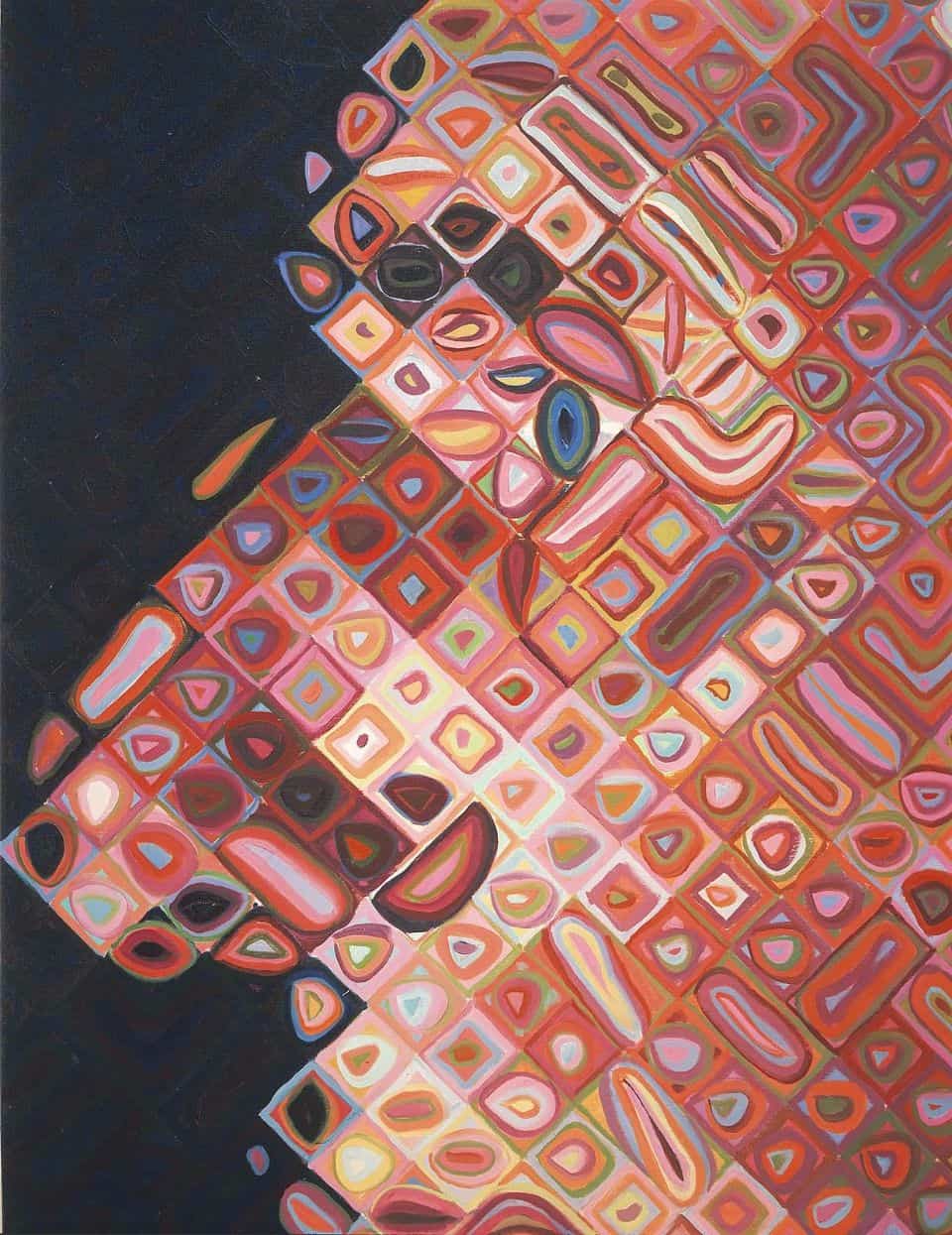 Paul IV (detail) © Chuck Close
Up close, Paul IV revealed lots of interesting shapes of various colors within a grid pattern. It drew me closer and I found myself wanting to take in each section as though it were a selection of separate paintings. Close's work definitely left a lasting impression on me.
Artist Chuck Close advice to his younger self.

In April 2012, CBS This Morning published a video titled "Artist Chuck Close Writes a Note to Younger Self." In "Note to Self," famed portrait artist Chuck Close writes a letter to himself at age 14, offering advice on overcoming his learning disabilities and his problem with face blindness.
• • • • •
Charles Thomas "Chuck" Close (born July 5, 1940) is an American painter and photographer who achieved fame as a photorealist through his massive-scale portraits. Though a catastrophic spinal artery collapse in 1988 left him severely paralyzed, he has continued to paint and produce work that remains sought after by museums and collectors. Close currently lives and works on the south shore of Long Island, New York, and New York's West Village and in Bridgehampton, New York. (source: http://en.wikipedia.org/wiki/Chuck_Close)
• • • • •
"Art is not a study of positive reality,
it is the seeking for ideal truth."


~ John Ruskin
• • • • •
Learn more about Chuck Close and his art here…
• Wikipedia/Chuck Close – http://en.wikipedia.org/wiki/Chuck_Close
• Contessa Gallery – http://www.contessagallery.com/artist/Chuck_Close/works/#!6936
• Biography.com/Chuck Close – http://www.biography.com/people/chuck-close-9251491
• • • • •
This is the first in an ongoing series of blog posts to feature other artists on ADCook.com.
Stay tuned for more forthcoming articles on artists who inspire me and my art.
• • • • •
DAVINCIAN PRINCIPLES     |     A FRESH START FOR THE NEW YEAR     |     CREATIVE QUOTES