Karma's famous Masquerade party, where Phantom of the Opera meets Eyes Wide Shut, was a blast! The 7th Annual Karma Masquerade, billed as an evening of mystique & seduction, was all that and more…
While I've been aware of Karma events for a few years, this was my first one to attend one. I can tell you here that I certainly hope it is not my last.

Hosted this past Saturday, March 7th, at a private estate in Orange County, this was one rockin' party for Karma members and invited guests. Billed as the most exotic Masquerade ever! And that's sayin' a lot…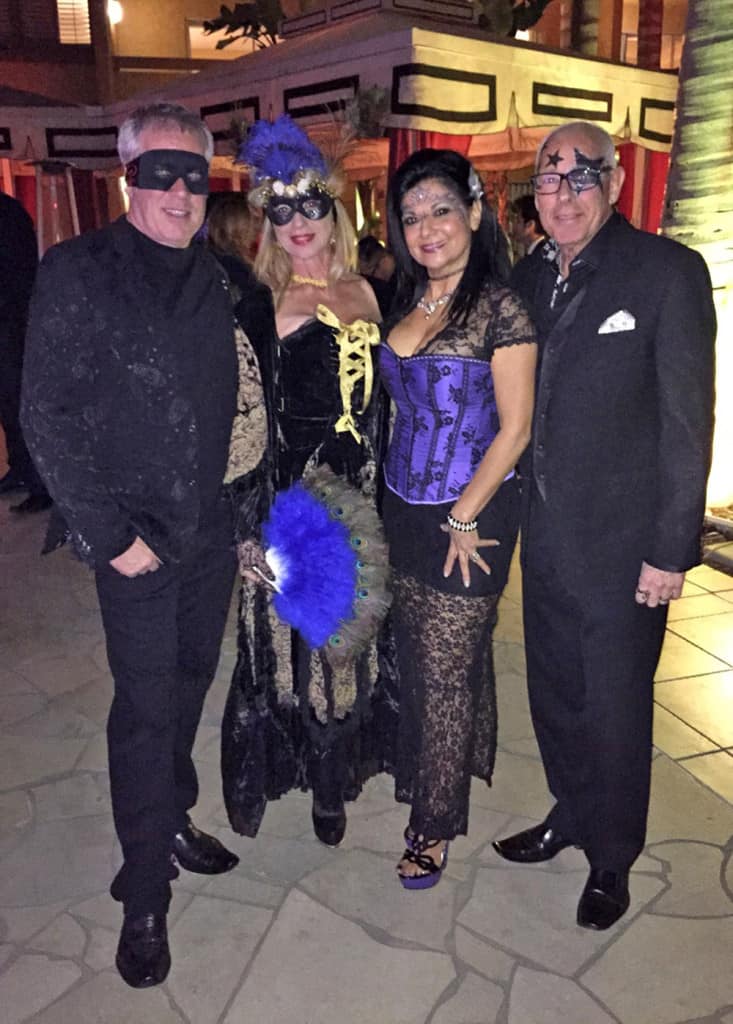 A quick pre-party pic with A.D. Cook, Beti Kristof, BettyAnn Golden, and Bob Golden.
Being from Vegas and having attended a few cool parties at some pretty amazing homes here, I was naturally curious. Upon arrival, we entered through the front door of the estate and proceeded through an art display by Tresor Contemporary Art featuring awesome artists and showcasing fantastic art. We were immediately greeted with sexy music & dancing, living art vignettes, strolling performers, theatrical lighting, and themed mini-shows. These were all unique and exciting experiences. Actually, it was all pretty amazing. The art. The mansion. The girls. The costumes. Everything was off the page. This Vegas kid was impressed.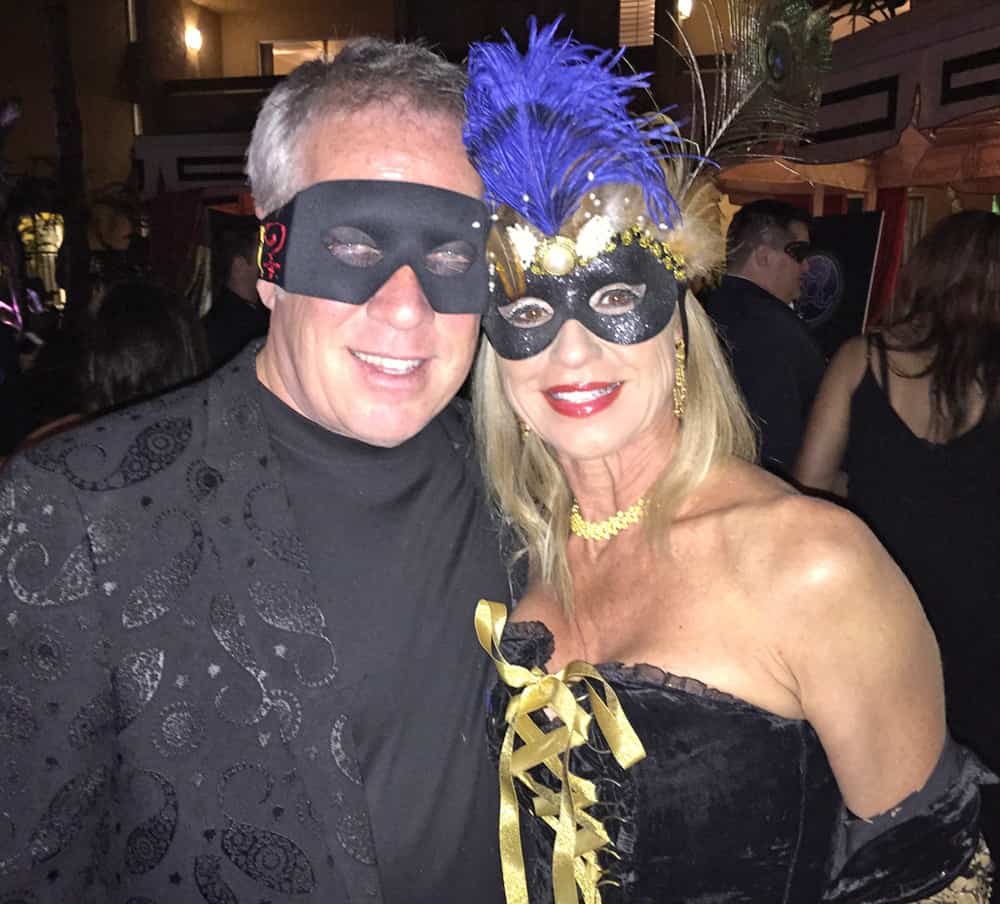 With the beautiful Beti Kristof, artist.
And classy was the word… ladies were asked to wear classy lingerie or sexy upscale cocktail dresses – no body paint or pastie outfits allowed. Gentlemen were to wear all black. Masks were required for all guests.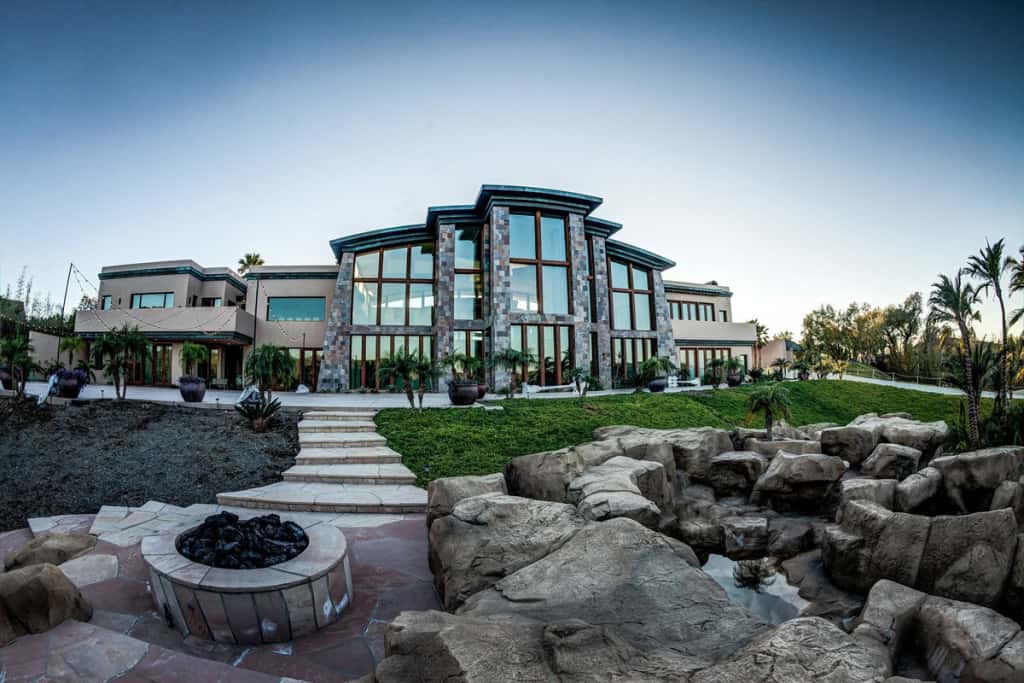 The Karma Masquerade mansion – 18,000+ of ecstasy. Photo courtesy Karma International.
The Karma Masquerade Mansion sits on over five acres and boasts a grand 18,000 sq. ft. main house along with an impressive 5,600 sq. ft. guest house. It features a lush tropical resort-style 30-foot pool engulfed in large rockscapes, waterfalls, a hidden grotto, an elevated jacuzzi, and expansive terraces with imported palms. The event was held inside the mansion with vignettes, dance floors, and shows throughout.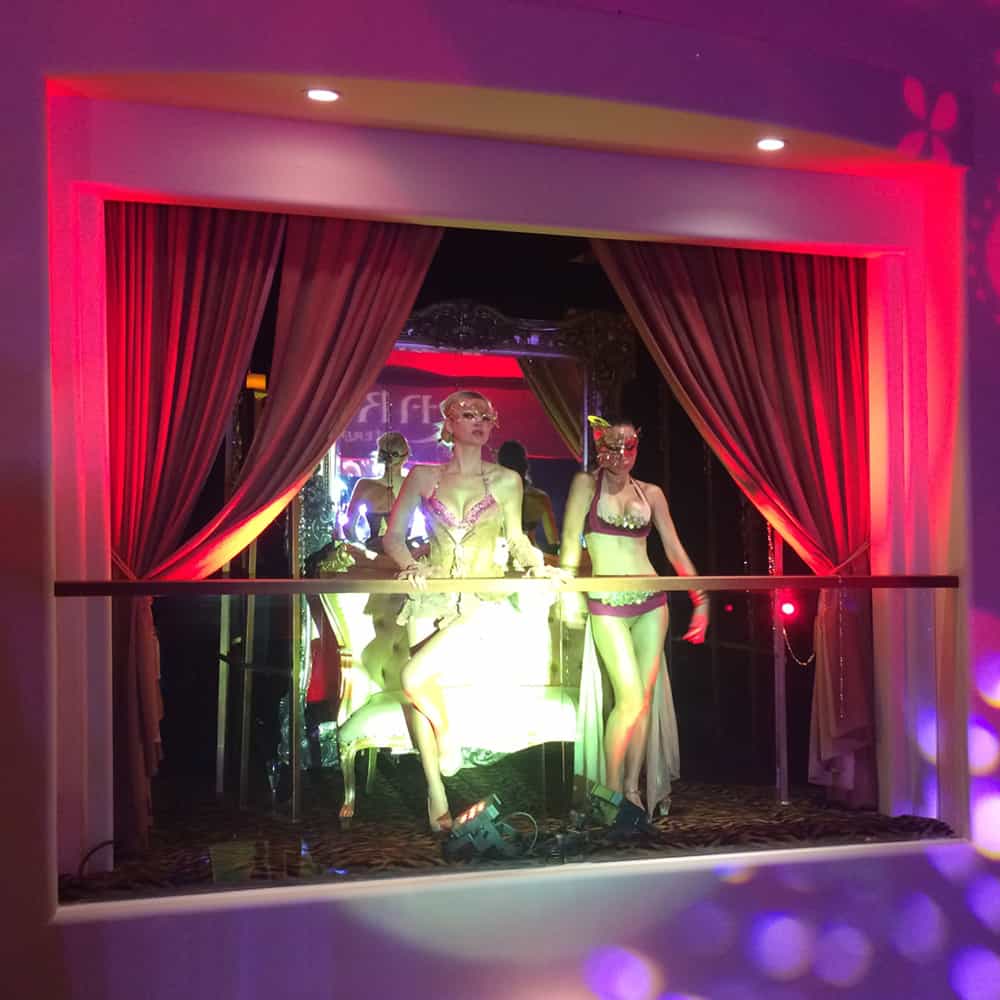 The Mannequin Girls were a delightful sight as we entered the party.
By all accounts, Karma Masquerade 2015 was a pretty amazing party. The grand estate, strolling magicians, inspiring performers, DJs, art walks, mini shows, and beautiful people together made it magnificent.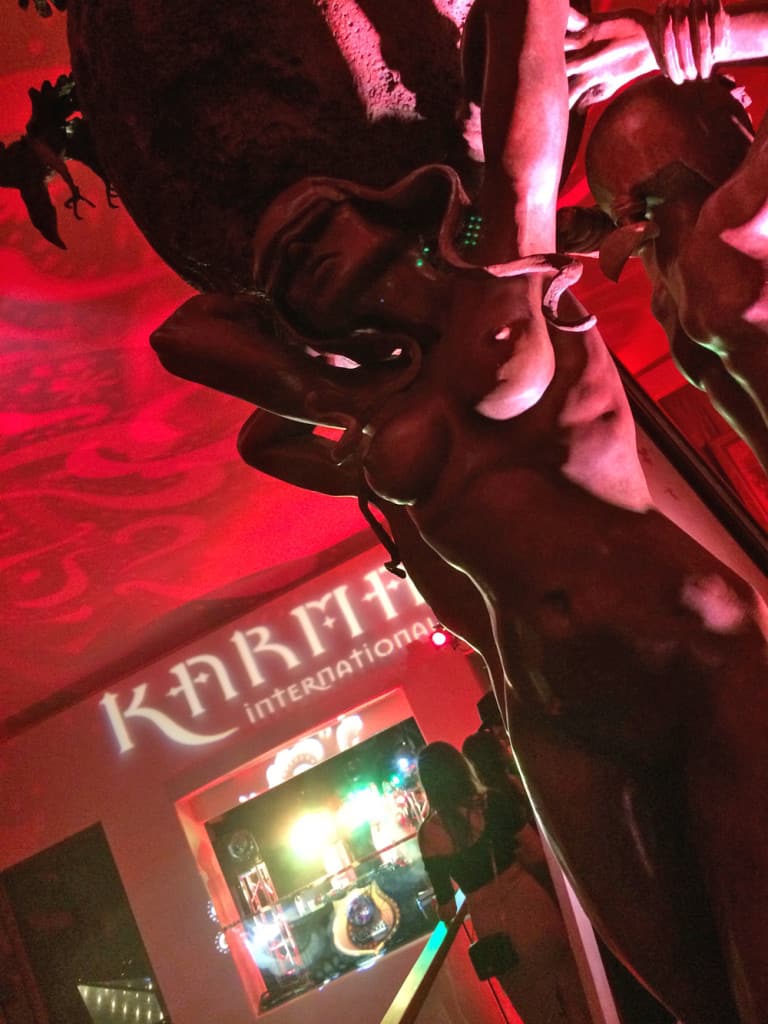 The DJ booth sits high above the action below. I really enjoyed all the beautiful artwork on display.
There was so much to see – art and eye candy everywhere. From the moment we entered the party, Mannequin girls and dancers were everywhere.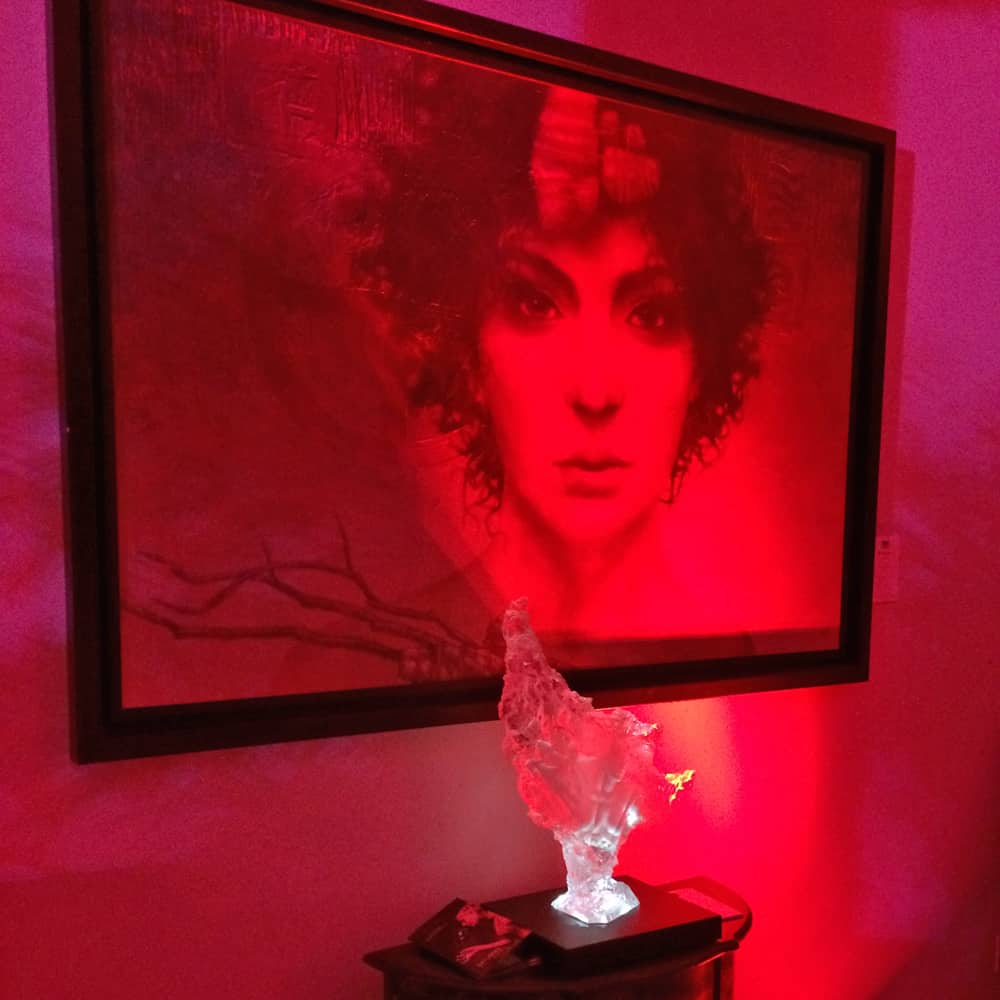 There was a fantastic selection of large, beautiful paintings throughout the house.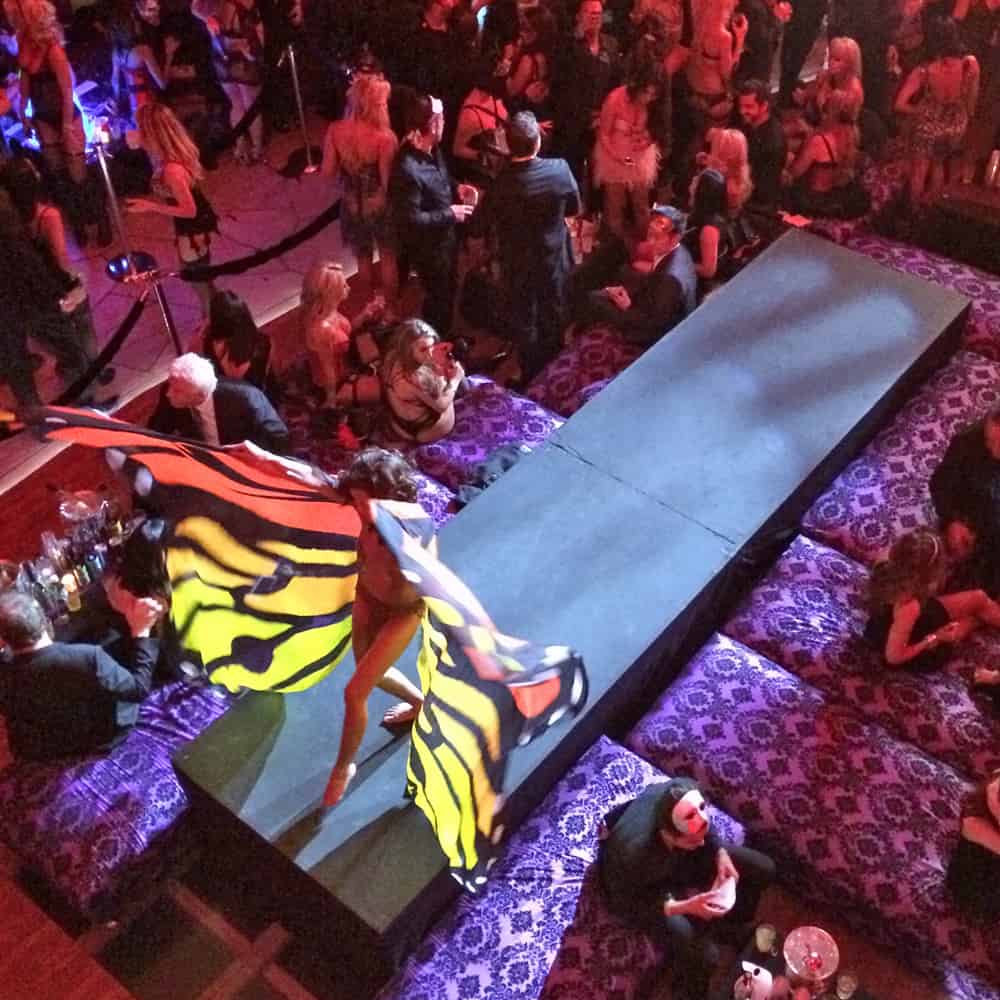 The butterfly dancer was energetic and fun.
Tresor Contemporary partnered with Karma International and showcased the provocative work of Saturno Butto as well as a number of other renowned artists in a one-night exhibition.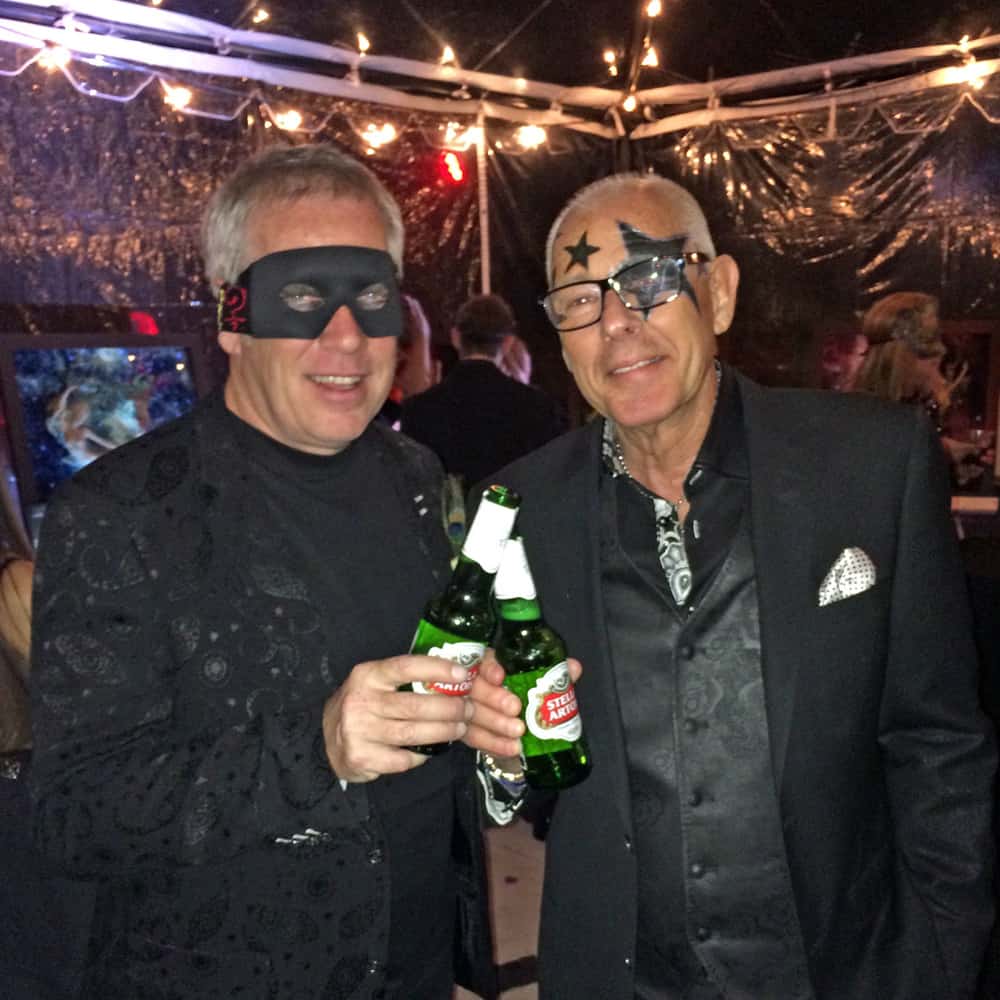 Special thanks to our friends, the Goldens — always the star… cheers Bob Golden for an awesome time.
Check out more great pics from the party on Karma's party on their website>  KarmaInternational.com/masquerade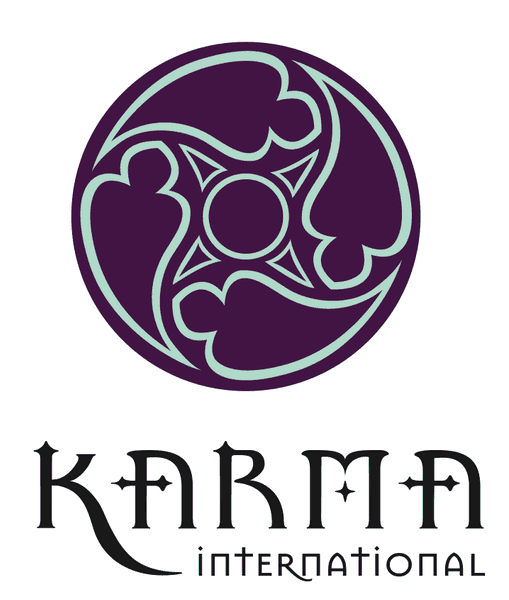 SOCIALS • EXCURSIONS • PARTIES • DINNERS
Life will never be the same…
Karma International is a private membership organization for leaders, adventurers, experts, connoisseurs, and all-around interesting people to connect socially and professionally. They are actively looking for excellent people who resonate with their culture and style – if that's you, apply now at KarmaInternational.com.
• • • • •
SEXXY SHOW     |     ABOUT THE ARTIST     |     NAUGHTY GIRL'S GUIDE TO LAS VEGAS