I love metal art.
I enjoy creating it, and I rejoice in the finished pieces. They are dynamic and fun and bring a lot of visual elements into the art-viewing experience that can't be found in canvas paintings or other traditional mediums.
I've been metaling with beauty (creating metal art) for some time now. I introduced my metal figurative pieces nearly ten years ago, and I still enjoy the creative process and all the possibilities that working with metal offers. Each new piece brings a plethora of possibilities. The whole creative experience is different than any other medium. The tools. The materials. The process. Everything.
I couldn't imagine not working in metal, along with my other creative disciplines, as a powerful form of creative expression.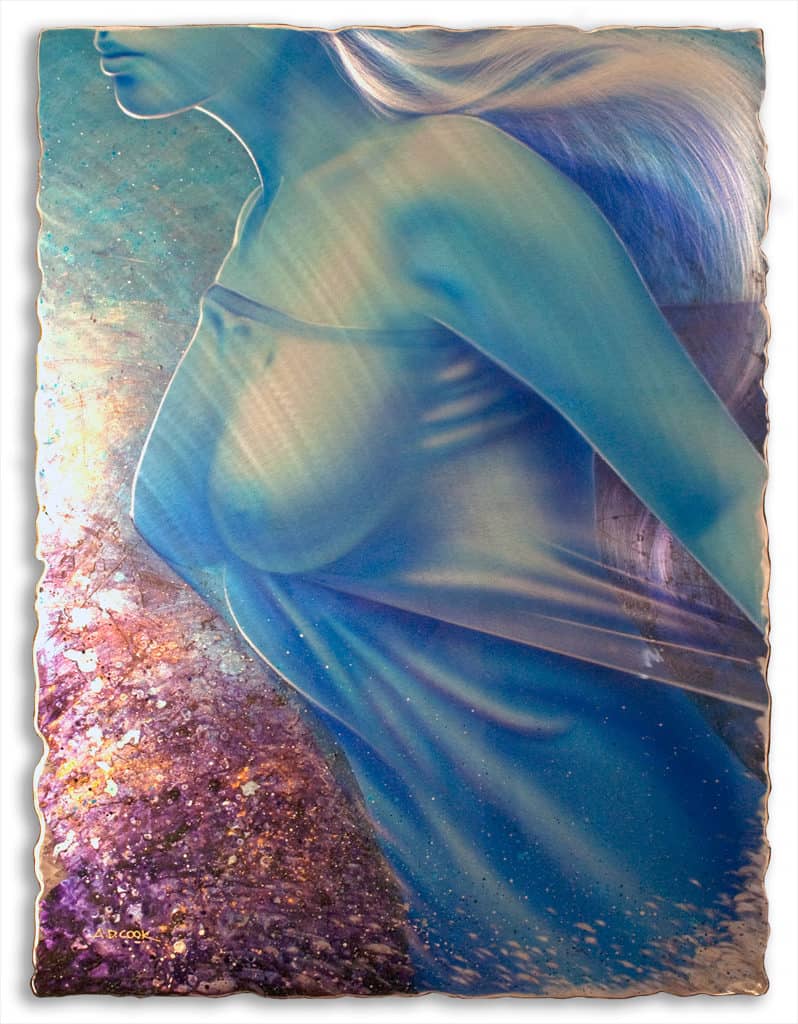 BROOKLYN  |  Metal figurative art on aluminum, 40″ x 30″
Whether working in aluminum or steel, each has a different look and feel. And both are unique in my approach.
View the creation of BROOKLYN, my metal art featuring the beautiful Lynsey.
I enjoy aluminum for my figurative artwork. My ground holographic illusions make each as unique as the beautiful ladies portrayed in my pieces. Like my models, each is truly one-of-a-kind. Unlike many art forms, these pieces can not be reproduced. They have so many components in their creation that technology has yet to create a way to copy them. And I like that a lot.
I'm a huge fan of original art. I would rather see something unique and special – beautifully created by hand – over something I've seen a hundred times, anytime.
My creative process is unique, each created with beautiful imagery from my model sessions. I play with colors and composition and design my grinds to complement my imagery. Then, I start by hand-grinding my metal with power tools and painting my figures over my ground surface with airbrushes and traditional paint brushes and whatever inspires me. I use scribes, small files, and more delicate tools to work the details and texture into my art. I carefully work my painting back and forth until I get the desired result I'm looking for. Often, I'll distress the metal's edges to create what I call my "organic edges." This adds a unique quality to my pieces. Then, when I'm finished with the art process, I mount the painting to a steel frame clear my paintings, and polish to a nice gloss for years of enjoyment.


GILLETTE COMPANY – 36″ x 12″, Commissioned metal art.
My metal lifestyle art, like Gillette Company above, is created similarly to my metal figurative pieces but also includes hand-scribed elements like the ashtray, lighter, and even the logo in the lighter. These unique elements in my art make them fun and forever changing as you pass by them and throughout the day as light changes.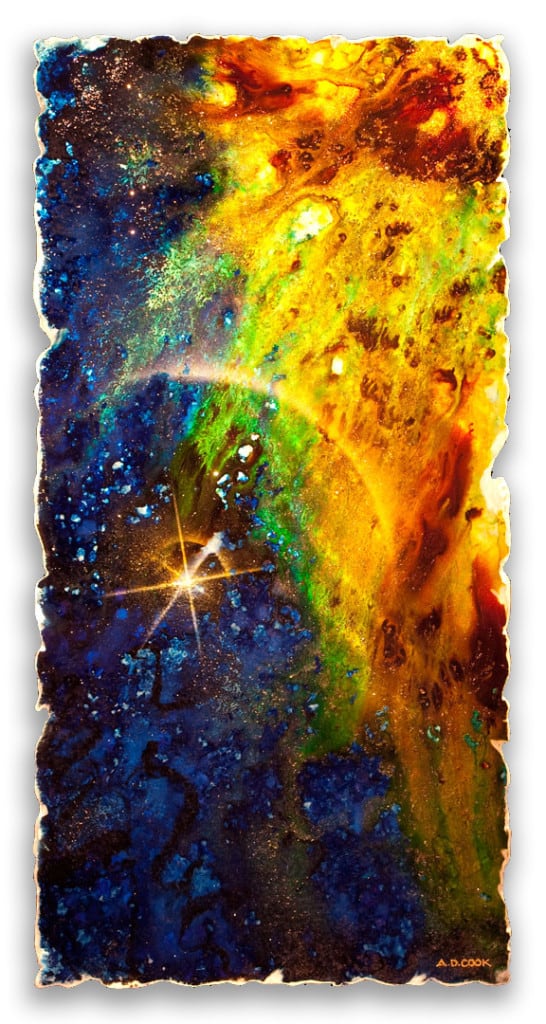 HEAVEN AND EARTH  |  Metal abstract, 36″ x 18″
I also work in aluminum for many of my abstract paintings — I find the creation of abstract artworks to be exhilarating and stimulating. My power-grinded metal and hand-scribed Orbs create dynamic illusions in this contemporary art form. In an abstract world, anything is possible.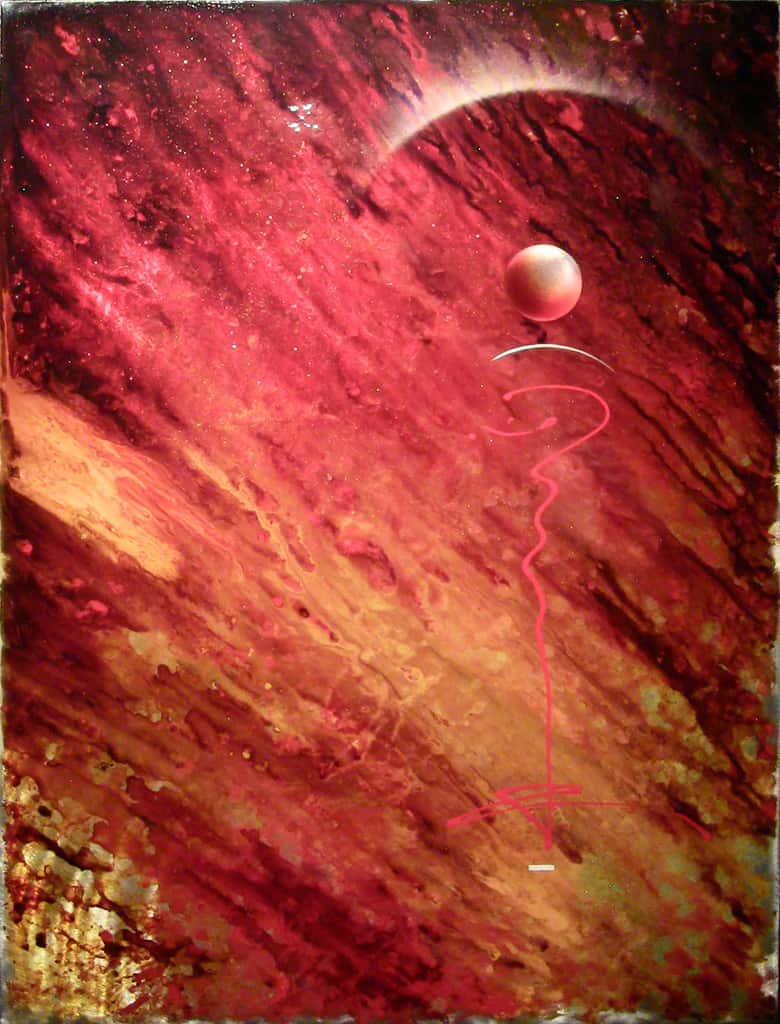 INFERNO – 40″ x 30″, urethane and mixed media original painting on ground metal.
My hand-scribed orbs are like a painting unto themselves. With their thousands of tiny scratches into the metal, they are created with a light source, so their highlights and shape spin as you pass by the art. The orbs represent you, or the spiritual side of you – a person, a soul, an individual – sitting confident and calm amongst the storm of energy and dynamic, ever-changing colors. My metal abstracts are all about energy and color. Many of my metal abstracts are created with transparent paints that shift color as you pass by. I also mix pearls, metallic flakes, and other mediums into my abstract pieces. Often, I'll work gold leaf into my pieces. I want them to be dynamic!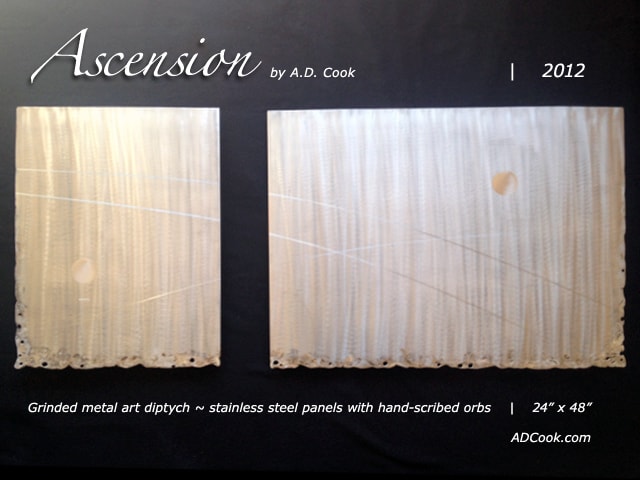 ASCENSION  |  Metal art diptych — stainless steel panels with hand-scribed orbs. 24″ x 48″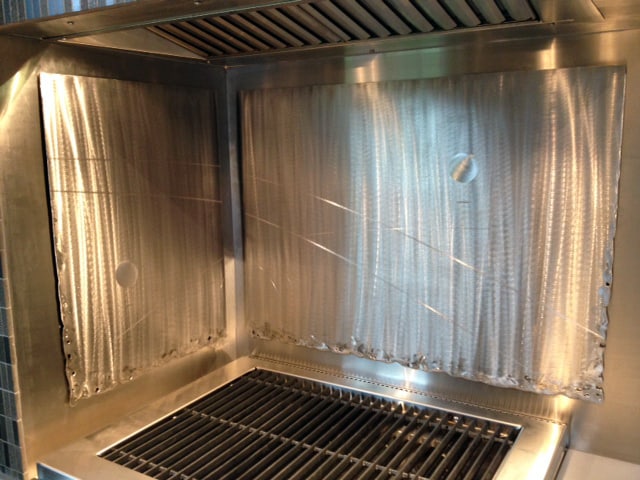 The two stainless panels create a single image and are designed to hang together or separately.
 Working in stainless steel is a whole different experience for me. The metal is harder than aluminum, so it takes a bit more effort, but the look of the finished art is awesome. I also like that stainless steel art doesn't require a clear coat like my aluminum pieces. I like them to age with time and the elements, taking on unique characteristics over time.
View the creation of my ASCENSION diptych created in hand-grinded stainless steel.
ASCENSION (above) is all about harmony, balance and capturing the moment, revealing dynamic motion with its interactive grinds and holographic scribed lines. ASCENSION changes appearance throughout the day as the light changes from morning throughout the day and from natural light to interior lighting at night. There are two orbs, each hand-scribed into the metal to create a three-dimensional illusion.
So, for me, metal offers a fun and dynamic approach to my art that no other medium can replace. I will always metal with beauty in the creation of my art. Cheers!
• • • • •
FAST FORWARD FERRARI     |     ART FOR SALE     |     OTHER WORKS