It's a New Year. And with that comes a Renewed Vision. For me, that is all about art. After all, art is my passion, so almost everything I think and dream about is about art in one way or another, and the possibility of a brighter creative future.
Most of my collectors and regular Blog readers know that these past couple of years have been tough (and I know they have been tough for us all). My art, epic pieces anyway, have taken a back seat to simply readjusting to the many changes that have shuffled my world. I've stayed busy with other creative projects, but I've produced fewer paintings these past couple of years than in previous years. But that's not always a bad thing. After all, I've stayed busy with other projects that I am very proud of. I designed a beautiful coffee table book for another talented artist, worked on a large sculpture for St. Jude Children's Research Hospital (more on that later), and honed my drawing skills.
The rumors of my death have been greatly exaggerated!
— Mark Twain
But this "downtime" has mostly allowed me to reflect on my vision and priorities as an artist. In doing so, I've had to ask myself what really matters… Who am I as an artist? What do I want to accomplish with my art? Why do I create? How can I enrich the lives of others through my art? What drives me? Lots of questions. And for a while, few answers…

Or so I thought. But, in looking back, I found the answers were already there. My path has not changed. My vision has remained intact. Sure, perhaps my focus was lost for a short period of time as I worked through life's challenges and the changes that come with it, but when push comes to shove, I AM AN ARTIST. I always have been. It always will be.
Sometimes, we need to step back from something we love to realize how much we love it and how important it is in our lives. It's easy to take things for granted, like love, talent, and those around us. A pause followed by a fresh look can offer a renewed vision to bring things into focus. That's the case for me anyway. Not that I ever questioned myself as an artist in regards to creating art. I believe I was born to create art, and I have a responsibility to myself to create. But I, like many artists, have to ask myself on occasion if I am on the right creative path. So I pondered. And I questioned – everything. Then I pondered some more. And that's a good thing. Time away revealed the answers I was looking for.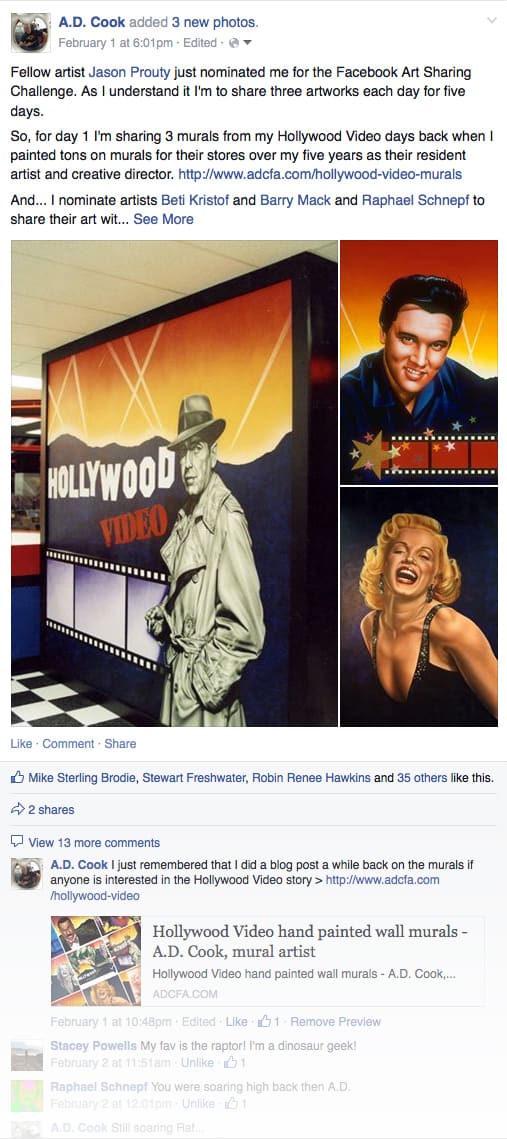 I recently participated in the Facebook Art Challenge, where artists challenge other artists to share three of their artworks daily for five days. The idea was to do each day's post as a theme. So, for Day One, I posted a selection of my old Hollywood Video murals from the early 1990s back when I was painting epic portraits of Marilyn Monroe, Elvis, and other celebrities on an epic scale. During my five years (1989 – 1994) as Hollywood Video's creative director and resident artist, I created over a hundred hand-painted wall murals, most measuring 10 feet tall. It was a very prolific and creative time for me. [ click here for more ]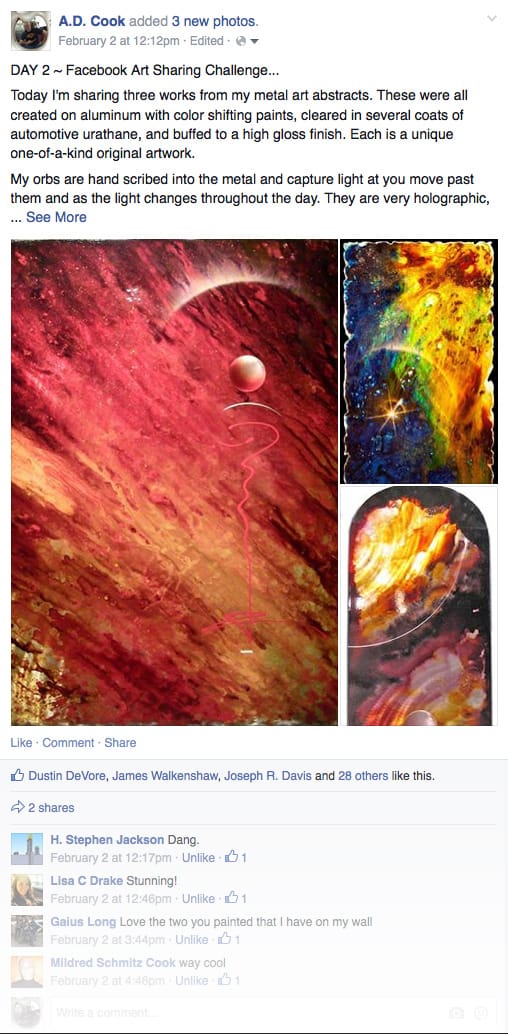 On Day Two, I posted some of my metal abstracts created in color-shifting paints and hand-scribed orbs.
Forever exploring my creative side, I enjoy painting abstract artworks on canvas, panels, and metal. From small to large, these colorful artworks are contemporary and dynamic. Each is a truly unique and exciting addition to any home. [ click here for more ]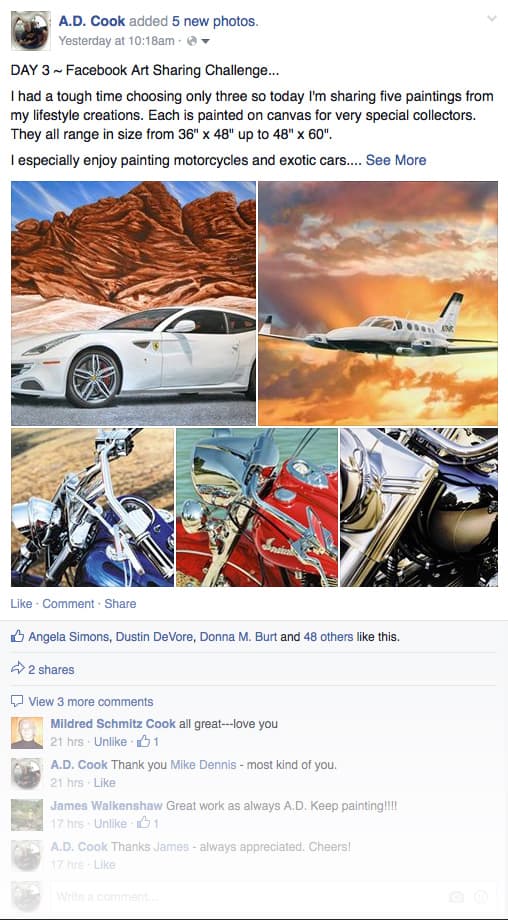 On Day Three, I posted art from my Lifestyle Art (motorcycles, airplanes, and cars).
Over the years I've created a selection of motorcycle paintings, automotive art, airplane paintings, and lifestyle art. Looking for something truly unique? I thoroughly enjoy collaborating with collectors to create personal artworks for their homes and offices.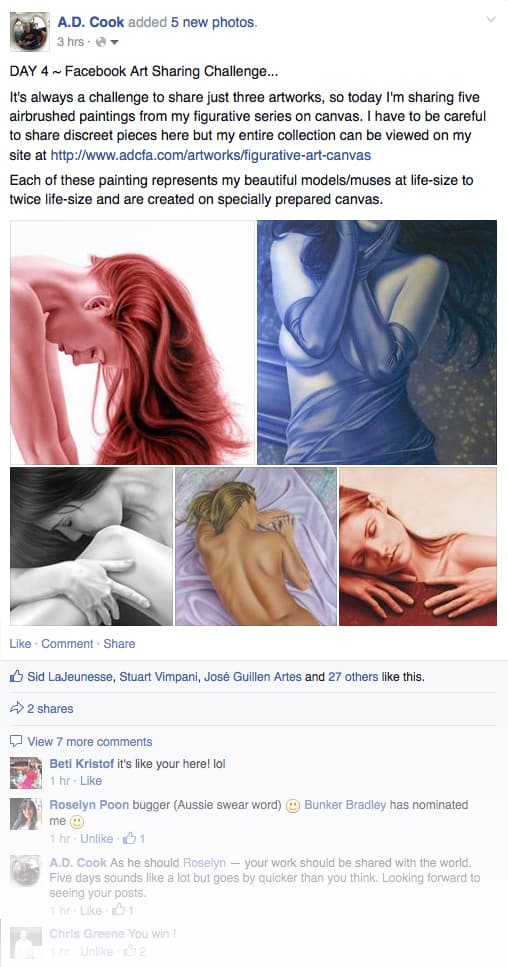 Day Four featured my life-size and larger canvas figurative paintings of beautiful muses.
My celebration of timeless beauty is expressed through the creation of sensual large-scale original figurative paintings on canvas honoring the grace, beauty, and complexity of the female spirit. These artworks are classic, contemporary, and passionate, preserving perfection for eternity.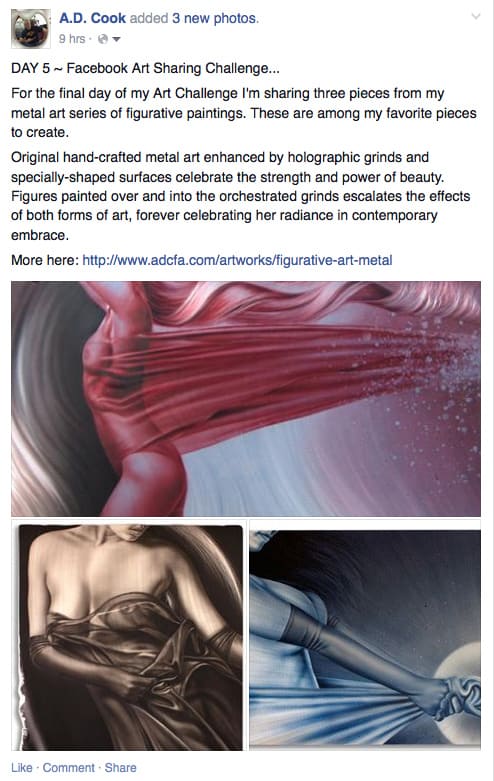 And on Day Five of Facebook Art Challenge, I featured a selection of my metal figurative paintings, concluding my five-day challenge.
Original hand-crafted metal art enhanced by holographic grinds and specially-shaped surfaces celebrate the strength and power of beauty. Figures painted over and into the orchestrated grinds escalates the effects of both forms of art, forever celebrating her radiance in a contemporary embrace.
Visit my Facebook page at Facebook.com/ADCookArt to view the complete posts for the Five Day Art Challenge, and special thanks to everyone for your "likes" and comments.
The whole process was an eye-opener for me. In looking over and selecting images from my lifetime of work I was excited to see how many pieces I had actually created and the various styles that I've worked in over the years. It's easy to forget when you spend your days in the studio just how prolific and creative a lifetime of painting can be. And the best part, for me anyway, is that I am just getting started.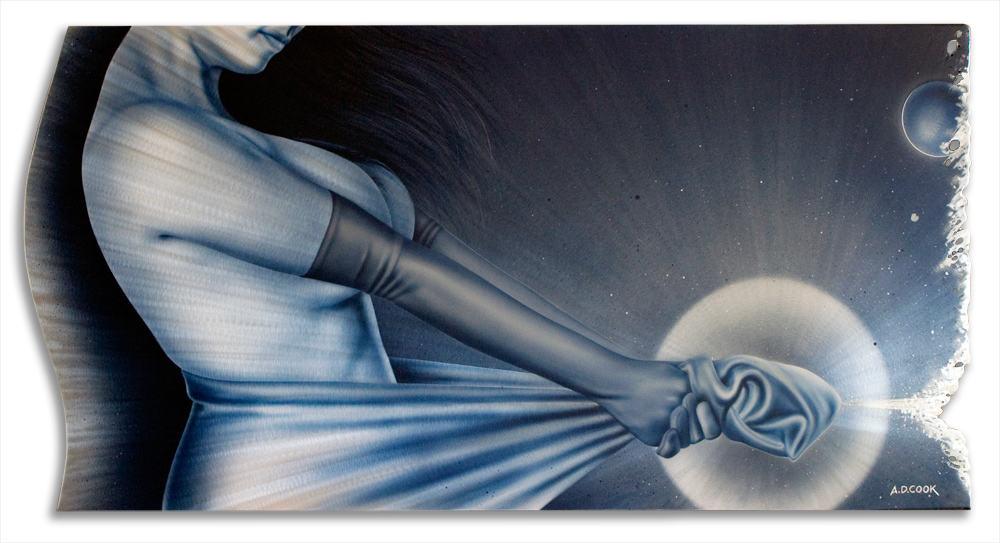 NEXUS – 30″ x 6o", metal art, Brazill collection, Las Vegas.
So, where does that leave me as an artist? Well, the answer, in short, is that I am inspired to create more metal figurative art and metal art in general, including more powerful and colorful abstracts. That's partly why I saved them for my last post of the challenge.
Anything worth doing is worth over-doing.
— Raphael Schnepf, artist (about A.D. Cook)

I'm excited to announce that I am setting up a new studio here in Las Vegas to create some very epic pieces this year — BIG pieces featuring multiple models. But I'll only produce a few because they are intense to create. Lots of physical effort and creative resources go into each of these metal pieces. And the word for 2015 is EPIC.
For me, art is about sharing, so along the way, I'll post some great pics and keep you informed of the new artworks and their progress. Stay tuned to my Artist's Blog for updates and be sure to follow my social media for step-by-step progress posts.
Cheers to a creative 2015.
• • • • •