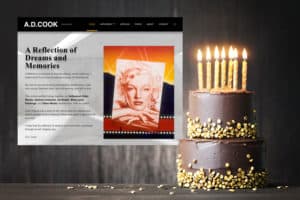 I still remember the excitement of creating and launching the first ADCook.com website. In retrospect, by today's standards, it was, well… pretty funky. I can laugh now because back then, we were all shooting from the hip and just making it up as we went along. There was no WordPress or Webflow, no plugins, or "mobile-friendly" versions. In many ways, it was simpler because there was no limitation except what you imagined. Anything was possible (except it really wasn't). The internet was brand new, and many websites we take for granted today, like Google, Facebook, and YouTube, didn't even exist yet. In many ways, we were Internet pioneers, boldly going where no code had before. Software choices were limited, computers were slow, and internet speeds were ridiculously clunky at best. Images had to be as small as possible and saved as interlaced graphics, so it loaded over 2, 3, or 4 passes (yawn). But it didn't stop us. We trekked on.
Oh, the things we take for granted today :-)

I was fortunate to work with a great design team back then, and we had a fantastic time creating this new bold medium known as the World Wide Web (it sounded so ominous at the time). In many ways, we enjoyed making for the internet as much as creating the art itself. And the experience of creating a painting and sharing it online with the world was fresh and exciting.
To offer some perspective, in 1996;
• Google.com didn't exist yet.
• In January 1996, there were only 100,000 websites, compared to more than 160 million in 2008, and nearly two billion now.
• The web browser of choice was Netscape Navigator, followed by Microsoft Internet Explorer as a distant second (Microsoft launched IE 3 in 1996).
• Most people used dial-up Internet connections with mighty speeds ranging from 28.8Kbps to 33.6Kbps. Highly modern 56Kbps modems would arrive in 1997.
• People had only recently switched from 640×480 to 800×600 screen resolutions.
We've come a long way since then. Now there are hundreds of millions of active websites across the world. The internet is fast making animations and videos today's new medium. Virtual art galleries are hot, and before you know it, we'll have 3-D internet (trust me, it's coming). And best of all, websites can have large crisp images and fun gadgets and still load fast. That means it's easier now to share art than ever before in whichever way best suits your creative expression.
Today, we're celebrating ADCook.com's 24th birthday/launch day! Created in the summer of 1996 and launched on October 23rd, this domain has always been about art and design — see the design portfolio at ADCook.com/Design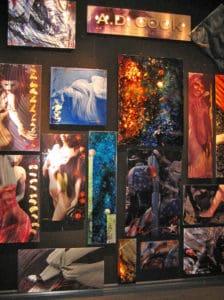 As of the writing of this post, this latest version of the Artist's website, redesigned in the Summer of 2020, features over 140 original artworks on canvas and metal categorized as abstract art, fine art nudes, motorcycle paintings, and other works. Additionally, about 300 articles, posts, and interviews make this website a complete archive of the Artist's works and timelines related to art.
This leads us to where this site is headed over the next year in anticipation of its 25th birthday/launch day.
Over the next year, I'm committed to creating new artworks (with an epic metal piece currently on the easel) and sharing them through this site and other related sites, like Model Mayhem and Model Society, and social media platforms.
I'm excited to share that a selection of A.D. Cook art nude originals will soon be available at the new Conrad West Gallery in the Las Vegas 18b Arts District and through the gallery's website. I am also their web designer.
We're also putting together an artist podcast to feature various artists, musicians, and creative industry folks, where we'll share the ins and outs of the creative world. You can preview previous pods at VegasDesignSEO.com/podcast, and be sure to join our email list for updates.
Mostly though, I want to thank each of you for your continued visits and support.
Cheers!
A.D.
• • • • •
This post is dedicated to Dave Malone for his part in creating the first website in 1996. Rest in peace, Dave.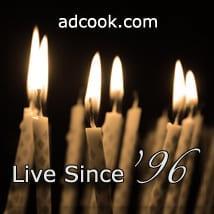 Thank you and cheers to another 24 years!