Live model. Live music. Life drawing — enjoying some creative time in the studio…
There was a time when artists could draw only from living models, live music, and candlelight. In many ways, that was a golden age in art. Creativity was less rushed and required a sense of discipline.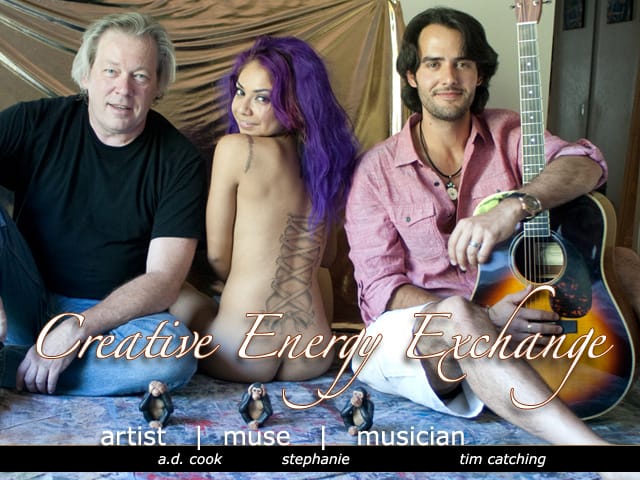 above: A.D. Cook, artist | Stephanie, muse | Tim Catching, musician
Today is different. We have options for our muses and our music. With a plethora of reference images online, image-editing software, and millions of songs on our iPods, it's easy to wrap yourself away and tune out the outside world. And that's all good – sometimes. But sometimes, it's even better to toss new talent and outside influences into the mix – creating what I like to call a "creative energy exchange".
I love a good energy exchange – those days in the studio when multiple talents come together and just create – each bringing their own uniqueness and talents to the experience, and making everything better as a whole. I've shared in a couple of these days with model/muse Stephanie and singer/songwriter/musician Tim Catching. And each time we've had the benefit of Kathryn's video talents. A true synergy of creativity.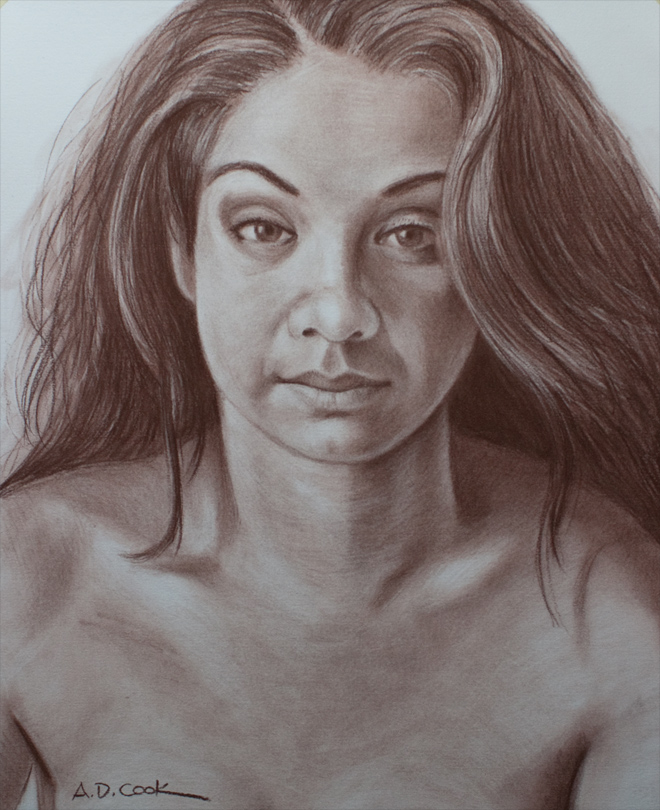 "Stephanie" by A.D. Cook © 2012 – Conté Sepia drawing on 100# Bristol Vellum
Step out of the box a bit and see what the camera cannot…
For me, the pleasure is in drawing from life. Nothing replaces drawing from a real breathing human figure. Your perceptions and observations are different than creating from photo reference. I've drawn most of my life and years ago when I lived in Portland, I used to enjoy life drawing at Hipbone Studio ( HipboneStudio.com ). I looked forward to every visit there, sketch pad and pencils in hand, always ready to draw. One of the things I most enjoyed about those sessions was the variety of the models – Jeff Burke ( director/host/instructor ) always did a great job of lining up the evening and kept us all interested. Sometimes the models wore masks or did crazy poses. Big, small, light, dark, perfect, or damaged – the variety was awesome. It opened my eyes that figurative drawing from life is radically different than any other type of drawing. That's what life drawing is all about – learning to see differently – to step out of the box a bit and see what the camera cannot.
The music adds a fantastic element to the mix. I'll take live music over an iPod of watered-down MP3 files at any time. The full sound of Tim's acoustic guitar and singing voice serenade the studio into a soulful creative place.
The beautiful and talented muse, Stephanie, has shared in the creative experience a few times now – she was featured in my painting "Mirage" from 2011 and has been body painted for a couple of my art shows. She has stunning features and is great to photograph and draw.
So, together, Tim, Stephanie and I played. Nothing serious, No real mission per se – just a creative happening. The benefit of the day is the experience itself and what we all learn along the way. The long term upside could be seen in art and music not yet created. I believe, we were all inspired through the process. I, personally, was left rejuvenated and inspired to create. Pencil, paper, muse, musician. Cheers!
– A.D. Cook
• • • • •
Super-food for the creative soul…
It is a true pleasure, and experience completely unique to itself, to be able to create and play in such an artistically fertile environment.  Watching A.D. as he practices his craft, and having the inspiration of human beauty, embodied by the lovely Stephanie, makes for a super-food for the creative soul.  They say there is power in numbers and has been a part of this creative collective proves this theory in my mind.
Cheers A.D. and Stephanie. Here's hoping for many more.
– Tim Catching
• • • • •
Enjoy the video below:
ARTIST: A.D. Cook | MUSE: Stephanie | MUSIC: Time Catching | VIDEO: Kathryn Cook
Special thanks… "Hurry Up And Wait" music by Loophole from their album "Loophole 432″ © 2012. Used by permission.