A New Original Metal Art Nude
Inspired by my muse's elegant lines and the golden ratio, this creation is the first of a new series of original life-size contemporary metal art nudes created by scratch.
Although I've created several art nudes previously, this is the first new metal figurative original in a decade. Since then, I have completed several canvas pieces, including automotive and motorcycle paintings, along with murals, sculptures, and other works are featured on my website, ADCook.com.
PHI (pronounced "Fi") Epic Metal Creation with a Twist!
Like all my art nudes, this metal creation began as a vision followed by a photo session for reference images. PHI's beauty reflects professional art model Bendy Taylor and her graceful relaxed poses.
Like previous metal artworks, my evolved style begins with a large sheet of fresh aluminum as my canvas. Then, starting with my image in mind, I meticulously cut, shaped, and power-ground the metal to complement my intended imagery. This new artwork measures fifteen square feet, so that process alone takes a few sessions to complete, one long smooth grind after another, each dancing off the other, creating energy and depth within the metal.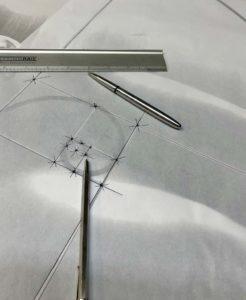 PHI's muse rests in a peaceful recline, her body's smooth curves hand-scribed in metal for eternity. The rhythmic background holographically dances with each viewing, never looking quite the same twice, with everything near and around her altering her appearance. With natural light, she takes on the colors of the day, and the surrounding room as light travels across the artwork. At night, her mood and presence change through the collector's choice of inspired lighting.
PHI is currently an artwork in process and has no added color yet. However, I am currently in the process of lightly scribing the metal to play with light and smoothly dance it across her body. As she progresses, her shapes and blends will be smooth as silk. And that is what makes PHI different than my previous metal art nudes. When finished, she'll simultaneously be a fully sculpted immersive illusion and dimensionally flat.