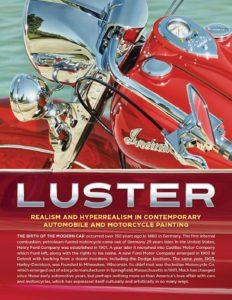 LUSTER: Realism and Hyperrealism in Contemporary Automobile and Motorcycle Paintings exhibition is heading to its 15th destination since its premiere in 2018.
So far, the museum list includes;
Since 2018 the exhibit has been showcased in over a dozen major museums throughout the United States, including; the Museum Of Arts And Sciences (MOAS), Dane G. Hansom Memorial Museum, and the Maria V. Howard Arts Center, The Evelyn Burrow Museum, Saginaw Art Museum, Sangre De Cristo Arts & Conference Center, Haggin Museum, The Morris Museum of Art, The Michelle and Donald D'Amour Museum Of Fine Arts, The Ella Carothers Dunnegan Gallery of Art, Art Museum of South Texas, the Lyman Allyn Art Museum, the Museum Of The Rockies, the Auburn Cord Duesenberg Automobile Museum, the Citadelle Art Museum, and the Dennos Museum Center.
In celebration, I put together a map with links to each of the museums, including three more scheduled for 2023.
Click the map graphic above or here for the interactive map and museum links.