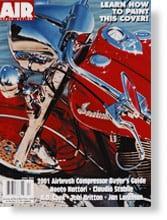 January 15 marks the end of the road for my painting, INDIAN SUMMER, which I created in the Fall of 2000 for a step-by-step article and cover for Airbrush Action magazine in April 2001. I had no idea at the time that I was creating what would be one of my all-time favorite airbrushed motorcycle paintings and, most definitely, the most traveled.
Shortly after completing the painting, it was displayed in Las Vegas for an Airbrush Action Getaway while I was there co-teaching an airbrush workshop with Michael Cacy.
Later that same year, I was honored to show the painting in Beacon, New York, as part of Robert Pascal's Cycle/Auto Art Exhibition alongside Robert Anderson, Celia Buchanan, Joe Calabrese, Leo Gonzales, Gerald Mendez, Tim Mitchell, Robert Paschal, Pamela Shanteau, Craig Tracy, and Peter West. That was INDIAN SUMMER's first of many epic museum appearances.
For a while, Indian Summer was the centerpiece of my personal collection, proudly displayed in my office for a bit and later in my living room, until one day, collectors visited and expressed interest in my painting. Soon after, Indian Summer found its way to its new home a few thousand miles away, where it resided for a few years.
Then, in the late Summer of 2016, I got a call from a museum curator, David J. Wagner, inviting me to include a few paintings of my motorcycle paintings in his forthcoming national museum tour, LUSTER: Realism and Hyperrealism in Contemporary Automobile and Motorcycle Paintings Exhibition. With all my motorcycle paintings long sold, I thanked him for the opportunity but politely passed, not even realizing what I was passing at the time. David and I laugh about it now; at first, he was just a voice on the phone asking to borrow a few paintings for a few years. "Ya, right, I'll get right on that, I thought." Fortunately, David was persistent, and after visiting his website and chatting over a few long calls, he convinced me to ask my collectors if they might consider loaning their paintings to the traveling exhibition. I thought it was a lot to ask of any collector, but it was also an excellent opportunity to share my art and establish provenance simultaneously.
Two collectors agreed to loan their paintings for the tour. I also included DREAM 103, which I created for the Sturgis SKIN & BONES exhibition 2016. Altogether, I had three paintings that I could offer to David for two years.
Since 2018 my original Indian Summer painting has been showcased in fourteen major art museums throughout the United States, including; the Museum Of Arts And Sciences (MOAS), Dane G. Hansom Memorial Museum, and the Maria V. Howard Arts Center, The Evelyn Burrow Museum, Saginaw Art Museum, Sangre De Cristo Arts & Conference Center, Haggin Museum, The Morris Museum of Art, The Michelle and Donald D'Amour Museum Of Fine Arts, The Ella Carothers Dunnegan Gallery of Art, Art Museum of South Texas, the Lyman Allyn Art Museum, the Museum Of The Rockies, and The Auburn Cord Duesenberg Automobile Museum.
Last week I shared that the Auburn Cord Duesenberg Automobile Museum will be the final stop for INDIAN SUMMER. After the exhibit's run in Auburn, Indiana, the painting returns home to Indianapolis. With great appreciation, I thank my collectors, the McAlisters, for having graciously loaned the artwork for the tour's first fourteen museums. Going into this tour, we all thought it would be a two-run run. Seeing the painting travel the country over these past five years and proudly represent the Luster Exhibit has been an honor. I am excited that Indian Summer finds her way home after her long journey.
A special thanks to each of my collectors. Two of my paintings, AMERICA, 48″ x 60″, and DREAM 103, 24″ x 36″, will continue with the Luster Exhibition at The Citadelle Art Museum in Canadian, Texas, beginning February 10 through May 21, 2023.