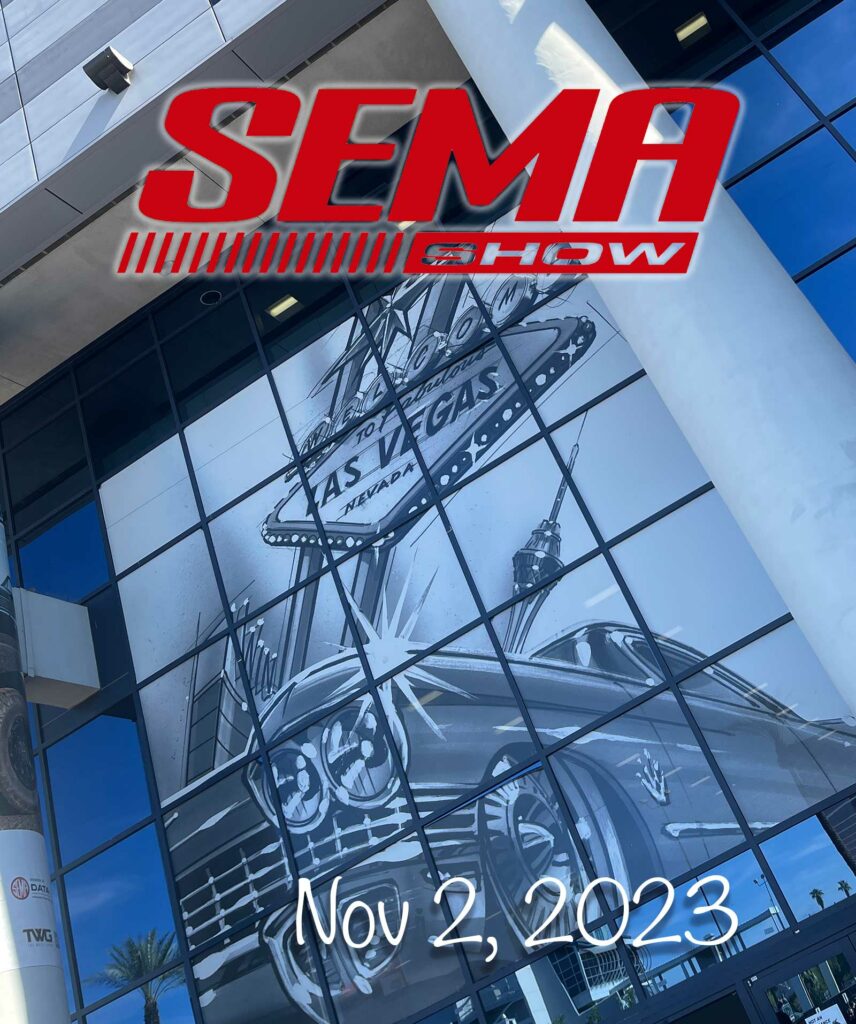 Bigger & Better at the Las Vegas Convention Center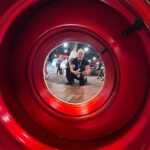 This year's Specialty Equipment Manufacturers Association Show was the biggest, baddest, best car show I've ever attended. There was so much to see. It was impossible to take it all in and thoroughly enjoy it in the few hours I had. Nonetheless, I made the best of the limited time I had to catch up with a few old friends and shoot a few pics to share my bigger, better experience with you.
First, suppose you're not up at the SEMA Show. In that case, there is no other trade show where you can see thousands of product innovations from new and iconic exhibitors who experience the latest custom vehicle trends. As far as cars go, if it's unique and cool, it's at SEMA. And that goes for every kind of car, or truck, or anything in between, that has wheels.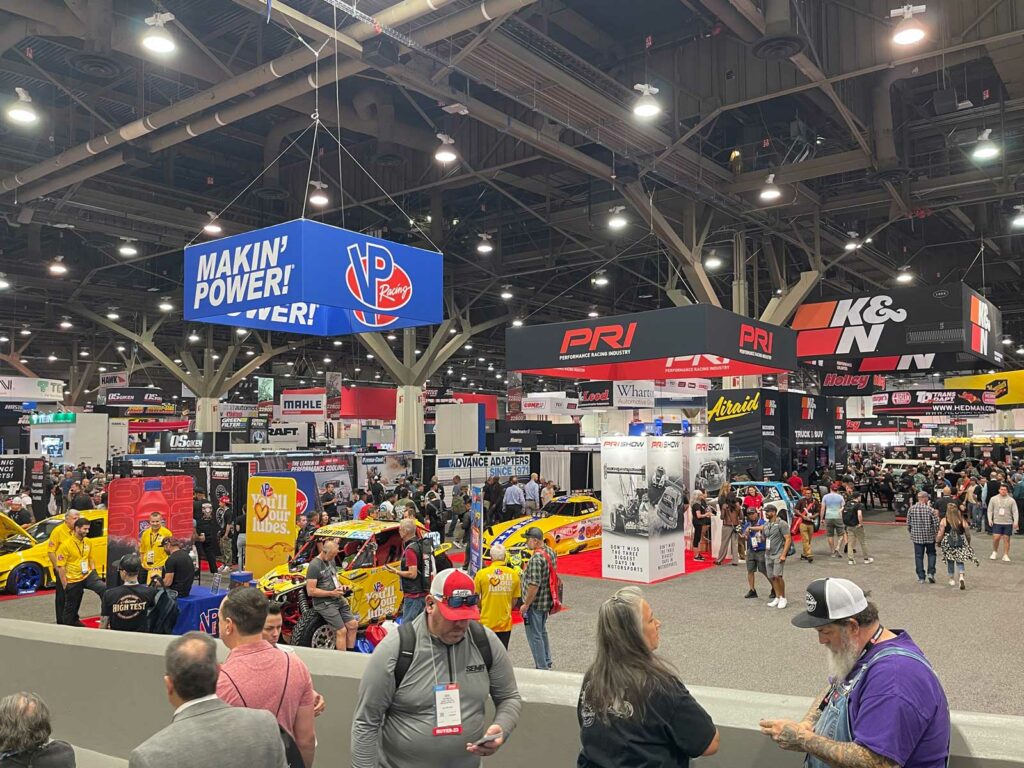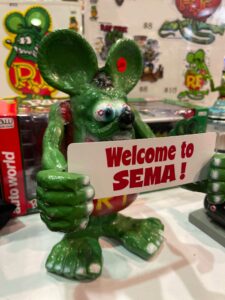 While I never officially kept track, I'm sure that since the mid-nineties, I've walked the SEMA Show for at least a dozen or more years. The trip was an annual event during my time designing for several automotive aftermarket industry clients (PIAA lights and Bushwacker Jeep accessories) and with Iwata Airbrush Products (now Anest Iwata).
Every year inspires me to get in the studio and create art, especially automotive art.
Iwata Airbushes by Anest-Iwata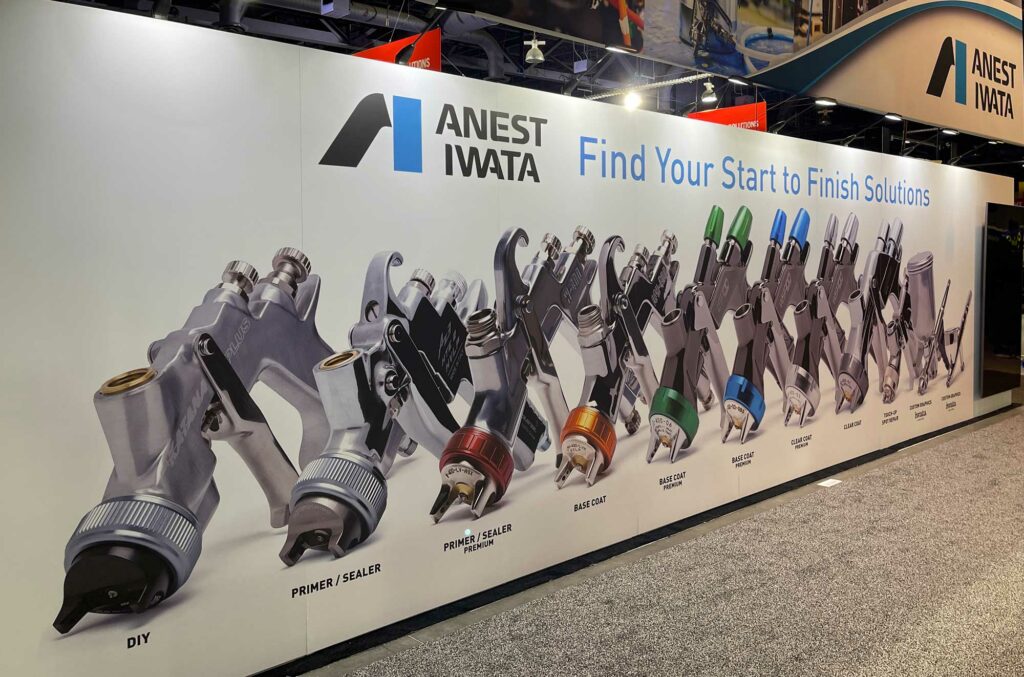 This year, I attended SEMA as a guest of Iwata Airbrush [by Anest Iwata], exhibiting their impressive selection of professional spray guns and airbrushes. It's no secret that I love my Iwata tools, which have been my airbrush of choice for four decades (yikes, how time flies).
I always enjoy visiting with the Iwata family, whether the crew or the talented airbrush artists there, to share their skills and knowledge with curious attendees. This year, I ran into four airbrush legends and old friends: Alan Pastrana, Dennis Mathewson, Gerald Mendez, and Scott Mackay. Readers of my updates may remember Alan from previous posts on the Under Pressure Exhibition of contemporary Airbrush Realism.
Creativity Abounds at SEMA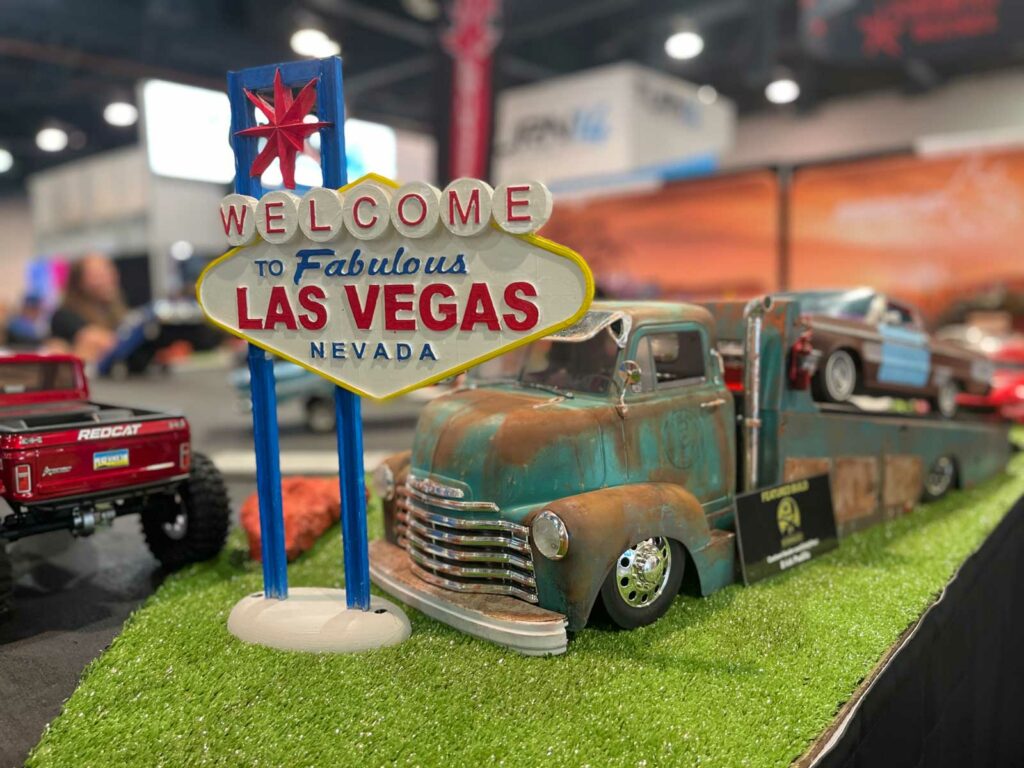 There is no denying the sheer brilliance of the talent that has gone into creating the masterpieces on display at the SEMA Show. It is awe-inspiring to witness the incredible creativity and imagination of the artists involved in creating these rides that thrill and excite all who experience them. It's not just Iwata's family of artists who are responsible for this ingenuity, but everyone involved in the production of these rolling works of art. It is truly an experience to behold. It's almost impossible not to get completely absorbed in the wonder and beauty of these rides. So much so that it's easy to get lost for hours just admiring and appreciating the unparalleled level of skill and artistry on display.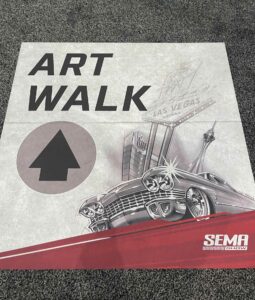 Whether you're a fan of cars or not, it's impossible not to be impressed by the incredible talent that goes into creating these stunning machines. There is also a ton of skill in the form of artwork, models, and impressive displays.
The ART WALK featured thousands of inspired artworks for fans of beautiful auto art in every media imaginable.
In the South Hall, where most of the paint and spray gun industry resides, artists steadily share their craft live at the various paint displays throughout the upper floor. Where else can curious artists learn a quick lesson from a master artist just by watching them work? No place, I know.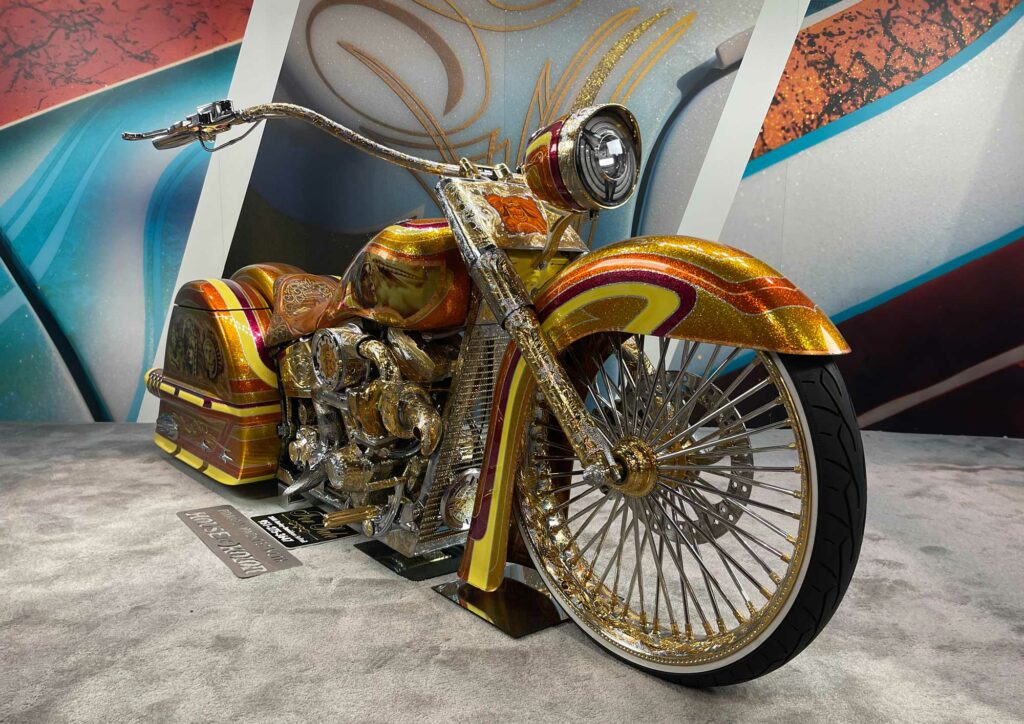 Celebrating 65 years, the legendary House of Kolor shines with outstanding examples of art and craftsmanship that belong more in a fine art museum than the streets. Their centerpiece custom bagger is evidence of an artist's work that takes a lifetime to master. Every inch of this motorcycle is detailed to perfection from its engraved metalwork to its amazing paint and hand-tooled and painted leather seat.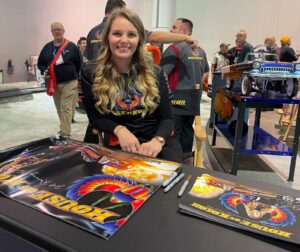 HoK's display also featured cars and a wall of art panels airbrushed by living airbrush legends in the automotive custom culture.
Special guest Josette Roach, HoK Jet Dragster Driver, was on hand signing posters for her race fans. Learn more about Josette at Facebook.com.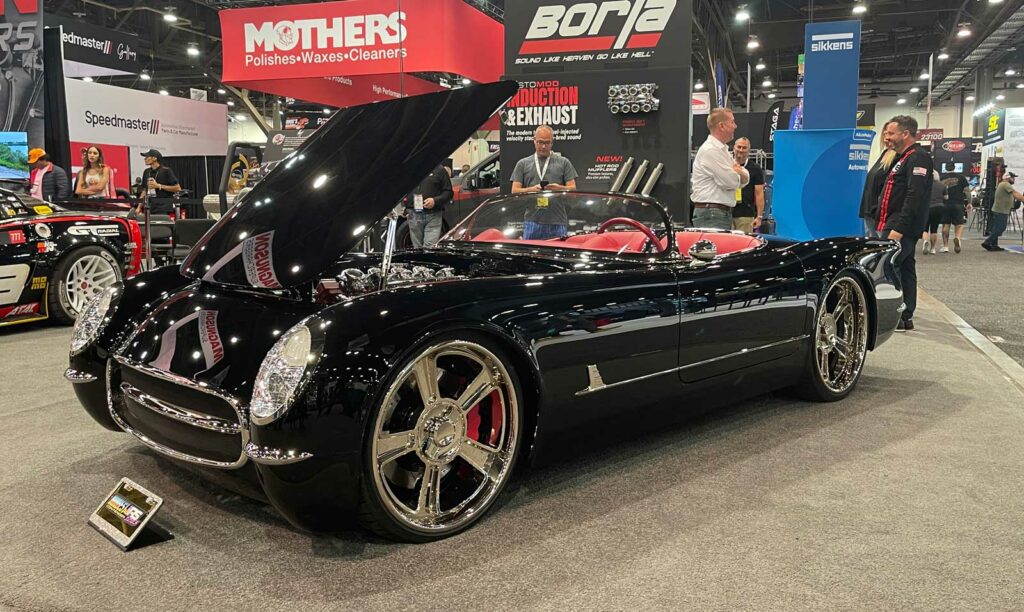 The Kindig-It Design CF1 roadster #008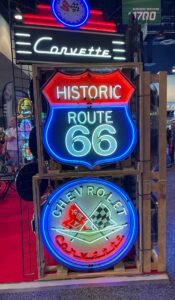 Corvettes were everywhere. Sure, there were a lot of unique cars of every variety, but a special breed of Corvettes was abundant. I was told that I may be a bit more Corvette-aware lately than in previous shows, mostly because of the Corvette paintings on my easel for next year's LUSTER Exhibition at the National Corvette Museum.
Over the years, I've seen a lot of mega-cool retro-Vette upgrades that restyle a newer Corvette to look like an older series with mostly aesthetic changes to an existing car.
This year, I saw a version of an early Corvette that made me smile. It is, dare I say it, SEXY! The Kindig-it Design 1953 CF1 Corvette derivative takes America's sports car to a new level. Inspired by the elegant lines of the very first Corvette series, the CF1 is an entirely new premium custom car. Visit their website for some pics and background on the CF1 Roadster.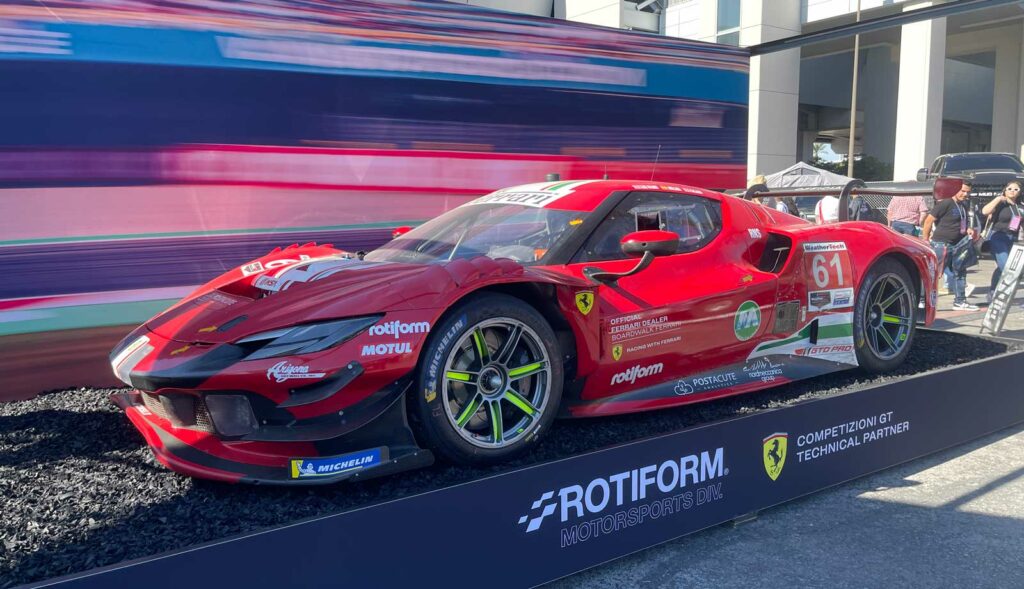 From exotic Italian supercars to mile-high mud jumpers, custom baggers, and choppers to anything you can imagine in between if it has wheels, it's here. That's one of the reasons that I love the SEMA Show so much. There is something for everyone.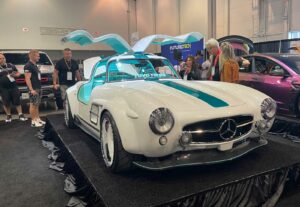 I was actually surprised by how many wild EV cars were on display. It's strange to see a cool classic car or truck and then discover that it's converted to electricity. I guess I'm still old-school and am forever lured by powerful engines and an old-fashioned manual transmission.
Technology changes everything. I was especially impressed with the EV-powered 1955 Gullwing Widebody Mercedes 300SLTesla in frosty white and turquoise accents. The Mercedes is built on a modern Tesla Model 3. Its unibody frame was modified to fit the slimmer profile of the classic 300SL. Everything works from the original Tesla, including the sensor cameras, interior infotainment screen, parking sensors, self-driving features, and climate controls. Watch this YouTube video for more.
The eighty (or so) pics within this story are what i was able to shoot in my five-hour visit on one beautiful afternoon surrounded by the most amazing cars in the world. There is never enough time when it comes to SEMA. Next year I'll try to sneak in a two-day visit.
All photos in this post are by A.D. Cook © copyright 2023.