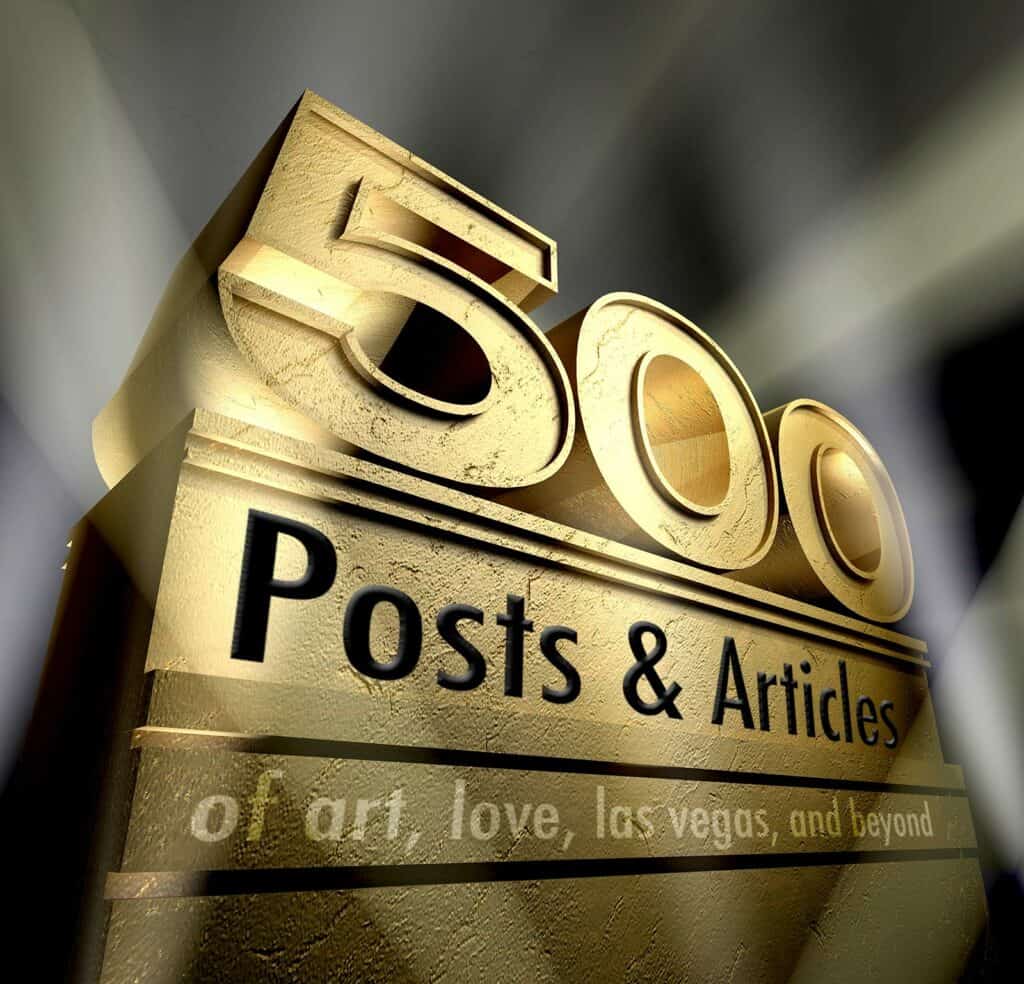 Celebrating 500 Posts & Articles, So Far...
This post celebrates five hundred observations and stories of art, love, Las Vegas, and beyond on the ADCook.com website.
Version One of the ADCook.com website launched in October 1996 ("back when the information highway was paved in cobblestone"). My team and I created that first website for my graphic design business in Portland, Oregon, about a year after leaving Hollywood Video. The Internet was brand new, and my client's needs inspired my design team and me to explore this exciting creative territory.
The first ADCook.com website mainly featured design projects and a few of my Hollywood Video murals. It didn't include a Blog (weB log) for its first eleven years. Blogging wasn't even a "thing" until the early 2000s.
The Only Constant Is Change
So much has changed since the launch of that first website that listing it all here would be a mile-long post unto itself. But, in summary, it was first created as a graphic design site, then became a graphic design/art site, then a dedicated art site, and then a combination of art and design, to what it is now, a collective of all-the-above. That is what art and the Internet are about – change and growth (along with provenance and about a million other things, give or take :-).
Before creating Blog content for the ADCook.com website, I created miles of original content for client's websites, and most notably for the AirbrushTour.com website (RIP 2007), sharing interviews, stories, and inside tips and tricks from America's top airbrush art studios and the community that is "airbrush." So, in some ways, this website is a continuation of that story.
Since its humble beginnings, the ADCook.com web project has had a few iterations and variations. And like anything that grows, change is inevitable.
In the early-mid nineties, the Internet was new and it was the Wild Wild West of the Internet. And as impressive as the "WORLD WIDE WEB" sounded at the time, it was uncharted territory, and while creativity ran fast forward, the rest of the world was in dial-up mode.
While this website is primarily about my creative journey, art, and memorable stories along the way, it also features several posts of other artists I love and respect.
Art, Love, Las Vegas, and Beyond
Ever since my first Blog post in 2007, and still, I've endeavored to create and share original content from my observations and stories of art, love, Las Vegas, and beyond.
Naturally, most posts share my life experiences from an artist/designer perspective, along with some assorted thoughts and views about creativity, beauty, and other ramblings. There are also several step-by-step articles on how I create my art along with a collection of videos of my creative processes in canvas and metal artworks and other media.
I invite you to view my POSTS section (BLOG) for my observations and stories of art, art, love, Las Vegas, and beyond.
If you're looking for a particular story or post, you can use the search feature below for all content of this website.
If you enjoy any of my posts, consider sharing them by clicking any of the Social Share buttons to the right for Facebook, Twitter, LinkedIn, or eMail. Your shares are always appreciated.
A special thanks to you for visiting and reading my posts. I'm looking forward to sharing more as we move towards a more creative life together.
Until then…
Visit the SITE MAP page for the full Post Archive Timeline with a direct link to every post on this site, listed from the most recent to all the way back to my very first post in '07. Visit the Post Archive page for a visual directory.